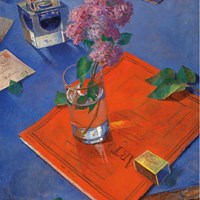 Article date: Monday, July 1, 2019
London's Turbulent Russian Market
The market for Russian art is one of the strangest in the auction world. It plays out in London – for the quasi-exclusive benefit of Russian dealers and collectors who jet in from Moscow. Its biggest sellers are artists beloved by Russians – who, to international collectors, appear little-known and over-priced. The market is not the preserve of Sotheby's and Christie's – but also involves their smaller cousins Bonhams and family firm MacDougall's, launched in 2004 exclusively to sell Russian art.
---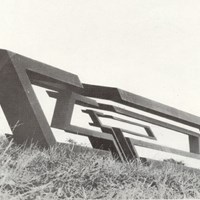 Article date: Friday, June 28, 2019
Back to Basics
Colombian artist Eduardo Ramírez Villamizar painted and sculpted what in his eyes are reality's essential forms. Ramírez Villamizar (1923) knew his creations depended on his ability to identify when to stop working and researching for the piece he was constructing had no excesses nor was there anything missing from it.
---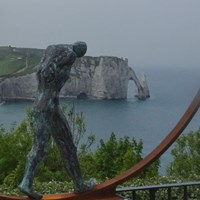 Article date: Wednesday, June 26, 2019
3-D Day in Normandy
"Outdoor sculpture is hardly an over-reported area of the Art Market so, when I heard that an international selling-show was taking place this Summer on top of a Normandy cliff, I set off to investigate. Not just any old cliff: the cliff in Etretat where Claude Monet painted his famous Impressionist seascapes in the 1880s.".
---
Article date: Wednesday, June 19, 2019
Would Crown Prince Mohammed Bin Salman take the Insurance Risk displaying Da Vinci's Salvator Mundi on his Superyacht?
In an article from Artnet, journalist Kenny Schachter claims to know the whereabouts of the legendary Da Vinci painting Salvator Mundi. ArtDependence asked Jan Van Hecke, Fine Art Manager at insurance broker Vanbreda Risk & Benefits in Antwerp, Belgium, what the potential premium might be for such a high risk position, whether the work would be insurable in these circumstances and what the conditions would be.
---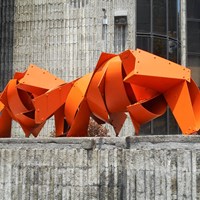 Article date: Monday, June 10, 2019
Sculpting Poetry
Colombia's renowned modern artist Edgar Negret did not imitate reality. He fed off it and created a language that invents new ways of presenting our surroundings. Edgar Negret (1920) lived in awe of the universe. "I lived on the verge of something - on the fringe of reality- happening," he told journalist José Hernández. "I believe in my work I have searched for God always and everywhere."
---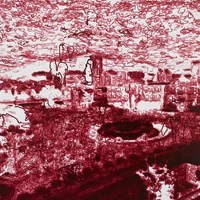 Article date: Monday, May 6, 2019
Is Digital Culture Developing as a Significant Game-Changer in the Arts Sector?
In the late twentieth and early twenty-first centuries, the world witnessed the rise of the Internet, dramatically changing our everyday lives. Digital culture has become an effective and vital affiliate in reaching wider audiences and achieving key objectives for arts and cultural organizations. In the last few years there has been exponential growth in technology - Elon Musk's SpaceX, the blockchain, cryptocurrencies, Sophia the humanoid robot, and more. But the question that arises is, to what extent has digital culture changed the art industry?
---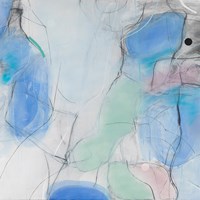 Article date: Tuesday, April 30, 2019
Zhou Li, Original State of Mind, at White Cube Bermondsey, London
White Cube Bermondsey is hosting a solo exhibition of the Chinese abstract artist Zhou Li, running until 30th June. Nine paintings are on display from three of her 2018 series: The Peach Garden, Wind and Thunder, and Blue. ArtDependence spoke to Professor Zhou at the gallery.
---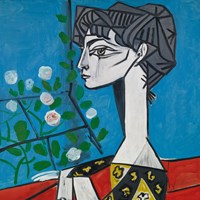 Article date: Monday, April 22, 2019
Beyond Stardom: Museum Barberini in Potsdam Shows an Intimate Side of Picasso's Work
The new exhibition Picasso: The Late Work. From the collection of Jacqueline Picasso (Until 16th June 2019) which only opened in March in Museum Barberini in Potsdam sheds light on these precious decades of the works by employing around 140 works exclusively from the collection of Jacqueline Picasso (second wife of Picasso), most of which have never seen the public light before and are only known to exist through the circulated photos of famous photographers like Lucien Clergue, David Douglas Duncan, and Edward Quinn, showing Picasso and his wife in the studios of La Californie, in his workshop at Mougins and in their family retreat at Château de Vauvenargues in Provence.
---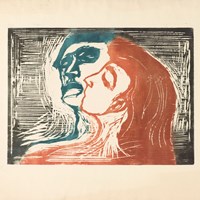 Article date: Tuesday, April 16, 2019
Edvard Munch: Love and Angst, British Museum
The British Museum is currently showing the largest collection of the prints of Edvard Munch (1863-1944) to have been exhibited in the UK for 45 years. These include a black-and-white lithograph of The Scream made in 1895, on loan from a private collection in Norway, and a total of 83 prints, sketches and paintings, which together provide a thought-provoking introduction to Munch's character and Bohemian lifestyle. The exhibition has been organised by Giulia Bartrum, Curator of German and Swiss prints and drawings at the BM, in collaboration with the Munch Museum, Oslo.
---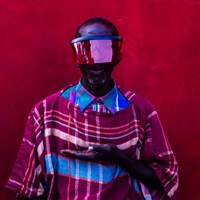 Article date: Monday, April 8, 2019
Reflecting Matter at Matter Studio Gallery, Los Angeles
"... I am realizing my longstanding vision for an exhibition space in the heart of LA. We welcome artists who are established, to those just starting their careers, whether transplants from afar, to those born and raised here. The artists we represent share their voices and commonality through their artwork". The photography exhibition includes works by contemporary artists Djibril Drame, Martin Cox, Fran Lamothe, and Daniel Wheeler whose cultures and perspectives embody universal themes.