Image: from left to right Ariel Jiménez, Juan Carlos Maldonado, and Charles Brewer-Carias.  Photo sent by Maldonado Art Collection in Miami
Venezuelan businessman Juan Carlos Maldonado collects modern Western abstract geometric art. In 2016 he bought the biggest collection of indigenous Ye'kwana art in the world. It spoke the language of straight lines and angles he loves. In the current show at his exhibition space in Miami both collections meet. It's a dialogue between two completely different modern cosmologies.
From left to right Ariel Jiménez, Juan Carlos Maldonado, and Charles Brewer-Carias.  Photo sent by Maldonado Art Collection in Miami
In 1915 Russian artist Kazimir Malevich (1878-1935) invented an art he believed supreme. It was the year he painted Black Square, literally a black square in a white background. With this painting he freed art from having to connect to the real world. As a painter he could now explore the essence of his medium, and perfect the skill of conveying pure emotion through geometric forms floating in a blank universe. In his mind he had taken art to the pinnacle of its evolution.
According to renown art historian E.H Gombrich, Aristotle was the first to talk about artistic evolution. He applied nature's processes of growth to the arts and believed just like a planted seed turns into a tree and flourishes in spring, men and women's artistic practices mature.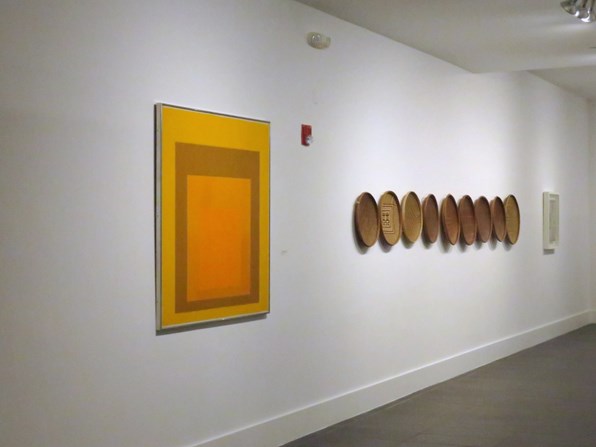 In view Josef Alber's Homage to the square, Amber Setting 1959
Western culture adopted Aristotle's idea as self-evident, and spread the belief that the inventions of perspective in the early Renaissance and of abstraction in the XX century were part of art's journey towards perfection. If abstract geometric art was at the height of the evolution process -as Malevich believed- tribal art lie at the beginning.
But the Ye'kwana artworks of Maldonado's collection are abstract geometric art from the 1950's and 60's, just like many of the pieces by modern Western artists displayed alongside them. "I bought the indigenous collection because it fit mine perfectly," says Juan Carlos Maldonado. "Fifteen years ago, I began collecting Latin-American abstract geometric art from the 1950's, 60's and 70's. With time I branched out into European and American. When I saw the Ye'kwana's baskets and ceramic vessels I recognized the straight lines, the geometric forms, the architecture, the simpleness. No one had to explain them to me. I knew the language. It's modern."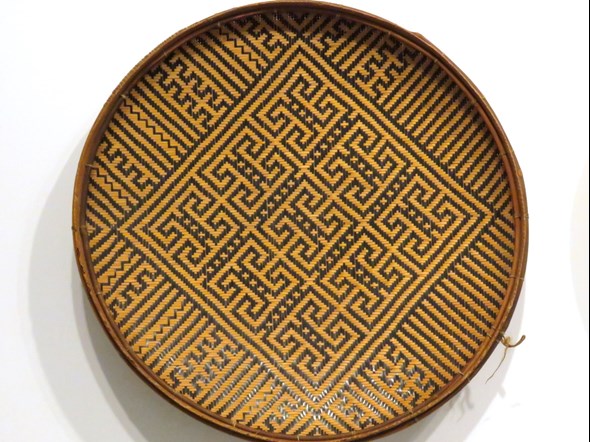 Ye'kwana basket: The Face of the jaguar 
Convergences/Divergences, currently showing at the Juan Carlos Maldonado Art Collection (JCMAC) in Miami's Design District, makes the viewer question the still deep-rooted myth of art's evolution. The Venezuelan curator Ariel Jiménez placed Ye'kwana baskets side by side with works by artists like François Morellet, Jesús Rafael Soto, Kenneth Noland, Carmen Herrera, and Josef Albers. Instead of arranging them to tell the well-known story of how modern artists like Gauguin, Picasso, and Kirchner turned to the simpleness of tribal art in search of inspiration, he makes the artworks unveil two completely different ways of being modern. 
"I wanted to see where they meet and where they diverge," says Jiménez. The three-step tour begins with figurative artworks. Joaquín Torres-García's Constructif avec Poission Ocre (1932) hangs close to Mono Tití en cesta dividida to show how the monkeys in the Ye'kwana basket are not just decoration but the expression of a specific worldview, just like the fish and the cross in the Uruguayan's painting. The latter are symbols of Christianity while the monkey is Yarakuru, the animal who stole the night from Wanadi's purse, and darkened the day.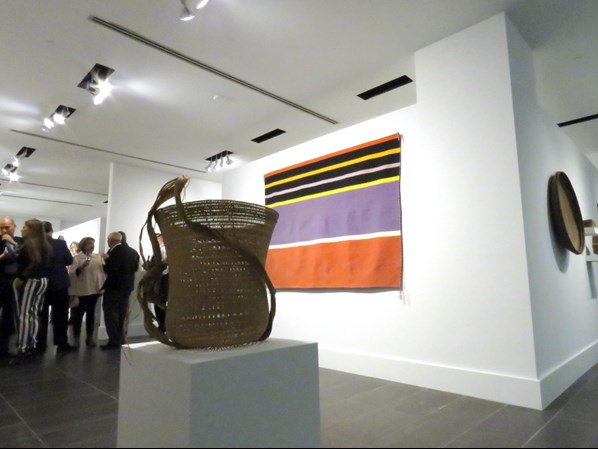 In sight Ye'kwana hamper and Kenneth Noland's Rainbow's Blanket 1980
The complexity of the stories these artworks tell depends on the viewer's knowledge of the universe they belong to.
"The second step is about language and technique," says Jiménez. How the Ye'kwana and the modern Western artists both adhere to similar restrictive patterns of creation, yet the inner workings of the cosmos they speak of are completely different. Modern science bases its knowledge of natural phenomena on physico-mathematical formulas independent of any type of rational entity.  In 10 trams 0, 8, 16, 32, 64 ... (1971) French artist François Morellet lets mathematics run the creative process: at an angle of 8 degrees, then of 16, 32, 64 and so on, he paints a white line across the black canvas.
"The Ye'kwana's art technics are very strict," says Jiménez. "The lines that make up their basket's central axis need to meet at a 90-degree angle, and while weaving they must change color after two or five threads." On top of that, "before making a basket they need to ask the gods permission to use the materials," says Charles Brewer-Carías, the famous Venezuelan polymath and explorer who put together the Ye'kwana art collection now owned by Maldonado. 
The last part focuses on modern Western artists' impulse to return to what they saw as "simple" and "pure," and break away from industrial society's lifestyle and aesthetics. Their muse were tribes like the Ye'kwana who live close to nature and make art out of what they find around them. "Modern Western artists make a conscious decision to restrict their use of materials and form. In Homage to the Square: Amber Setting (1959) Josef Albers chooses to paint squares only; and in Form and relief (1948) the Uruguayan Gonzalo Fonseca makes simple figures out of wood-sticks," says Jiménez. 
Touring through Convergences/Divergences is like using French thinker Michel Foucault's archeological method. It gets the viewer to reflect upon his or her understanding of history, and what it truly means to be modern and rational. In discovering this other worldview the visitor is made aware of his or her own unconscious thought processes, and the historical sediment words carry. If the Ye'kwana's Whirlpool with ten swirls moves and changes colors just like Carlos Cruz-Diez' kinetic artwork Physichormie No. 194 (1965), why refer to one as "modern" and the other as "primitive"?
"In May we're publishing Charles' book on the Ye'kwana. It will be like an encyclopedia on them," says Maldonado. "And I'm already thinking about a sequel to this exhibition. The idea is to keep showing abstract geometric Latin-American and Ye'kwana art to the world," he says. "But the art always needs to go together with deep research. That's what unveils worlds."