Image: Lady with Ermine (1489-1490), Leonardo Da Vinci
Leonardo was certainly forward-thinking. He based knowledge on experiments before Newton and Galileo's scientific revolution, he invented a technic to dissect eyes, and thought of diving-suits centuries before they could be made. His foresight came from mixing fantasy and reality.
In 1482 Leonardo started working as a pageant producer at the court of Ludovico Sforza in Milan. His job was to stage fantasies. He created the "worlds" where plays, parades and other public spectacles took place. His aim was to entertain the crowd and immerse spectators in the universes he built.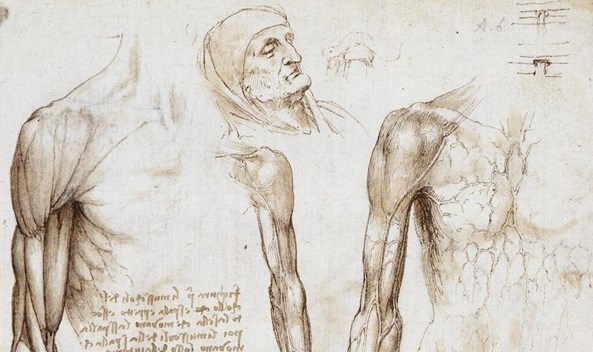 Anatomical drawings, Leonardo Da Vinci
The task of constructing fictions had an enormous impact on da Vinci's thinking.
As pageant producer Leonardo was in charge of special effects. He had to design movable stage settings, arrange the lighting (centuries before electricity), and figure out a way to make angels and fairies fly. His fantastic inventions for the theater inspired his work as an engineer. According to renown writer Walter Isaacson in Leonardo da Vinci, Leonardo probably came up with the idea of building human-wings after having actors fly on stage. His helicopter -says Isaacson- was most likely thought for the stage.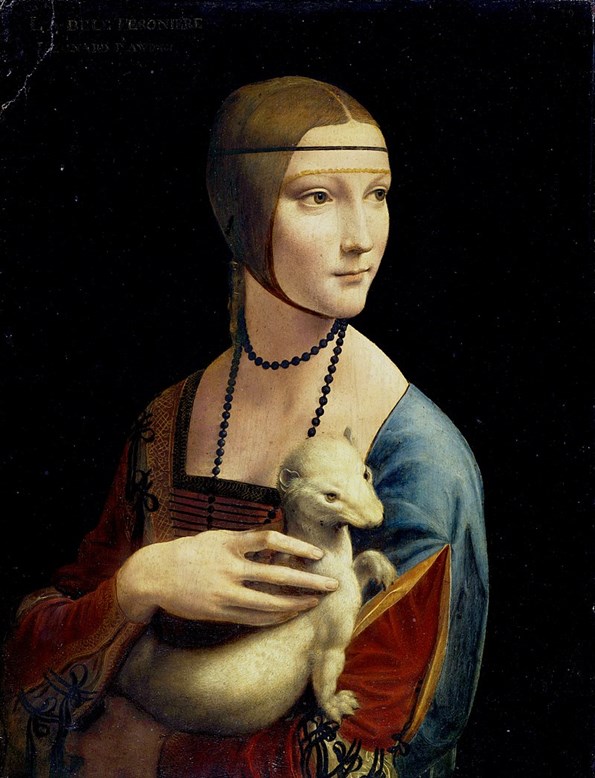 Lady with Ermine (1489-1490), Leonardo Da Vinci
While conducting his research on anatomy Leonardo drew a map of the human brain that gives insight into his thinking process, and provides clues to better understand his powerful creativity. To da Vinci men and women's talent for imagination is found in a ventricle where it closely interacts with their capacity for rational thinking. Combining them wasn't a contradiction but an empowerment of both faculties.  
Blurring the line between reason and imagination fit Leonardo's worldview. He understood space as a continuum and saw the universe as the sum of interlinked phenomena.
He allowed his mind to mix these two faculties freely. To him it was like blending his knowledge of optics, anatomy, human emotions, lighting, shading, color, and perspective to paint a masterpiece. Seeing the word and our mind as a puzzle that could be put together, and acting accordingly, propelled him to become one of history's most creative inventors, and arguably its greatest artist.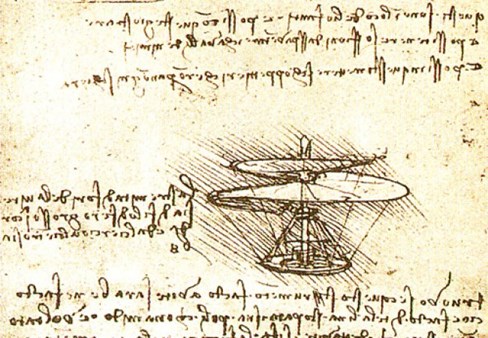 Leonardo Da Vinci, Helicopter
To Leonardo painting demands the use of reason and imagination. This makes it supreme among the arts. A good painter must learn to observe nature and get to know its laws. He or she should become versed in the science of optics and the mathematics of perspective, and train the mind to see a world in a blank canvas.  
Instead of omitting a wall's stains and dents, the Italian used them to trigger his imagination. "It should not be hard for you to look at the stains on walls, or the ashes of a fire, or the clouds or mud, and if you consider them well you will find marvelous new ideas, because the mind is stimulated to new inventions by obscure things," wrote Leonardo in his advice to young artists.
Da Vinci was a skilled observer of nature. He watched it, studied it, and conducted a thousand experiments, if necessary, to understand a phenomenon and accurately paint it.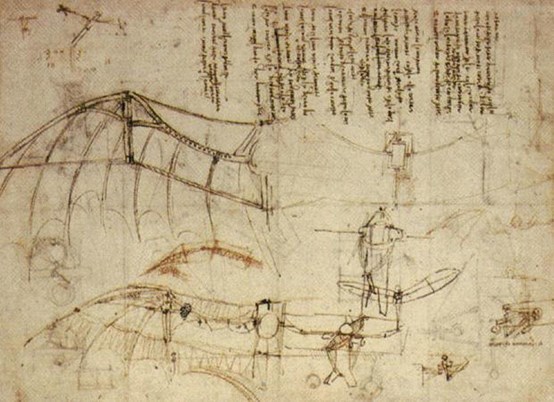 Leonardo da Vinci, Study of wings
But it was his effervescent creativity that turned him into a man who went beyond the imitation of nature. He thought of objects it hadn't created. Researching bird's wings he designed ones for humans; mixing the hands of one man with the face of another he recreated an expression he'd never seen: Christ telling his Apostles one of them would betray him; and by drawing as if he were creating a musical scale -placing the figures on the canvas as a composer would choose a melody's notes-, he froze motion.  
Leonardo is often referred to as a super-human. The writings and the masterpieces he left behind give weight to this description. But they also reveal he wasn't solely a virtuoso. He empowered his mind, searched to satisfy his insatiable curiosity, and studied and worked like a colossal. That's how he created some of the world's greatest paintings:  the Mona Lisa (1503), The Last Supper (1495-1498), Salvator Mundi (1500), St. John the Baptist (1523-1516), Lady with Ermine (1489-1490)…