Image: Serge Bloch, Portrait (2018)
In an increasingly competitive world creativity is the key to standing out. Here is why and what you can do to spark it.
"I define creativity as the ability to see new possibilities," says Hillary Bassett Ross, an American who's been working in the field for decades. "It's that simple."
Bassett Ross provided digital creative for big companies such as Microsoft, World Vision, and Safeco Insurance, and is using her experience to develop methods that enhance creativity.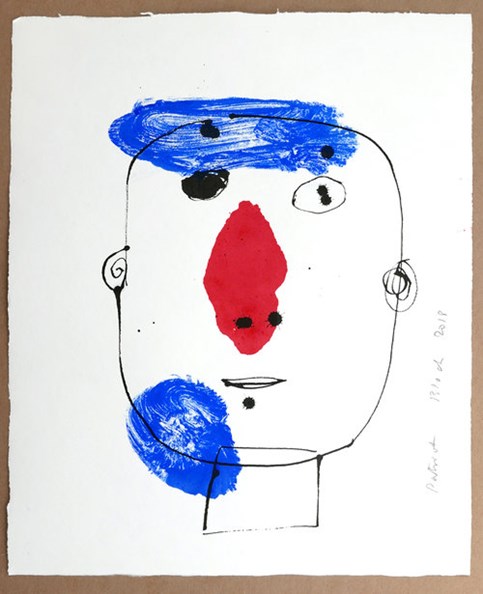 Serge Bloch, Portrait (2018)
We tend to think of creativity as an almost divine quality, characteristic of some of history's greatest minds, and those who venture into the art world. This mindset isn't illogical. Creativity triggers innovation and allows men and women to craft something unique.
Our brain has two ways of solving a puzzle: analytically or intuitively. "One is to think it through deliberately, rigorously," says Jeffrey Kluger in TIMEmagazine's special edition The Science of Creativity."The other, the seemingly magical way, is simply to stare at the words, let them roll around in your head until -bang!- the answer presents itself." The latter feels more exciting, and brain rewards itself by reading it as if it were a surprise.
This explains the Ancient Greeks belief in artists' connection with the Muses, and the Romantic concept of the artist-genius.  
Basset Ross' definition -which concurs with neuroscience's latest discoveries- democratizes our understanding of creativity.
Calling it an "ability" turns it into a skill that can be learned instead of it being a gift you're born with. Not specifying the field or the scope of the new idea, brings it back to the everyday rather than restricting it to the arts or the grandiose.  
"It's how you allow your mind to work," says Bassett Ross. "People who are designing and making music and being expressive, that's creative. But the way you put together a sandwich or run errands can be creative too." In the words of French illustrator Serge Bloch: "creativity is the art of combining a little idea with another little idea… in the end maybe a great idea will come up."
Becoming creative will change your life simply because it entails a different worldview.
Capitalism and modern science made us utilitarian and pragmatic. Our measure of success is not the moment "day and night are such that [we] greet them with joy," as American thinker Henry David Thoreau defines it, but the speed with which we gain and accumulate things: power, knowledge, wealth, prestige, titles…etc. To move forward faster we tend to stay in the path others have laid out and try to walk in a straight line aiming for perfection.
Creativity is about exploring the unknown. "It's like mining," says Rod Judkins in TIME's The Science of Creativity. "We need to dig deep to discover and uncover ourselves. Making mistakes and opening oneself up to imperfections is essential because it's the gateway to the unexpected. "You have to get to a place where you're comfortable with being raw on the page. That's when things start to happen," says Bassett Ross. 
People constantly worry about being good and hide so much of who they are because of it. Yet just being good won't necessarily make them stand out.
By contrast, the exploration creative thinking induces exalts their uniqueness and makes society resemble our current image of the universe: a diverse space made up of infinitely different worlds.
Here are four of Bassett Ross' tips to get your creative flow running:
1) Relax: Don't think: I need to be creative now, I'm going to be creative. Creativity happens in a passive state of mind. Get your brain away from the task you're trying to accomplish and let it noodle around it. You'll be amazed with the results.
2) Change locations: Go someplace new. A change of scenery will spark your mind in a new way.
3) Do new things: Don't reduce yourself to the same old habits. Try to expose yourself to new stimuli. Movement is good for the brain. It teaches it new connections.
4) Get your hands moving: There's a hand-brain connection. Try writing or doodling something on good-old-fashioned paper. It can downshift your brain and get you into a state of mind where ideas start coming.