Image: "Table" (2018), Kim Byung Chul, copyright coGalleries
South Korean artist Kim Byung Chul's exhibition "Fingertip" at coGalleries Berlin urges viewers to reflect on the meaning of our humanity. To him our essence lies exactly in what Western progressivism has taught us to move away from. 
Kim Byung Chul's Table (2018) is a short, white, one-legged table. Despite not having three of its legs it is not tilted, nor does it show signs of imbalance. To the South Korean this artwork is a metaphor to express men and women's essence: we're incomplete beings.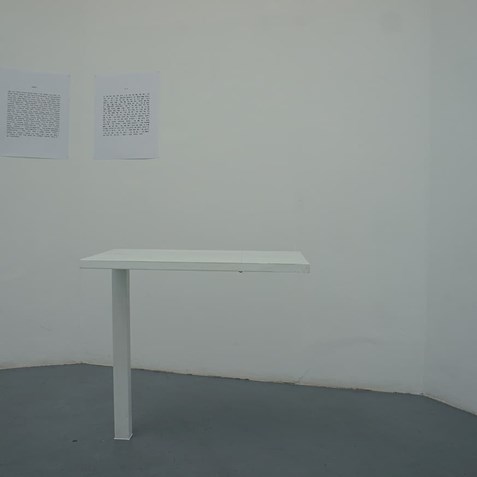 "Table" (2018), Kim Byung Chul
Every day we experience our shortcomings. But we think of them in a different light than what Kim Byung Chul suggests we do.
"Table" (2018), Kim Byung Chul, performance "One person, two person"
The Enlightenment ingrained the idea of the possibility of progress in men and women's minds. Immanuel Kant argued humans were moving away from barbarism and towards civilization; German philosopher Georg Wilhelm Friedrich Hegel believed in history's linear progression; and British thinker John Stuart Mill was convinced people were progressive beings.  
In the XVIII and XIX century's worldview, Aristotle's affirmation that the world tended towards perfection seemed true. Since Newton and Galileo's revolution the sciences were making breakthroughs at a faster pace; the Industrial Revolution's technological advances were changing men and women's daily life; and nations' push towards democracy, along with the creation of people's fundamental rights, gave the impression of a maturing society.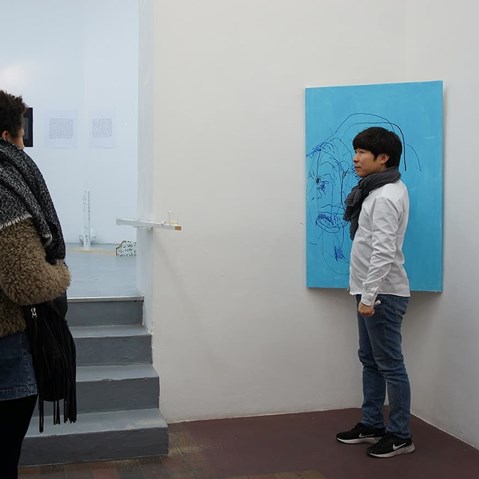 Kim Byung Chul, performance "One person, two person"
The idea of progress was projected onto the individual. Human's imperfections became obstacles to overcome in our path towards improvement.
The history of the XX century and the events happening today, have made people question the Enlightenments faith in reason and the power of ideas. Yet even though we doubt the world's movement towards the better, the notion of progress still permeates how we see the world. Grief, for example, is understood as a temporary state we need to move away from and there's sequence of steps people should take to do so.   
Language itself perpetuates this way of thinking. The words we use to refer to our shortcomings all have a negative connotation: "fault," "incompleteness," "shortcoming," "flaw," "failing," "weakness"… 
Kim Byung Chul's firmly standing one-legged table proposes something different: how about looking at them in a positive light? Why not understand our incompleteness as essential to our being, as something that simply is instead of it being quality to change through habits, hard work and perseverance.
To the artist, seeing ourselves as incomplete without that thought being tainted by the idea of progress, can have the power of grounding us to the present. There is no need to constantly think about the future, but rather to enjoy the now and not miss out on life's collateral beauty. 
Kim Byung Chul was born in South Korea's Gimje City in 1972. He has a masters degree in Fine Arts at Kunsan National University. His work reflects on human experience. In 2013 South Korea's Gwangju Museum -launched in 2007 by the same people who created the Gwangju Biennal to push the city's cultural life forward-, granted him the Ha Jund-Woong Artist Award.