Image: Self-Portrait with Monkey, Frida Kahlo, commissioned in 1938 by A. Conger Goodyear, then president of the Museum of Modern Art in New York City
How did Magdalena Carmen Frida Kahlo turn into Frida, one of history's most famous faces?What was her life like? And where did her magnetism come from? The Brooklyn Museum's current exhibition Frida Kahlo: Appearances Can Be Deceivinglooks into these questions.
"When I started working at Frida's museum 15 years ago, I thought: what am I going to do here? Everything about her has already been said. Who knew my first task would be to find a museum within a museum," says Hilda Trujillo, director of Frida Kahlo's Museum in Mexico City.
Self-Portrait with Monkey, Frida Kahlo, commissioned in 1938 by A. Conger Goodyear, then president of the Museum of Modern Art in New York City
Inside sealed bathrooms and trunks, the museum's workers found drawings and paintings, among them a Modigliani; Frida's jewelry and iconic Tehuana clothes; letters, including one Albert Einstein addressed to Diego Rivera; Frida's hand-painted corsets and prosthetics; her poems; and photographs of her and of the couple taken by her father Guillermo Kahlo, and renown photographers like Manuel Álvarez Bravo, Gisele Freund, and Nickolas Muray.    
When Kahlo died in 1954 her husband, the famous Mexican muralist Diego Rivera, locked away her things, and asked for them not to be touched until 15 years after his own death. In 2004 Trujillo and her team unearthed them and discovered a new Frida.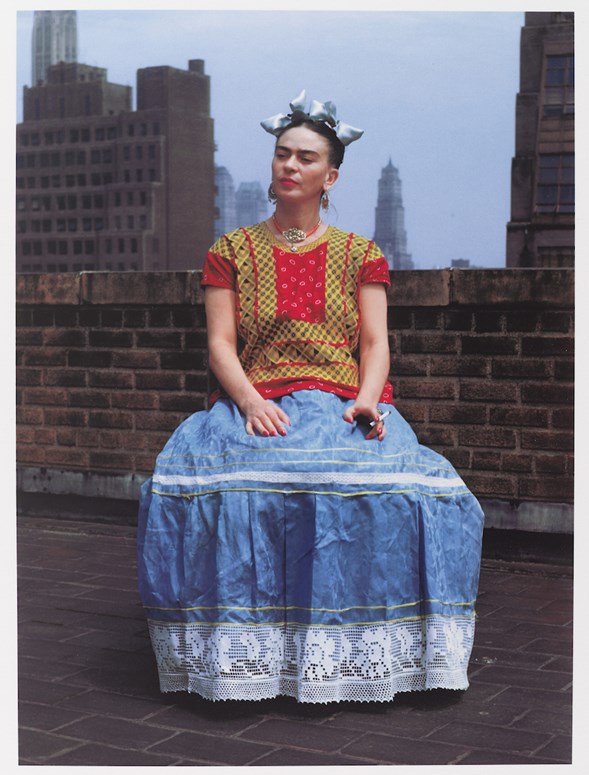 Nicholas Muray (American, born Hungary, 1892-1965), Frida in New York, 1946, photo courtesy Brooklyn Museum
"Before opening the archives people saw a suffering Frida, a Frida who dressed for Diego. But her daily life's objects show a forward-thinking woman who never complained about her pain. She represented it in her paintings, where she portrays herself with a hard expression and tears in her eyes. But in real life she loved mariachi, tequila, partying, and had a great sense of humor," says Trujillo. 
Frida's personal things reveal how she built her world-famous image and turned herself and everything around her into an artwork. This is the focus of the Brooklyn Museum's current show, as well as The Frida Kahlo Museum's 2012 exhibition, and London's Victoria and Albert Museum's 2018 Frida Kahlo: Making herself up.
"Frida took everything from Mexico's popular culture," says Trujillo. "She collected more than 450 Mexican votives, and you can see their influence in her paintings." Her famous Blue House was decorated in traditional Mexican art's bright colors, and filled with pre-Columbian style ceramics, vases, baskets, and statuettes. Her wardrobe was mostly made up Tehuana women's typical colorful floor-length skirts, embroidered blouses, and elaborate headwear. "She knew how to show the country's cultural richness, and was a pioneer in doing so," says Trujillo.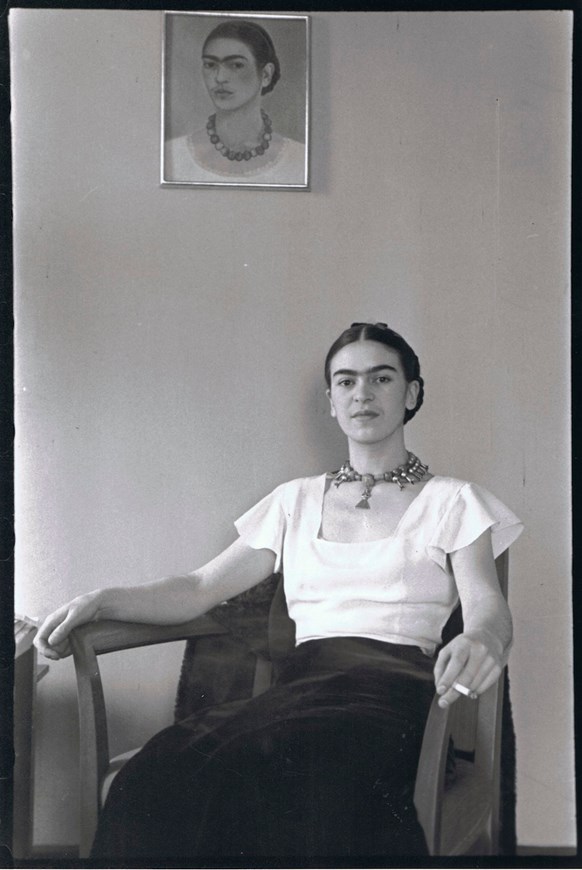 Kahlo in the Barbizon Plaza Hotel in Manhattan in 1933
Mexico's popular culture was imprinted in the artist's soul. In Mexican people's worldview life is meant to be enjoyed. Despite living in constant pain, this was Frida's mindset. "Nothing is worth more than laughter," she wrote. "Tragedy is the most ridiculous thing."  
Frida lived dying. She contracted polio at the age of 6, and the stricken leg was deformed and deteriorated throughout her life. At age 18 she was in a traffic accident that broke her spinal column in three places, crushed her left foot, broke her collarbone, two ribs, and her pelvis. She had 30 surgeries throughout her life, the last one just months before dying. Yet, she always looked and lived like a queen, as Mexican singer Jorge Alfredo Vargas' ballad I am still kingtells his people to do.
Kahlo learned to seduce the camera. "If you look at her photo's she's always posing," says Trujillo. "Her father was a great photographer. From a young age she used to go to work with him because he was an epileptic."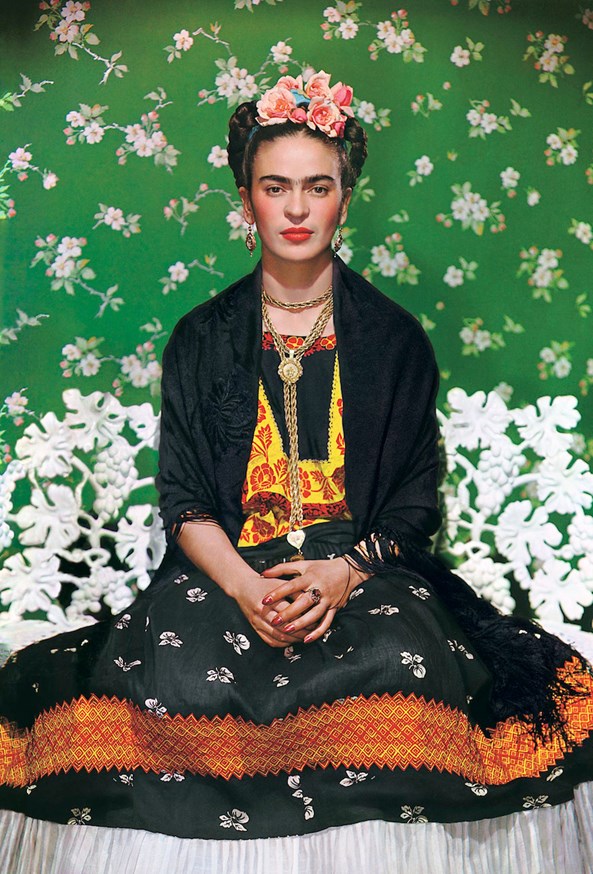 Frida Kahlo in all her glory, circa 1937. Photo by Nickolas Muray.
Frida created a disguise that hid and exhibit her at the same time, just as renown Mexican writer Octavio Paz says his countrymen tend to do. 
Constant pain, vibrant creativity or perhaps the mix of both made Frida extremely self-aware. But instead of hiding her uniqueness she chose to underline it and make it remarkable. She embraced her soul, and made being herself and end in itself. That's why she's so magnetic.
"I paint my own reality," she famously wrote. And her reality resonates with a lot of society's current concerns: she painted her disabilities, believed every human has a masculine and a feminine side, and embraced both of them. She was an intelligent, free thinking woman, intellectually restless, and unrestrained by society.
In a nutshell: if love is hunger for life, as Paz writes, then Kahlo was full of love.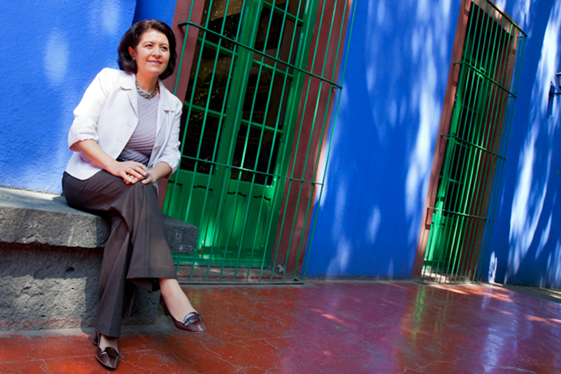 Hilda Trujillo
"My dear boy:
(...) Never in my entire life will I forget your presence. You took me in when I was shattered and gave me back complete, whole."
Quote in Diary, p. 155
"The devil is blond
And in his blue eyes
Two little stars ignited love
With his tie and his red panties.
I find the devil charming."
"The Devil" poem, undated