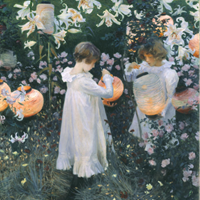 Article date: Monday, September 18, 2017
Symbolism in Art: Carnation, Lily, Lily, Rose by John Singer Sargent
The lily is one of the most potently symbolic flowers. Often associated with humility, devotion, purity and innocence, they are often presented at weddings and christenings, evoking chastity, femininity and fragility.
---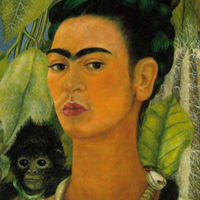 Article date: Monday, September 4, 2017
Symbolism in Art: Frida Kahlo – Self Portrait with Monkey
"I paint myself because I'm so often alone and because I am the subject I know best," Frida Kahlo. Born and raised in Mexico to a German father and a Pacific Islander mother, Frida Kahlo (1907-1954) has become known for her self-portraiture and her unique painting style. Combining elements of traditional Mexican folk art, she studies every detail of her physique and transcends normalised structures of beauty.
---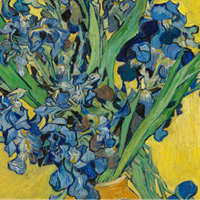 Article date: Friday, July 28, 2017
Symbolism in Art: Irises – Van Gogh (1889)
There are 325 species of iris flower. Most wild iris are blue or purple. Vincent Van Gogh's representation of a bouquet of iris flowers, titled Irises (1889), appears to show the blue variety, although records show that the original paint would have been a vibrant purple before the passing of time dulled the pigment.
---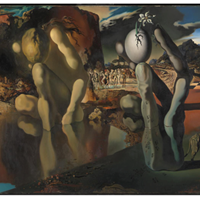 Article date: Monday, June 5, 2017
Symbolism in Art: The Egg
The egg has always held particular symbolic significance, partly because it is a visual shorthand for new life and un-hatched potential. The egg brings hope and purity. It is a symbol of fertility and the circle of life. In some Asian cultures the egg is seen as a symbol of luck and wealth.
---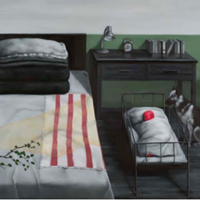 Article date: Monday, May 1, 2017
Symbolism in Art: The Pillow
Contemporary Chinese surrealist painter and sculptor Zhang Xiaogang was born in Southern China in 1958. Often seen as Avant-Garde, Xiaogang's artistic life has witnessed several important moments in China's history, many of which are explored within his work. Perhaps the most defining brush with the political regime occurred during the early stages of Xiaogang's life when he was brutally separated from his parents during the Cultural Revolution. They were sent to one of Mao's notorious 'study camps', leaving him and his siblings behind.
---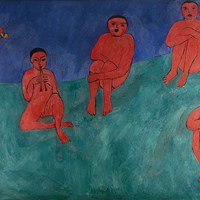 Article date: Thursday, April 6, 2017
Symbolism in Art: Red
In Matisse's Music, created in 1910 to be hung in the staircase of a Moscow mansion, we see one of the artist's last compositions of the human figure. It was created to be hung alongside a second, preceding painting titled Dance. The two works are colouristically linked, portraying red figures contrasted against a blue and green background.
---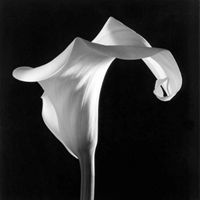 Article date: Tuesday, March 28, 2017
Symbolism in Art: The Lilly
American photographer Robert Mapplethorpe is known for his provocative images and controversial subject matter. Having been born in suburban USA, a place he said was "a good place to come from and a good place to leave", he lived in New York at the infamous Chelsea Hotel with singer Patti Smith. His work became popular in the mid 70s and he produced hundreds of photographs documenting what he called "the unexpected".
---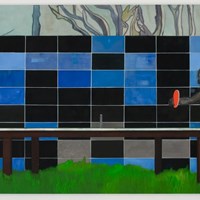 Article date: Friday, November 4, 2016
Symbolism in Art: The Bird
The most striking elements of this poetic scene are incomplete without a look at the background. The lone table tennis player may exemplify Doig's interest in human character and form. And the abstract backdrop to his one-sided game may well bring to mind the modernist architecture which the Scottish painter has famously explored elsewhere. Together they form a puzzle, an unfinished narrative, and an arresting visual image that really defies paraphrase.
---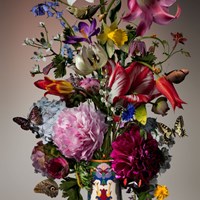 Article date: Friday, October 21, 2016
Symbolism in Art: The Butterfly
Bas Meeuws (1974) is a photographer from the Netherlands, who has won international acclaim for his richly detailed studies within the traditional Dutch genre of floral still life. Close to home his work has been exhibited in public and private institutions such as the Museum Jan Van Der Togt (Amstelveen), Rockoxhouse (Antwerp), and others.
---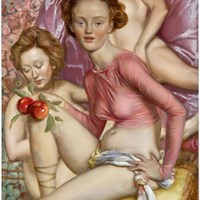 Article date: Thursday, July 28, 2016
Symbolism in Art: The Apple
The image of the apple can signify love, wisdom, and death. Within the religious context of Christianity, it means temptation and original sin. In Norse mythology, as in the Greek, apples grant immortality. The apple is also associated (like other fruits and flowers) with a woman's anatomy.