Articles
(69)
Article date: Friday, January 5, 2018
Symbolism in Art: The Pumpkin
"I would confront the spirit of the pumpkin, forgetting everything else and concentrating my mind entirely on the form before me…I spent as much as a month facing a single pumpkin." Yayoi Kusama.
---
Article date: Thursday, December 28, 2017
Artdependence Magazine Purchases The Original Seated Ballerina
A piece of beautiful Soviet-era porcelain, depicting a ballerina adjusting her footwear whilst sitting on a stall, became one of the most talked-about pieces of Ukrainian art from the last decade in 2017.
---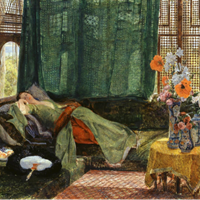 Article date: Friday, December 22, 2017
Symbolism: The Colour Green
English orientalist painter John Frederick Lewis (1805-1876) developed a fascination with the Near East and took pains to represent the sights and the people he encountered in the region in an honest and positive light.
---
Article date: Tuesday, December 19, 2017
In the Line of Fire: Museums and Art Institutions in California Survive Thomas Fire
California is currently experiencing one of the largest wildfires in its history.
---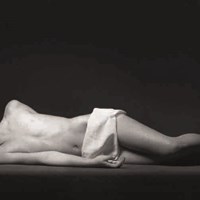 Article date: Wednesday, November 8, 2017
Ecce Homo in Antwerp: Empowering Women Through the Work of Male Artists?
Internationally, the art world is well aware that it has a problem with under-representation of female artists, but it seems the jury is still very much out when it comes to addressing that problem. A study by the Hertie School of Governance in Berlin recently looked at this problem in the German context, finding that women comprised 48% of the cultural workforce in Germany, but held only 21% of the top management positions. Most alarmingly, two thirds of those studying arts and humanities subjects at Universities were female. Clearly there is no lack of desire amongst the female population to engage with the art world. So where is it all going wrong?
---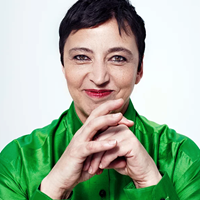 Article date: Wednesday, October 18, 2017
Beatrix Ruf Resigns as Director of the Stedelijk Museum Did a Conflict of Interest Really Take Place?
Born in Germany, Ruf has built a strong reputation as one of the art world's most powerful voices. But, over the last few weeks, Ruf has been subject to intense media scrutiny following accusations of a conflict of interest in her role at the Museum. Whilst serving as Director, claims have arisen that Ruf has continued to run an independent art advisory service.
---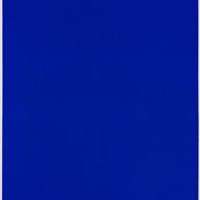 Article date: Tuesday, October 17, 2017
Symbolism in Art: Yves Klein's Blue
In 1947 Klein and two of his friends decided to play a game in which they divided up the world between them. One young man decided to take the animal kingdom, and one the province of the plants. Klein opted for the mineral realm, gazing up to the sky and proclaiming, "the blue sky is my first artwork".
---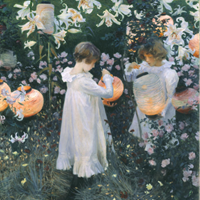 Article date: Monday, September 18, 2017
Symbolism in Art: Carnation, Lily, Lily, Rose by John Singer Sargent
The lily is one of the most potently symbolic flowers. Often associated with humility, devotion, purity and innocence, they are often presented at weddings and christenings, evoking chastity, femininity and fragility.
---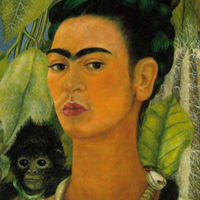 Article date: Monday, September 4, 2017
Symbolism in Art: Frida Kahlo – Self Portrait with Monkey
"I paint myself because I'm so often alone and because I am the subject I know best," Frida Kahlo. Born and raised in Mexico to a German father and a Pacific Islander mother, Frida Kahlo (1907-1954) has become known for her self-portraiture and her unique painting style. Combining elements of traditional Mexican folk art, she studies every detail of her physique and transcends normalised structures of beauty.
---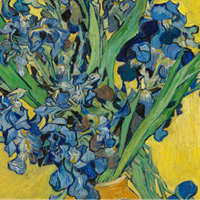 Article date: Friday, July 28, 2017
Symbolism in Art: Irises – Van Gogh (1889)
There are 325 species of iris flower. Most wild iris are blue or purple. Vincent Van Gogh's representation of a bouquet of iris flowers, titled Irises (1889), appears to show the blue variety, although records show that the original paint would have been a vibrant purple before the passing of time dulled the pigment.