Andy Warhol's legendary fashion and art publication, Interview Magazine, will close its doors after 50 years as a beacon of New York pop and fashion culture. The magazine was founded by Warhol in 1969 and has been covering cutting edge lifestyle movements ever since.
Interview, once labelled 'the Crystal Ball of Pop' culture, has been in turmoil for several months now following a period of repeated upheaval. During its 50 year run, Interview was closely associated with various art and fashion movements in New York including Studio 54, the Mud Club, CBGB and Warhol's factory.
Owned by art collector Peter Brant since the late 80s, the magazine has been plagued by rumours of financial insecurity for several years, with a period of repeated scandal over the past few months. In February, a dispute about rent led to employees being locked out of their SoHo offices and forced to find new premises before resuming operations.
Shortly afterwards, former long-term COO Deborah Blasucci launched a lawsuit against the magazine for wrongful termination. In April, Editorial Director Fabien Baron and his wife Ludivine Poibland launched a further lawsuit for the sum of $600,000 for styling and consultation work that they claimed had never been paid for. To add to the already beleaguered magazines problems, these incidents were closely followed by the resignation of Fashion Director Karl Templer amidst accusations of sexual misconduct.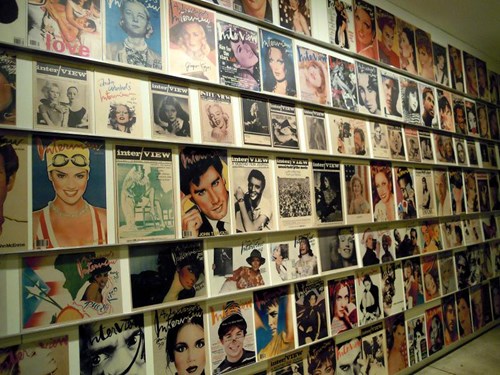 Covers displayed in the Andy Warhol Museum, Becca923 from San Francisco, USA
No new hires were made to replace either Baron or Templer and rumours of an acquisition circulated. Now, the magazine have confirmed that they will be shutting down the title. It is not clear whether there will be any final issues of the publication but it does appear that the offices are now closed.
When first created, Warhol used the magazine to publish interviews with the various artist and pop legends that he was working with. Interview came to have almost legendary status amongst the Manhatten in-crowd. Over the last 50 years Interview has become famous as an outlet for honest, down to earth interviews and stylish photography. Warhol once commented that when drunk "I tell everyone they can be on the cover of Interview."