Image: Staatsballett Berlin by Tubal Battisti
Your passion is pure joy to me by Stijn Celis, choreographed on four tracks by Nick Cave and his band, The Bad Seeds, is a research over an eternal question: what kind of consolation is possible after infinite and miscellaneous catastrophes?
How the humankind is capable to proceed forward remembering tragedies happened in the past? The question rises up various and distressed reflections and leads to a personal internal voyage, resonant with additional memories and interrogations.The dancers, in their individual ways, seem probing and searching for answers. They move and use the whole space with stretched movements that all of a sudden become small. They lean over each other, just for a few seconds before they proceed alone in their solos.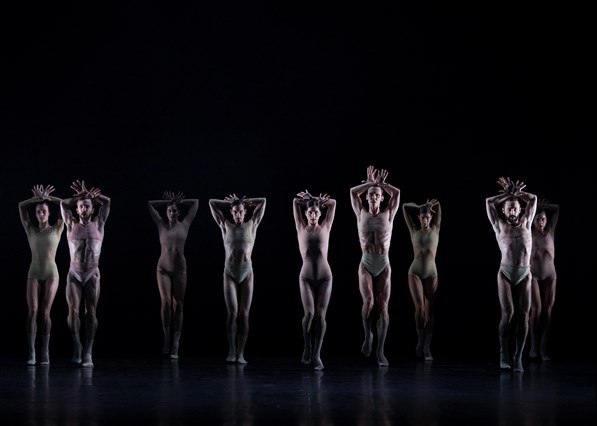 Staatsballett Berlin by Tubal Battisti
In contrast with the deep voice of Nick Cave, some cacophonies by the composers Pierre Boulez and Krzysztof Penderecki make the piece even more dramatic. All the chosen music compositions are entangled with the unknown and incapacity to understand what is behind the seeable realities. The performers seem to fight with their own ghosts, fonts of inspiration and threat at the same time. Regrets, sorrow, wounds of different kinds emerge listening to the melancholic Nick Cave. The fugacious movements of the dancers that appear dancing, and disappear walking, bending and standing again, seem to be strongly connected to the human kind's initial intention to understand and finding the true answers, and the actual recognition of that mere illusion followed by approximate, broken, various responses.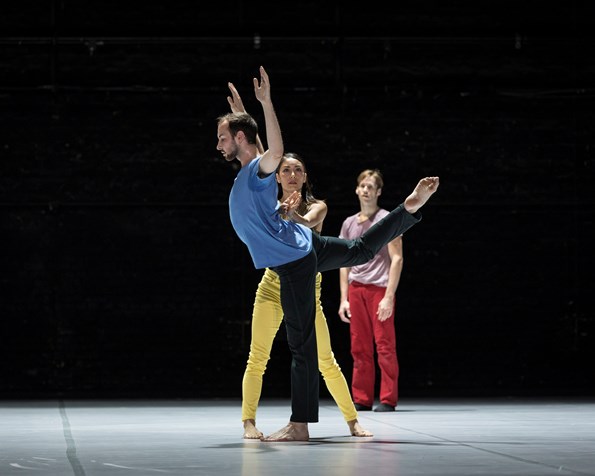 Staatsballett Berlin by Tubal Battisti
Then some questions come to mind such as, why the human being inexorably tries to find a reason to be? On which forces the humankind move on? Who finds the strength to go on? Why certain people can and others not? Consolation helps in certain circumstances and with some characters but it fails in many other cases. Many interrogations are triggered looking and hearing this piece that appears without a clear structure and without a clear content but that leaves space to ponder and get in touch with unbridle feelings. 
Half life by the two Israeli Sharon Eyal and Gai Behar is a triumph of energy.  Two dancers slowly come to be visible while the stage becomes brighter. Repeating the same robotic movements for a long time they appear artificial beings programmed to move with no ending nor changes. Once they are reached by a group of other dancers that also move strongly robotic, they all merge in creating an unit of semi nude sculpted bodies. Impressive the muscular figures that with a strong and synthesised rhythm, compress the movements looking like a block of resistant material. They are energetic, impetuous, full frontal.
The mental and physical power and strength of their bodies is visible and engaging while they seem proceeding as efficient machines. They recall images of soldiers on a front line ready to combat while repeating monotone but big, sharp and intense movements.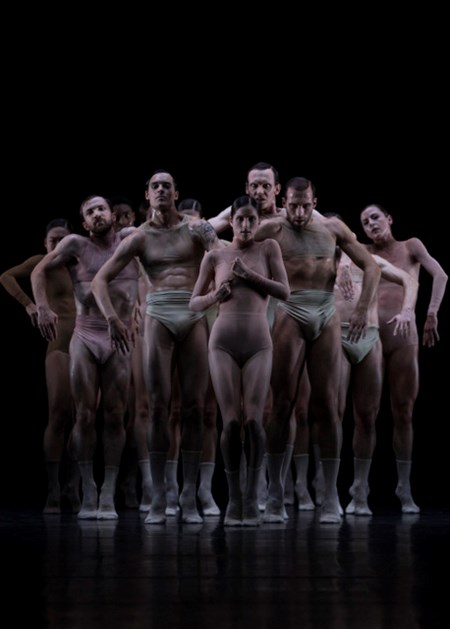 Staatsballett Berlin by Tubal Battisti
Getting really close in a magnetising condensed structure, they dissolve as they move away from each other stretching out the persuasive frame. It appears as they would need closure in order to get power to go on, as electronic devices need to be charged in order to function. When they gather and dance close to each other they look like amalgamated even if they still act as single units part of a big operating system. The creation per se seem not having a specific message but the aesthetic composition is impressive, the constant vigour remarkable and the might of the dancers outstanding.