Timothy Spall is a known actor famous for his roles in several films and television series including Mr. Turner, Lowry, The Last Samurai, Harry Potter and so many more. The thorough preparation for his award-winning role as 'Mr Turner' in the 2014 eponymous film, laid the groundwork for this foray into painting.
Several years after, Spall would pick up painting again while on set of another film. And now, for the first time beyond television screens, art enthusiasts and collectors will get to view and experience Spall's paintings on the wall in an upcoming exhibition at Pontone Gallery, London.
"Painting is not about relaxing", he says.  "It's hard work, sometimes frustrating." Emphasising his appreciation for the rigour that comes with being a visual artist, regardless of how easy the skills come.
Brought up by the Thames in Battersea, where the dark river is a constant presence, Spall has always been intimately drawn to nature and its elements. Perhaps, it is why his seemingly simple renditions of nature are ever so striking and evocative. Could this foray into painting, be the beginning of a new life?
In a conversation with the founding editor of ArtDependence, Dirk Vanduffel, Spall passionately talks about his creative process, how painting began for him and what it means to be an emerging artist age of 64.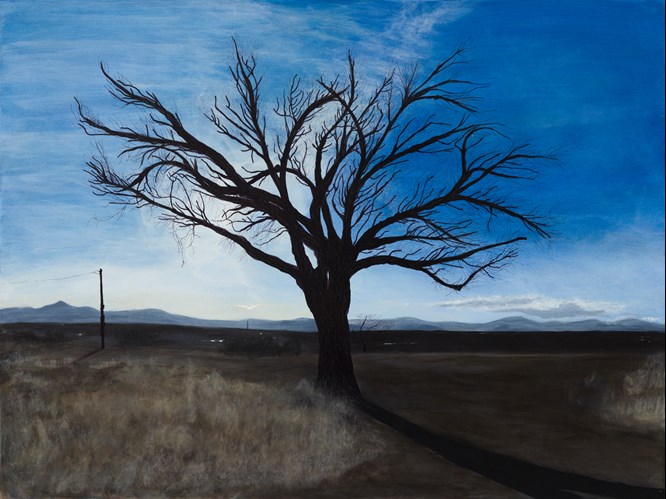 Timothy Spall, 'Naked Yearning, High Desert', 2021, Acrylic on canvas. Courtesy of the artist
ArtDependence (AD): How did you start painting?
Timothy Spall (TS): As a child I had to make a decision about what direction I would take. At that time, I felt I was choosing between being an artist or joining the army. In the end I did neither. I chose acting. I have always been interested in art. I used to do a little bit of art. I created a few private doodles. And then I was asked to play Mr Turner. In preparation for that film Mike Leigh introduced me to Tim Wright, a talented artist and teacher. He gave me a crash course in painting. I did some renders of Turner paintings and learned about colours etc.
Five years after that, I was filming Lowry and I picked up painting again. I painted all the way through recording that movie. In between shots I would go to my trailer and paint. It was at that time that I started to see something emerging in my paintings. My own style. My own voice so to speak. They were my paintings. After that I started using acrylic and that created so many possibilities for me. Throughout the years I have collected many images of places I've been to, places I have stayed or worked. There are around sixteen thousand in total. They brought up strong feelings for me and I started to render them. I dug them out and started to make works that came from those strong feelings that the images gave me. That process really helped me to find my own voice and to move away from the styles of the two great painters I had played – Turner and Lowry.
Timothy Spall, 'It's Here, Will it Stay? Camargue', 2021, Acrylic on canvas. Courtesy of the artist
AD: How do you view Turner?
TS: Turner is a genius and a technical master. Turner's genius is inexplicable. His paintings are full of emotions. It is not just the sky; it is not just a landscape. His works are full of emotions. I can't say I wasn't influenced by his work, but I found my own voice within that. He is an inspiration, without having to try to emulate him.  
AD: Looking at your paintings, the colours you use in the skies, can I define your work as something like Contemporary Impressionism?
TS: That's interesting. As a kid I lived close to the Tate, on the other side of the river Thames.  I used to visit the Tate a lot.  I was very impressed by the impressionists, and the surrealists but I also read a lot of comic books as a kid, so it is a whole collection of influences that are living there in my mind.
AD: How hard was it for Pontone gallery to convince you to do this exhibition?
TS: When I finished the Lowry movie, the Lowry gallery asked me if I did any paintings while shooting the movie, and I said that I did a few. The Lowry Gallery then went on to show several of them. Dominic Pontone visited that exhibition and invited me to stage an exhibition at his gallery. When he asked me, I was terrified. My painting has become a serious thing and I also had to begin looking at it seriously. Painting is not like a hobby to me. I don't find relaxation in painting. It is a real challenge.  So, when I agreed to do an exhibition at the Pontone gallery, I painted 7 days a week, 8 hours a day for 6 months to create the work. I am very aware of the opportunity that has been given to me by the gallery, as well as being introduced as a new artist at the age of 64.
Spall's forthcoming solo exhibition titled 'Out of the Storm' opens June 18th and can be visited until July 19th, 2021 at Pontone Gallery, London.
Timothy Spall, 'Concrete Confection Against the Med', 2021, Acrylic on Canvas. Courtesy of the artist