Image: Spring-Cleaning, Photo Performance, 2010, Diyarbakir
Fatoş Irwen is a feminist Kurdish contemporary artist.She was born and raised in Suriçi Diyarbakır.She received her MFA in Painting at the Dicle University Fine Arts Foundation. She worked as an art trainer for years, but due to the policies implemented by the State, she cannot work as an art trainer. Irwen mainly produces performative works and hasbeen in many international group exhibitions in Iran, Berlin, Austria, Hong Kong, London, Paris, Mexico, Iran, Morocco, Stockholm, Turkey…
" From 2017 to March 2020, I was held in prison as a political prisoner. Whatever work I do, I've always lived with art. I am producing in Istanbul and Diyarakır.
Gender, Body politics, Justice, Ecology, Religion, Power and Domination are the issues that I am dealing with artistically.  I deal with these issues in the context of their psychological effects.  I create and produce the memory, unconscious, dreams, situations as a result of events, psychological tensions by reinterpreting the relationship between body and space. I continue painting, videoart, photography, installation etc. I use expression tools."
ArtDependence (AD): Do you have any thoughts on whether that's a responsibility of artists, reflecting our time is important within the political context?  
Fatoş Irwin (FI): An artist has responsibilities for everything she is in and carries. There are those who think that they do not have to have a political stance, but the geography we live in, the world we live in no longer have the power to bear irresponsibility. People were massacred in front of the eyes of the whole world, women are murdered by men every day, wars are experienced, ecology, human rights, diseases, hunger while there is excessive consumption ...  that is, everything ends without meaning.The earth is in alarm and it is seen that this is a situation that capitalists and states do not care about.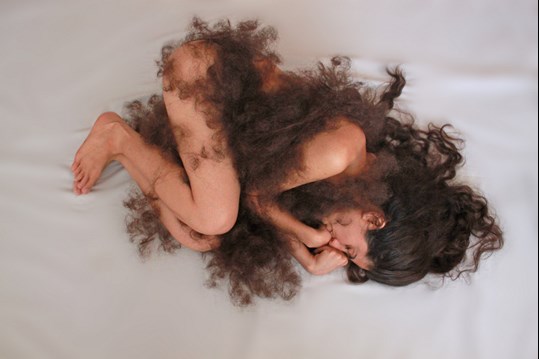 Exceptional Time, 2010, Diyarbakir, Turkey

Therefore, I believe that living with a political attitude as an artist, as a woman and as an individual is an ethical and moral responsibility. Because I thought like this, since 2017, I spent the last 3 years as a political prisoner in Diyarbakır Prison and was released at the end of my sentence at the beginning of March. Unfortunately, if you are an opposition person who has an objection to the system, the result is heavy.
AD: What is your main interest as artist? What form of self-consciousness is applicable to the art-making?
FI: Everything I have experienced as an artist is part of my whole. I mentally tend to the psychological and mental states created by political issues, gender, war, lynch and lynch culture, violence, body politics, memory, and events, and I create my images on this basis. If I feel that with which technique I can feel my issue better, I use that technique.  Basic narrative methods for me such as video, installation and painting along with performative works.
And again as an artist, I try to face my issue by starting from myself. My own life, my own geography, my own roots, etc. These are not things to be postponed. This is, in my view, a matter of self-knowledge. Unfortunately, we have been living with assimilation policies. We are in an assimilated social structure. That's why the issue of 'being your own' is important. Starting from myself, opening up to the world and integrating comes as an artistically correct attitude.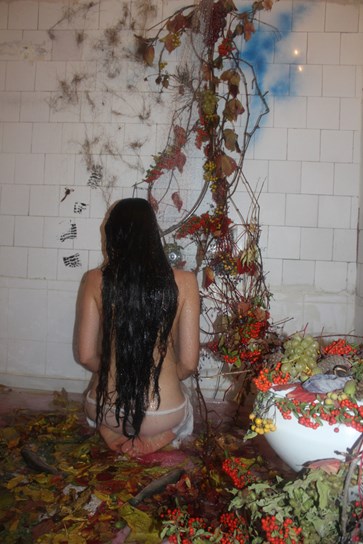 Füg, Photo Performance, 2012, Diyarbakir
AD: Do you feel that it's important to convey your own beliefs and opinions within your art? Is there a philosophical element in your work?
FI: Human grounds his own philosophy of life with his beliefs, disbeliefs, opinions, experiences, desires. It builds, lives and produces itself on this basis. The artist takes the source of her productions from this construction process. I grew up with traditions, religions and women who experienced masculine, social, systemic pressure to the extreme.I grew up with Islamic teachings and traditional feudal values.  It was a legacy of women who lived among all of these, who had traumas left. A painful legacy. My anger grew as I knew it and felt it. Ultimately, this whole system became the source of this anger.  Because I understood better that these problems, which were tried to be shown as a geographical feature, were actually created by the system.  Although I see myself as a world creature, my roots are in the Middle East. I am a demonized Middle Eastern person.  Life, death, violence, fascism, morality, gender, tradition, religion, genocide, nature, racism, state, etc. I always thought about the concepts.  Thinking about all this has been the most important thing in my life since my childhood. That's why I have always been a strange child in the eyes of adults. I was an erroneous child, who had to be corrected, brought to the right path, to be disciplined. On this occasion, I got my share from direct violence and oppression. My life and art were shaped by these elements. As I grew up with my questions, I tried to transform my anger and produced it. Everything that I produce works by interpreting it with my personal philosophy. This philosophy emerges from my life practices, which affect me emotionally and mentally, influence, leave a mark on me. The images I have created with what is going on in the depths of my memory are floating around the reality I live in.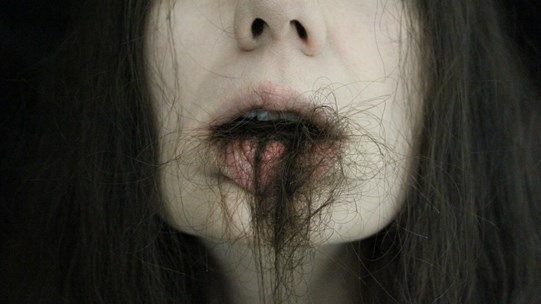 Pathological Memory, 2012, Diyarbakir
AD: What are you currently working on? Is there anything in particular that you'd like to get across through your work?
FI: I have been in prison for the last 3 years and have always been painting. I created installations.  Everything was exposed to bans in Diyarbakır Prison, books, texts, painting, producing… This is the idea that I have been thinking about since the day I stayed in prison and that has been the infrastructure of some of my productions. I thought, I think about history, unwritten history - women's history, banned texts. And I still continue.
AD: What place does creativity have in education ? Do you view yourself as a creator?
FI: Creativity is something very special.And every individual has this feature. The interests of people are different only. Memorizing approaches of education can cause people to suppress their creative power. Education can contribute to creativity, but I think it cripples creativity.  Strangely enough, a different potential is revealed as you become injured. Because creativity has the power to transform this damage.
I don't know if it matters how I see myself. I'm just someone who thinks, lives, produces, raises my questions, has objections, struggles, an anarchist spirit. Life is a constant quest for me. The artist examines, disturbs this life and does it with an idea and production.  If this answer means yes, yes I see myself as a creator.
AD: Do you think that by challenging conventional views, art can truly make a change in the public's perception?
FI: I believe in change and transformation. I think philosophically that life is in a flow and a continuous occurrence. In this sense, art increases intellectual flexibility and challenges solid understanding. Staying constant in traditional views undermines this 'occurrence'. I believe that even if an Artist feeds from the traditional one, if she can show the potential to open cracks in the traditional structure, she can create breaks in public perception. Because creativity also has a revolutionary structure. And people need it, they want to do it. Because they have dreams and desires. Therefore, Art becomes a spontaneous necessity.  This requirement may not always have to include social messages.  It is also a very intrinsic and personal necessity. 
AD: How has your work developed since you began and how do you see it evolving in the future?
FI: I've been painting since childhood. My main field at the university was painting. However, I thought this was not enough. I still love painting and I continue to paint. But I wanted to tell different things with different tools. And in the following years, I used my body like an object. Photo, video, performance video etc. My body became the material of my artistic philosophy which I preferred politically because my body is my field of action. The first intervention of power always takes place in the body, so this is my area of ​​resistance.  My body is where my artistic, vital philosophy is visible.  My artistic process went like this.
I spent the last 3 years as prisoner in prison. My body was usurped. 3 years of my stay in prison was a performative experience for me from beginning to end. And I drew a picture like crazy. All my creative potential had been revealed. I had the chance to experience what can be done even with just one pen. Everything can serve your creation.    A pen, shed hair, drinking tea, cigarette ash, food, etc.  It was a very hurtful and very instructive process. In countries such as Turkey if you are an opposition person, you are being terrorized and the results can be very heavy.  I lived, I saw and I will continue to live.
I don't know what happens in the future. I don't know if there will be a future.
AD: Is sophistication, aesthetic accomplishment in the eye of the beholder?
FI: This is a relative issue and varies.  So it is impossible to say anything definite.However, the relationship of the audience with a work can be very sincere. Although it can develop outside the market logic, the audience can also act with the perception created by the market logic.But Art has a strange relationship with the concept of 'time', and 'time' determines some things.
AD: What do you think is the social role of art? How would you like to be remembered?
FI: Humanity needs to constantly check its memory.  We constantly go deep into ourselves,sometimes we get lost. We partner in our pain, we touch each other. Throughout human history, Art has been the way to touch each other. Art has been the way to resist forgetting. Although the individuality of art is philosophically intense, it evolves from individuality to socialization and contributes to social life. It leads to meeting of ideas, talking, trying to feel each other, sharing. 
How do I want to be remembered? As a rebellious artist, living like himself, in love with freedom.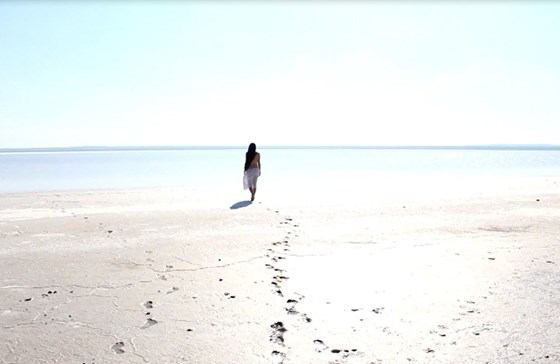 Salt, Performance Salt lake, 2013, Turkey
AD: How does art school form ideas about art? Does it shape people into being certain types of artists?
FI: Art schools can sometimes reduce art to techniques and sharp distinctions.Academic understandings have been the subject of constant debate. The artist is a person who does not fit in the container, is restless.
However, today's contemporary understanding of art creates breaks in narrow definitions of art schools.Different disciplines are now intricately structured enough to melt in one another. This is why there is a lot of confusion. I think this confusion is positive because it adds vital dynamism.
AD: What do you think about the art world and art market? Do you accept that art is inherently an elitist activity?
FI: I don't think that art is an elitist activity.Maybe I am wrong but Art is a language, it is a matter of emotion for me.Human history has existed from the very beginning with artistic expressions but what has been called the market since the very first time the capitalist system began to play has been playing with the perception of this reality. It shows the power to determine the value of a work.There is a certain elite that shapes this market, but the idea that art itself is an elitist event is just an illusion.This perception serves to dangerously devalue people's potential because the market, where there is a certain segment that determines 'value', thinks it dominates the art.  There is a situation similar to the illusion that whites are more valuable.  As we know, this situation is still a deep source of wound and shame.This is a great source of unhappiness for many artists. On the one hand, I think that the attitude of artists who do not show their power of criticism also feeds this situation.It's like a battlefield in itself.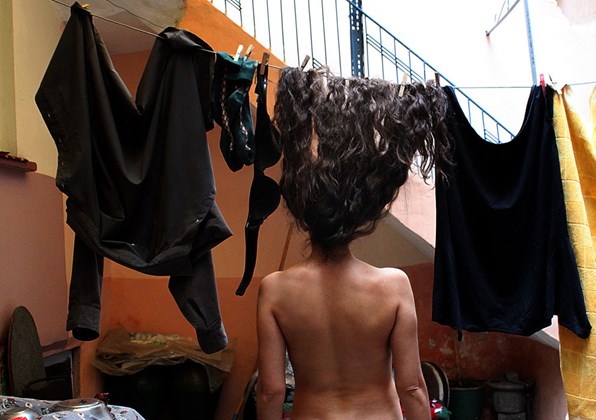 Spring-Cleaning, Photo Performance, 2010, Diyarbakir

Art is a field of wisdom for me. Purification area. The calmness created by this wisdom keeps me away from nonsense in the market.  It allows me to stand outside on the one hand while inside. The economy is very important and necessary but spirituality, production and friendship are more valuable than anything else for me.
AD: What's the last great book you read? Any other thoughts/projects to share?
FI: There are new projects in parallel with the projects I continue.  My face faces my own geography and nature. If we can finish these Corona days in a healthy way, I would like to share them with exhibitions at the appropriate place and time.
I recently read the books of Yuval Noah Harari's "Sapiens from Animals to Gods" and "Homo Deus".  And now I have Lautreamont 'Les Chants de Maldoror', which I don't get tiredof reading over and over.