A major discovery in the collection of Teylers Museum: two of its 17-century drawings prove to be the work of Giovanni Lorenzo Bernini (1598–1680), the best known artist of the Italian Baroque. After comprehensive research, it was concluded that Allegory of the Holy Blood of Christ and A Child with his Guardian Angel can both be attributed to the master.
Bernini: Sculptor, Architect, Draughtsman
Bernini's fame rests above all on his dynamic, lifelike sculptures. As artist and architect, he made a definitive impact on Rome. Besides St Peter's Square, which he designed, his work is displayed in multiple museums, churches and fountains around the city. He was also an excellent draughtsman. It was long assumed that Teylers Museum, which owns a large collection of Italian drawings, including works by Michelangelo and Raphael, did not have any original drawings by Bernini. Now, however, two can be conclusively attributed to him.
Carel van Tuyll van Serooskerken made the discovery while he was conducting research for a new collection catalogue of the museum's 17th-century Italian drawings. Van Tuyll, former chief curator of Teylers Museum and head of the department of prints and drawings in the Louvre, spent over twenty years researching this part of the collection, which consists of 900 drawings.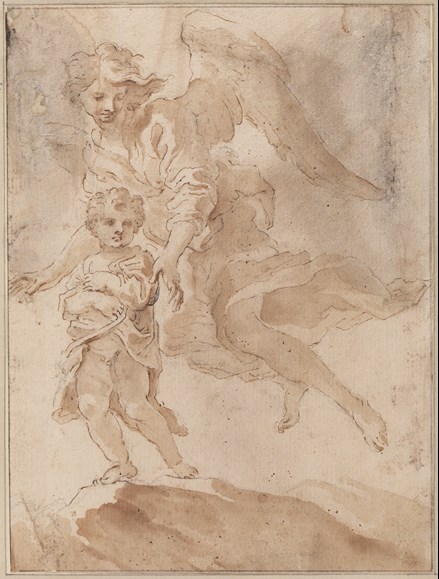 Giovanni Lorenzo Bernini, A Child with his Guardian Angel, ca. 1660-65, pen and brown ink, brush and brown ink, over black chalk on paper, 209 x 156 mm (inv.nr. K IX 042)
Provenance
These two drawings have belonged to the collection for over 230 years. They are among the 1700 drawings from the collection of Queen Christina of Sweden (1626–1689) and the Roman nobleman Livio Odescalchi (1658–1713), which Teylers Museum acquired from Odescalchi's heirs in 1790. In one fell swoop, the brand-new museum thus gained an important group of drawings.
The two sheets had long been attributed to Bernini, but around 1930 this attribution was rejected, when art historians concluded that the drawings were by Bernini's pupil and follower Giovanni Battista Gaulli. However, Van Tuyll's recent research has now proven conclusively that they were made by Bernini himself.
The drawings will be on display from 17 July to 19 September (circumstances permitting) in the Print Room as part of the exhibition Baroque at Teylers.