Image: Bart'd Eyckermans' sculptural work, Eva, Satan and the Citron (2019)
Contemporary Belgian artist Bart'd Eyckermans was born in Antwerp. He studied at the Academy of Arts in Mechelen and The Royal Academy of Arts in Antwerp. He works primarily with sculpture. Since 1995 he has served as the Director of Part-Time Arts Education at the Royal Academy of Fine arts in Antwerp and is also a Professor at the Royal Academy of Fine Arts at the Artesis University, Antwerp. In 2015 he was made President of the Royal Association for the Encouragement of Fine Arts in Belgium.
In Bart'd Eyckermans' sculptural work, Eva, Satan and the Citron (2019), a female figure, made from plaster, can be seen standing against a wooden stick, with her hair blowing in the wind and her body contorting backwards against an unknown force. In her hand, she holds a simple lemon.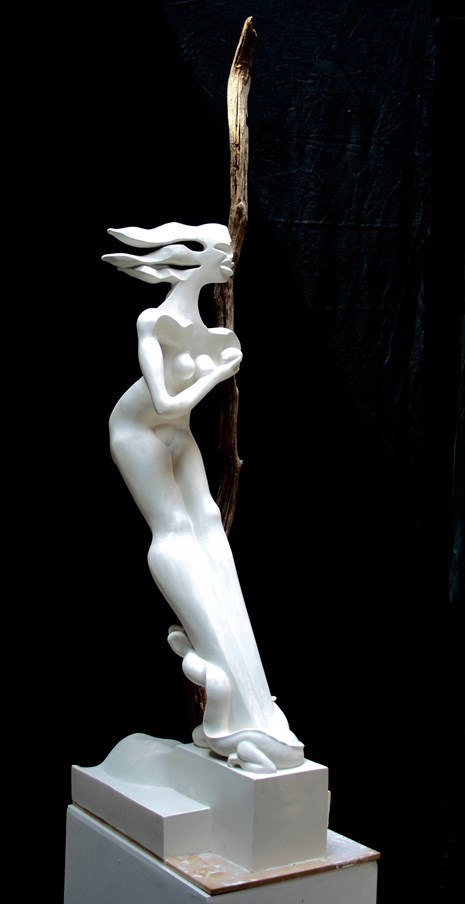 Bart'd Eyckermans' sculptural work, Eva, Satan and the Citron (2019)
The name of the sculpture references the notorious Garden of Eden scene, in which Eve is cast out of Eden for tasting the forbidden fruit.
"The idea was to reference the 'forbidden fruit'" says Eyckermans. "In the original version of the bible it was described as a citron. In most parts of Europe, citrons were still unknown and the translation called it an apple. In some medieval paintings you can see Eve holding a citron."
Citron fruit, with their thick, white rind and yellow skins, are thought to be one of the three original types of citrus fruit from which other citrus have grown and evolved. Often confused with or used as a synonym for a lemon, citron fruits are often widely unknown or seen as undesirable thanks to the low levels of juice and large amounts of thick, white pith. 
Some studies have shown that historically, citron was often used for medical purposes as a cure for seasickness, pulmonary illness, muscular pain or intestinal problems.  Citron is also used in a Jewish religious ritual during the harvest holiday of Sukkot which follows Yom Kippur. It is also thought that early Hindu tradition also used citrons as a symbol of prosperity, and Buddhists still use the fruit as a religious offering. There is also some evidence that Ancient Romans saw citron fruit as a commodity and symbol of wealth thanks to its perceived healing properties.
Citron trees bear fruit all year around and are found native to northeast India. Along with their close cousins, lemons, grapefruit and orange, they have been grown and harvested by humans for thousands of years. Citron itself is one of the oldest cultivated citrus plants. Archeologists uncovered seeds in Mesopotamia that were thought to date back to around 8000 BC.
With its ancient roots and deep religious and cultural significance, the citron is a highly symbolic item. In Eyckermans Eva, Satan and the Citron, the fruit is held carefully in Eva's hand, as yet, seemingly uneaten. Eva's body seems pulled in a multitude of directions, impacted by influences and expectations that the viewer cannot see, but can sense through Eva's pose and stance. Her feet are on the ground, but she is being pulled in different directions. Anyone who is familiar with the story of what happens next will understand the dramatic tension of this moment.  
The simple fruit in Eva's hand is about to tempt her, and consequently all of humanity who follow, into a fall from grace and a loss of innocence that will change the world of human occupation forever. And yet, the small and simple fruit seems innocuous, unimportant and inconsequential - much like the largely forgotten citron fruit today. Ancestor to most of the varieties of citrus fruit we know today, it's original symbolism and status have widely been obscured and cast aside as we make way for new, tastier, more convenient offerings.
If Eva committed the original sin by eating the forbidden citron fruit in the Garden of Eden, we, as a human population have magnified the fault, forgetting, misrepresenting and denying the status of the citron in our modern appetites for more, for better, for juicier.