Image: Félix Vallotton Intimacies (Intimités) 1897–98
Born on December 28, 1865, Félix Vallotton was a Swiss French painter and a lover of the theatre. His theatrical, stage-like paintings have often been overlooked by Western critics, but his ability to capture images that seem to suggest something unsaid, something lurking beneath the surface, paved the way for several European and American artists including Edward Hopper.
Vallotton was born in Lausanne, Switzerland to a conservative, middle-class family. He moved to Paris at the age of 16 to study at the Academie Julian. His early paintings were traditional, largely portraiture, but his time in Paris inspired him to experiment with new forms and styles. Vallotton had a particular love for the works on display in the Louvre and took particular inspiration from Holbein, Durer and Ingres. He was also interested in the style of Japanese ukiyo-e prints and, with the help of printmaker Charles Maurin, began to produce woodcuts that were inspired by the flat colours and silhouetted forms of Japanese art.
As Vallotton's own unique style evolved, so too did his personal life. He began to turn away from middle-class social life, hanging out increasingly in the bohemian neighbourhoods of Paris and eventually moving to live in Montparnasse, where rents were low and creativity was thriving.
Vallotton continued to work with woodcuts, breathing new life into the medium thanks to his modern subject matter. Thanks to this use of the woodcut, Vallotton was taken in by a group of artists known as The Nabis group who had a shared interest in work with wood. Vallotton exhibited with the group in 1892. Whilst with the group, he created one of his best known works, Bathers on a Summer Evening.The large image shows women of various shapes and sizes in varying stages of undress, summoning images of traditional paintings of nymphs. The piece caused shock waves with audiences and critics alike.
After years of working with wood, Vallotton returned to traditional paint on canvas at the beginning of the 20thcentury. His later work was simple and followed a realist style. Some critics have cited this move away from wood as a career mistake, arguing that his earlier work was far more intriguing.
By 1910, Vallotton had found a strong sense of personal style and had begun to produce works with natural colours and tight, precise forms. In several of his painted works, he depicts his wife – a wealthy Jewish widow and daughter of an influential art dealer. After his years living amongst the bohemian sect of Paris, the marriage elevated his career and re-established him amongst the bourgeois inhabitants of the city.
In late 1916, Vallotton, who had increasingly produced works that spoke of themes of war and bloodshed, was invited to join a group of artists on the frontlines. The group were able to witness the war and represent the scenes they saw. Vallotton produced several paintings as a result of his experience, and also wrote a novel titled Art and War, in which he wrote about the difficulty of using art to represent the horrors of warfare.  
In the final years of his life, interest in Vallotton's work declined. He passed away from cancer in 1925 at the age of 60, still living in Paris.  
Several of Vallotton's woodcuts and paintings depict intimate interior scenes that seem to capture private moments – sometimes between couples, sometimes with a single individual who seems to believe themself to be alone, unobserved. In the series entitled Intimacies, Vallotton depicts 10 moments of private marital life. These 10 images are amongst his best-known works. They feature smooth black blocks of wood, cut through with sharp white lines. The images probe into the private lives of Paris' bourgeoisie inhabitants. The world they portray is far complex, problematic and intimate.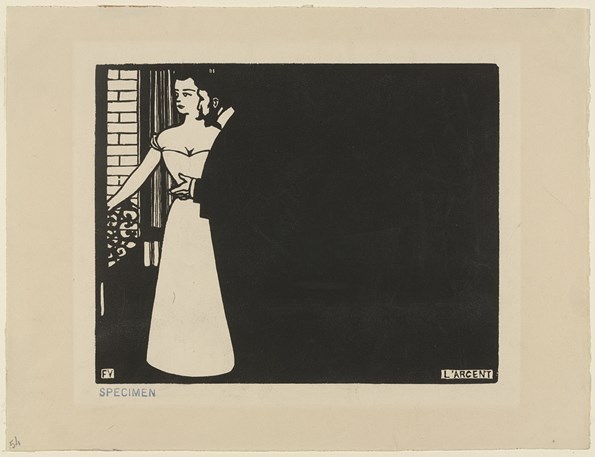 Félix Vallotton Intimacies (Intimités) 1897–98, The Money
Vallotton seems to focus on the psychology of the people involved in the scenes. In each image, the viewer is drawn in to a private world, but must work out the context and the emotions that are being depicted for themselves. There is a lingering sense of unease, of something we are not being told or shown.
In one of the images, titled Money, half of the woodcut remains a severe black. The cut takes up only a small portion of the right side of the image and we see a gentleman engaged in what looks to be an intense conversation with his young companion. He is gesturing to her, but her gaze is fixed away from him, staring out from the balcony window and at the world beyond.
In the image titled The Lie, a younger gentleman sits on a sofa in a gaudy looking room as a woman caresses and kisses his neck. He looks downwards with an expression of detachment.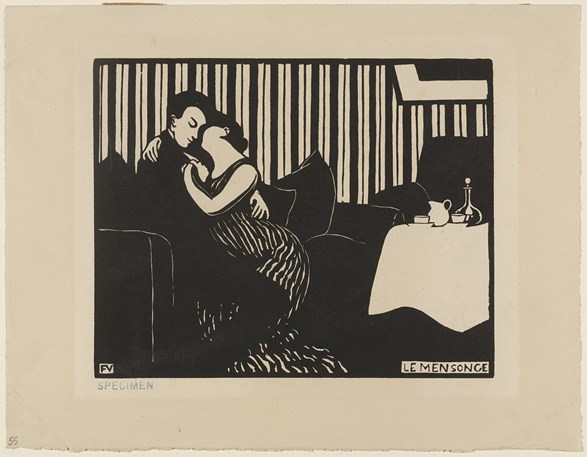 Félix Vallotton Intimacies (Intimités) 1897–98, The Lie
Vallotton was creating these works at a tumultuous time for Paris. The city was moving rapidly towards modernity and old ideals were being challenged and often cast aside. But there was also a feeling if disillusionment. Industrialisation was creeping forward. Unemployment was high and political turmoil was causing unrest. It is interesting that Vallotton chooses to focus on the private – the interior worlds. He moves away from his more overtly political work to focus on the impact that these changes are having inside the private spaces of Parisian life, and the image he shows is one of turbulence, of seedy manipulation and distrust.
For Vallotton, who started his career with traditional portraiture, the interior scene seems to subvert our expectation of control, of being 'at home' in your own residence. Instead of posing, looking out from the canvas and sitting steadily for a portrait work, the upper-class people in Vallotton's images are caught off-guard, unposed and unprepared. They are captured mid-conversation, mid-elicit tryst or mid-deception. Their interior world is one of lies, of tension and of disconnection. Vallotton seems to use the interior space as a scene in which to get under the skin of the lavish display of wealth and gentility in Parisian society. He suggests that behind the carefully orchestrated displays of bourgeoisie life there is dislocated, troubling and fractured reality.