Image: Boy with a Basket of Fruit, c.1593, Michelangelo Merisi da Caravaggio
Michelangelo Merisi da Caravaggio (1571-1610) was a controversial painter from Lomardy, Northern Italy. He is known for creating dramatic paintings with a strong sense of lighting and drama. His work has inspired many modern painters.
At the age of 21, having studied in Milan, Michelangelo travelled to Rome to join the fashionable young artists of the era and to gather inspiration from the classical architecture and thriving artistic scene in the capital. Upon his arrival, Michelangelo scraped together a living selling still life paintings and figure studies from a small street stall. Three years after arriving in Rome, Caravaggio met the Cardinal Francesco del Monte who recognised the young artist's talent and helped him to find his first public commissions. His work was unique. Unlike most artists of his day he did little preparatory work, choosing instead to paint directly onto the canvas, discarding and restarting paintings he was unhappy with. Thanks to his individual style, his work caught public attention and Caravaggio shot to celebrity.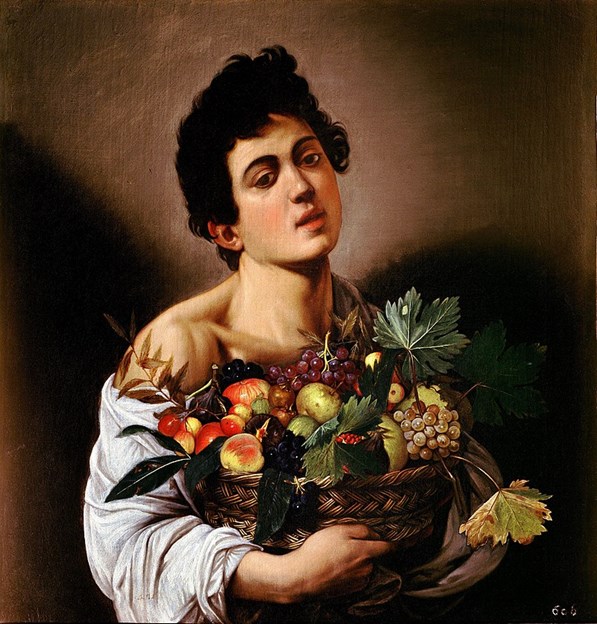 Boy with a Basket of Fruit, c.1593, Michelangelo Merisi da Caravaggio
With his new recognition and some financial success, Caravaggio continued to receive commissions and gain critical success, but it was not without controversy. As well as his work, he began to be known for his behaviour, with long bouts of inebriation and a tendency towards drunken and aggressive outbursts. Caravaggio was repeatedly arrested and apprehended by police. Amongst his crimes he was said to have thrown a plate of artichokes at a waiter and slashed the cloak of an adversary.
Caravaggio was also known for choosing everyday people as the subjects of his work rather than choosing to paint noblemen or members of the high society. This served to increase the controversy around his reputation.  
In 1606 Caravaggio was involved in a swordfight. The reasons for the fight were unclear, but in a moment or rage, Caravaggio delivered a fatal wound and his adversary was killed in the battle. Sentenced to death if captured, Caravaggio left Rome immediately, hoping to receive a pardon and return at a later date. He travelled to Malta where he was well received and given permission to remain, until a further fight broke out, leaving Caravaggio imprisoned and later expelled from the island.
Landing in Naples, the troubled artist again found himself in another brawl, this time receiving severe blows himself and suffering from disfigurement. At the same time, his powerful friends in Rome had successfully campaigned for a pardon from the Pope and he was allowed to return. Relieved, he loaded his possessions onto a ship and prepared to sail, but was arrested at the last moment, paying for his release only to find that the ship had sailed, taking all of his possessions with it. Alone and unwell, he attempted to make his way along the coast, but died in mysterious circumstances. Many have suggested that he died of fever, but it has also been suggested that he may have died of lead poisoning or that he was murdered.
His work inspired the work of Baroque painters and his influence can be seen in many well known artists work, including Rembrandt and Rubens, but as the tastes and culture of painting changed in the 19thcentury, his work fell out of favour. It has been gradually rediscovered and re-evaluated in the 20thcentury as many critics have pointed out the considerable influence it has had on Western art over the centuries.    
The exact date of creation for Boy with a Basket of Fruitis unknown, but it is thought to hail from around 1593, the year after Caravaggio first arrived in Rome, the period in which he was making and selling his art on the street. The painting features his friend and fellow artist, Mario Minniti.
For some, Boy with a Basket of Fruitis a simple study, designed to show off the artist's skill at detail and capturing real life. The details of the fruit are particularly impressive. The young man in the image clutches the basket close to his chest and the tones and textures of the ripe fruits stand out against the boy's soft skin. The fruit is extremely realistic. Horticultural experts have even been able to study the leaves of the fruit to determine the exact variety of plant being depicted.  Caravaggio captures the beauty and the details of the image. The boy is illuminated by a strong light entering the room from outside of the paintings frame.
Fruit is highly symbolic in the artistic world. The fruit in this image is ripe and fresh, evoking suggestions of youth, vigour and fertility, which is echoed in the image of the young man with his soft, exposed skin.
Fruit also represents abundance, and in Caravaggio's work, it appears to be extremely abundant and rich in colour and texture. The fruit enlivens all of our senses, reminding us of tastes and smells that cannot be captured within the painting but that still seem to emanate from within it.
Fruit is also reminiscent of biblical stories, particularly that of Adam and Eve and their original sin in the Garden of Eden. In this way fruit evokes images of temptation and provocation.
It is hard to say whether Caravaggio intended any of these connotations in this particular image. As a young artist he may have been determined to capture something of truth and beauty in order to create his own personal style and attract potential supporters and wealthy backers. Perhaps in the richness, ripeness and abundance of the fruit he knew that he would capture a rare gem of beauty from the natural world, or perhaps he intended to provoke the viewer, evoking images of youth and vibrancy.
Caravaggio went on to depict fruit in many of his future paintings, increasingly with much less ambiguity as to the connotations. In his later painting, Still Life with Fruit on a Stone Ledge,there seems little doubt that the serpentine gourds and plump figs evoke images of sexuality and fertility. Much of the fruit in the image is cut open, exposing the juicy, ripe inner flesh.
In Caravaggio's work, his depictions of fruit seem to follow the path of his life. As his life and emotions became ever more provocative, controversial and complex, so too did his depictions of the simple fruit in his still life works.