Image: The Honeysuckle Bower (c. 1609), Peter Paul Rubens
Peter Paul Rubens was a Flemish artist who worked largely in the Baroque tradition. His paintings earned him a glowing reputation amongst Antwerp's noble elite, allowing for rare financial stability during much of his life. Many of his paintings included mythical and historical symbolism and he also favoured images of hunting and noble life. Rubens classic style often involves bold colours and subjects.
Before his birth, Rubens parents fled to Cologne to avoid the religious turmoil that was occurring in Antwerp. Having arrived in Cologne, Rubens' father Jan Rubens began working in the court of William I of Orange, where began an illicit affair with the King's wife, Anna of Saxony. He fathered a daughter with her and was subsequently imprisoned for the affair in 1570. Peter Paul Rubens was born in 1577, following his father's release. After the death of his father, Rubens and his mother returned to Antwerp and Rubens was raised as a Catholic.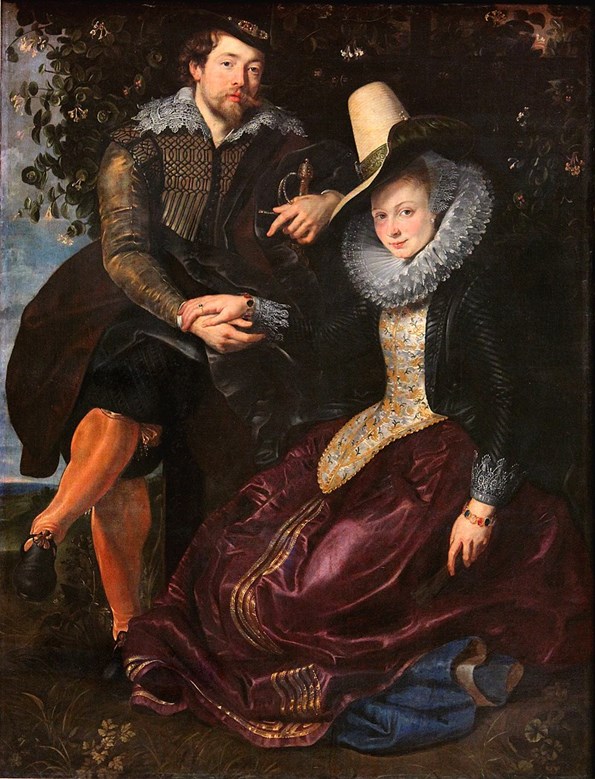 The Honeysuckle Bower (c. 1609), Peter Paul Rubens
Whilst in Antwerp, Rubens was given a classical education. At the age of 14 he took an artistic apprenticeship with an artist called Tobias Verhaeght. He continued to study under some of the city's leading painters, learning to copy the work of old masters.
After completing his education he travelled to Italy where he studied the works of the Italian masters, including Titian, whose work had a profound impact on the young Rubens.
The Honeysuckle Bower painting is a self-portrait of the artist with his first wife, Isabella Brant. It was painted shortly before their marriage in 1609. The pair are depicted sitting in a honeysuckle branch. The painting is currently on display at the Alte Pinakothek Gallery in Munich.
As with most of his paintings, this work contains deep symbolism. Honeysuckle is a traditional symbol of love and lightness of being. Thanks to it's light colouring and sweet aroma, it has come to be associated with beauty, gentility and blossoming feelings. The honeysuckle flower tends to cling to its habitat strongly, summoning images of loyalty and devotion. Ancient superstitions even alleged that honeysuckle flowers were lucky and could protect your garden from evil.
In Ruben's renowned painting, he is depicted as a noble, chivalrous gentleman, sitting slightly raised above his wife and protectively leaning over her. His wife wears a traditional Flemish hat, which reminds us of their cultural devotion. The honeysuckle surrounds the couple, enclosing their embrace and suggesting true love and devotion. To further emphasise this union, the couple are holding hands.
In true Rubens style, there are several richly symbolic elements to this image. The painter himself is holding on to a sword firmly in his left hand, suggesting that he is also a protector and a strong guard figure in the relationship, whilst Isabella clutches a delicate fan, suggesting her gentility and delicacy.
The painting is constructed in a neat, orderly and straight-forward fashion, suggesting hope and order in their future union.