The donation comes from an anonymous Dutch collector couple and includes a total of 33 paintings by artists such as Chris Beekman, Co Breman, Kees van Dongen, Leo Gestel, Herman Gouwe, Ferdinand Hart Nibbrig, Frans Hogerwaard, Jo Koster, Maximilien Luce, Piet Mondrian, Willem Paerels, Otto van Rees, Théo Van Rysselberghe, Jan Sluijters, and Hendrik Jan Wolter.
The donated paintings seamlessly complement the collection of Dutch avant-garde art highlights permanently exhibited at Singer Laren. Furthermore, all 33 paintings can be seen at Singer Laren until September 3 as part of the exhibition titled "Love for Color."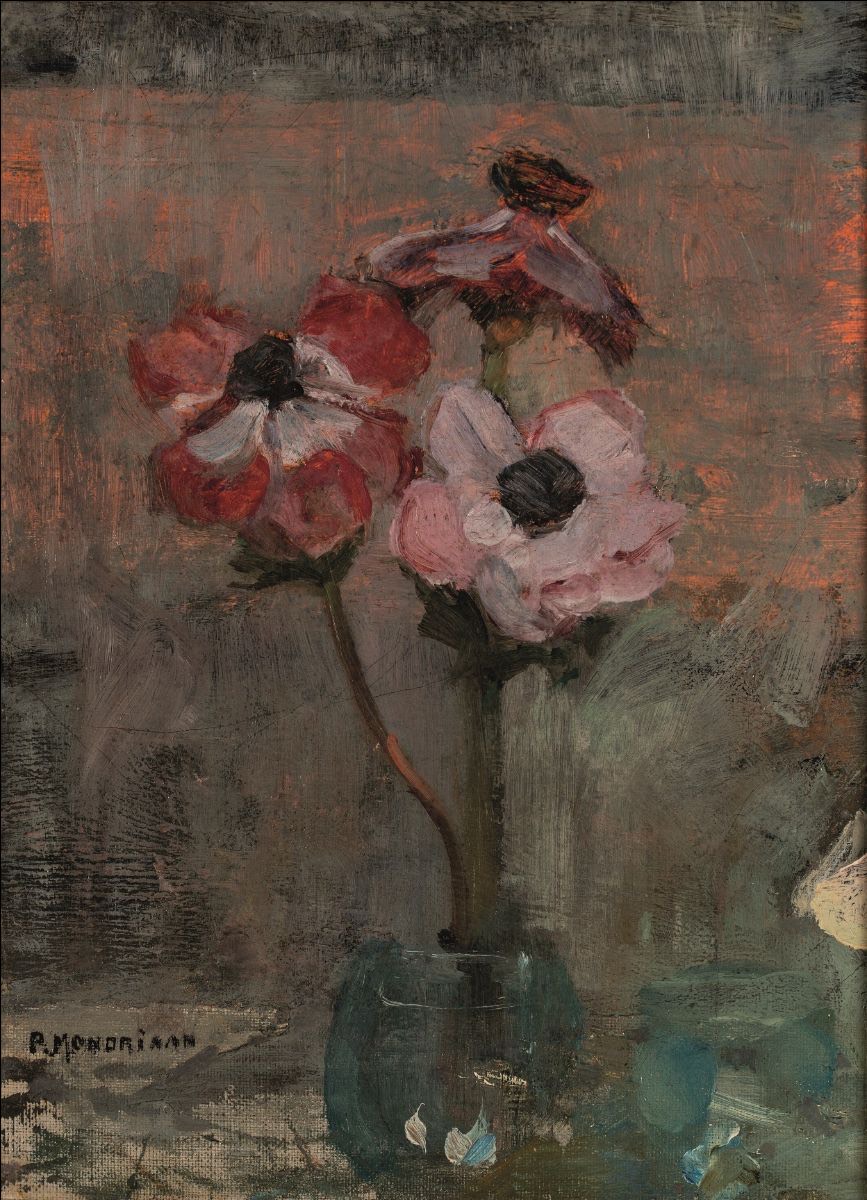 Piet Mondrian, Anemonen in een vaas, ca. 1908-1909
The donation, a promised bequest to the Collection Netherlands, includes a work by Piet Mondrian. Museum director Jan Rudolph de Lorm stated, "A work by Piet Mondrian cannot be absent in the collection of Singer Laren, a museum of Dutch modernism. The painting 'Anemonen in een vaas' fills that gap, and we are very grateful for it." The donation also includes two paintings by Kees van Dongen: "Schovenbindsters" (1905) and "Vrouw met roos" (ca. 1925). They form a beautiful addition to Van Dongen's "Gezicht op het casino in Cannes" (late 1920s) and "Het blauwe hoedje" (1937) from Singer Laren's collection.
Van Dongen created "Schovenbindsters" when he stayed with Dutch artist Otto van Rees in Fleury-en-Bière during the summer of 1905. In October of the same year, Van Dongen exhibited this pivotal work at Galerie E. Druet, which significantly contributed to his breakthrough as one of the leading avant-garde artists in the Parisian art scene. On the other hand, "Femme à la rose" (ca. 1925) represents Van Dongen as one of the most important portraitists of the Parisian beau monde.
Image on top : Kees van Dongen, Lieuses, Schovenbinders, 1905, c/o Pictoright Amsterdam 2023