Sculptor Dr Gindi is best known for combining high craftsmanship with a subtlety of purpose to create three-dimensional masterpieces. Originally educated as medical doctor, she ponders now as an artist on the finality of decay whilst striving to depict the potential infinity of human existence. Being soothingly suggestive, her work presents a tension between figurative mapping and ultimate abstraction. Her orphic sculptures deriving from her artistic inquiry have earned Dr Gindi acclaim as an idiosyncratic fictionist – her desire to move sculptural embodiment to the edge of commonality puts her on a parallel course with such utopians as Joseph Beuys.
Dr Gindi, where do you live and work? Is this place important for your sculpting process? How does infinity edify your work, given the infinite's detachment from space and time?
Geographically, I am based in Switzerland, my chosen home; yet culturally, I am floating in an identity-fogging no-man's-land as I am half-German, half Egyptian. Historically, I am a trained medical doctor, but turned to sculpting after working as physician for some years. As medical doctor I learned that being temporary is the most basic human experience and yet most of us have never been able to accept death and to act accordingly. We curb every thought of death, and live as if we have an abundant time due to us during our cameo-appearance on earth wherever we are based. I strongly believe that this fear of rupture makes a fulfilled life difficult, if not impossible. True fulfilment requires an inherent acceptance of the logic of decay. My work is an intervention to embrace the end, and a medium to drive toward infinity – respectfully and calmly. With my sculptures, I try to give conjectural fear some exhilarating sensuality so it becomes an attainable reality beyond its conventional place.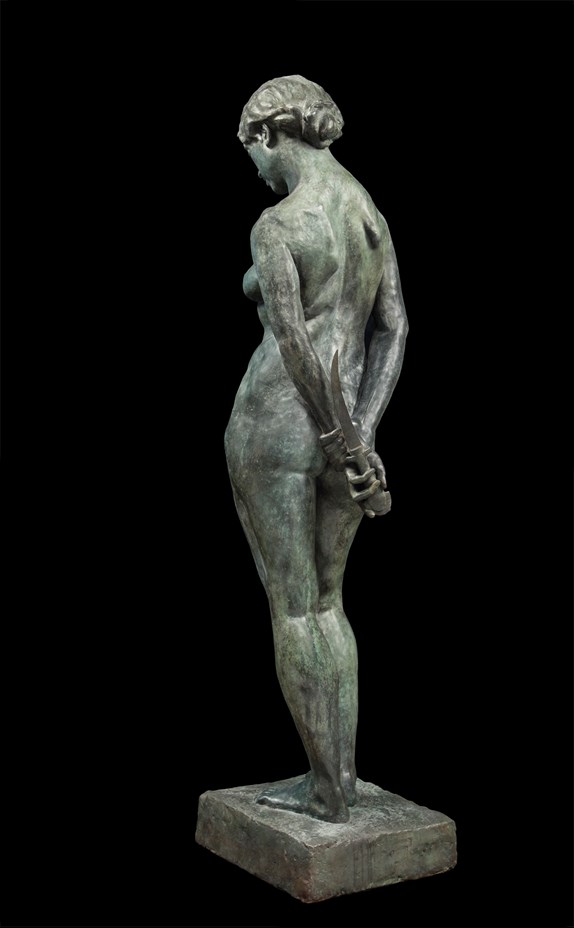 The Fateful Choice © Dr Gindi
Your practice gives the feeling of connecting across disciplines and methodologies, with almost timeless alchemy. Can you describe your creative process? What has made you who you are, and how?
I try to combine resoluteness within my sculpting craft with the profound kinship I infuse into the rendering of my sculptures. And I cast human bodies in their contested psychic dimensions as though detached from their vivacity. For me, sculpting is apprehension and it is introspection. It connects me to the purpose of my own life and the raison d'être of the human journey – the yearning towards infinity. It allows me to honor, to pursue, to live out that purpose and propose others do the same. To be frank: I adore this cathartic aspect of my creative process more than anything.
I am curious about the ingenuity reflected in your sculptures as they seem to breeze in the expanse of life like messengers from another world. What creates inspiration for you? Can you give us some idea where your imagery comes from?
To become a sculptor has demanded a deep private conversation, but here is my simplified answer: I don't really need to call for inspiration to find a muse presently, all I need is the now and here, within me. Images of time past are converted and federated into new contextual interfaces: it is certainly not a hands-off process as I model and reuse my clays. My studio is my real sanctuary where I beget meaning out of the muddled world around us – to ultimately attain infinity, the true subject of my everything. 'Transfigured Immortality' came into being in such a way: a memory of my own acculturation.  A middle-aged lady rests enthroned on the charnel house of her own willfulness. She appears slender compared to the infinity of the desert in front of her. But she looks beatific, possessing a fluidly from experiencing a buoyant force, a vision of infinity.
There is a cryptic thrust in your recent work related to incarnation and incarceration but in an abstract way. What are the new sculptures in the pipeline you would like to tell us about, and what do you want to exemplify with them?
I am currently working on a series of sculptures that, I hope, will illuminate chosen moments in my protagonists' life. I have to confess: I feel deep affection for the mysterious attire of such snapshots – my work can be interpreted as a serious endeavor to make the unmentionable acceptable: so, as an approximation, my new sculptures are not really far from my earlier work but are expressed in rather free-floating form. I am portraying human beings who are lost, maybe dying, and thus trying to make decisions: settlements that will define the rest of their incarnated life, even if briefly. My sculpture 'The Fateful Choice' might trigger an understanding of such imagery. Holding a knife behind her back, a young girl looks past us without seeing us. We don't know what is to happen next. She and all characters I set in bronze are breathing and living, they are real to me. Listening carefully, you might hear their nervous heartbeat with their blood pressure outrageously high. As they make choices, they embody life fully. And they decide against incarceration.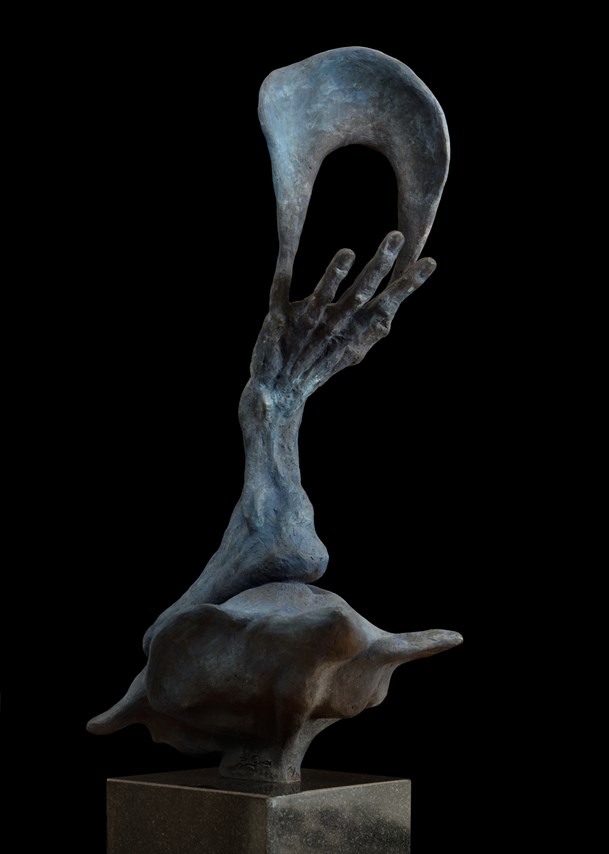 Interstellar Dilemma © Dr Gindi
The sculpture 'Interstellar Dilemma' really struck me. There is some prosaic adhesion to the local ground, yet some intuitive fickleness being portrayed. How do you weigh the importance of locality in your work? What do your immediate surroundings do for you?
I do not really believe in existentially defined localities: all being is ephemeral, constantly coming into focus and passing away – there is no real sense of a steadfast place in life. Yet we are anchored constantly. My conceptual approach toward sculpting is thus determined by my quest to overcome the topos of our thinking, of our mortal bodies and all possible dissolutions – and to finally reach a state of infinity.  That 'infinity' for me is also a means to visualize our own life and other's lives simultaneously. Let me explain this thought with 'Interstellar Dilemma': A foot and a hand are moving together, apart. Seemingly rooted in the here and now, they present the idea of striving for a distant elevation. We are not alone when floating on the shifting orbits beyond the places we vainly call home.
However apparently subjective your sculptures may seem, I have a hunch that your depiction of locality is somehow mind-bending, yet it seems clear that the distinction between subject and object is a rather historical thing. Maybe that is why I want to ask you about history, and its impact on you. Who was a major influence in your sculptural pursuit? Can you name a few artists who deeply enthused you?
Well, a list of my influences could be long and rather biased, since sculpting in itself has a history of its own - a travel through time that is forever sprouting, showing us what we might have overlooked before. But, in all honesty – I don't want to reference the past and critique the contemporary. If you would plead with me to mention other artists I would rather remain on the surface and refer to almost common knowledge: I was indeed aroused by Michelangelo and Henry Moore – ultimately of Michelangelo's pursuit of divine beauty on the one hand, and Moore's semi-abstract and agnostic corporeality on the other. But my irritability is somewhat Beuys-esque, as I like Joseph Beuys' approach towards non-linear narratives. Still, when getting right down to it, I like to wander through my own imaginary history of the future.
Reflecting on your recent works, they impressed yet confounded me. In a Beuys-esque way, they are idiosyncratic - like Beuys, you are a fictionist. But your work is affectionate, in contrast to the austere audacity that might characterize his art. What do you hope the observer, the reviewer and art collector take away from your work? And what pieces of advice would you give to artists at the beginning of their career?
We should note my sculptures don't really give answers, they are perhaps asking questions. And thus, my work does not prevaricate with dull-witted adulterations as I admit that my inquiry into human decay might raise eyebrows. Knowing of the demands of the market, I prefer to hide away and to mark my work as point of departure – a scenic route into the realm of infinity. Indeed, and here I differ from Beuys, I am convinced that art should not cry out its dogma to the world – real art remains polysemic as it depends on the interpretation of the observer, reviewer and art collector. They can make with it what they see and want. So please, my fellow creatives, be what you are, and don't care too much for what the market wants. The art market is rather insignificant for what really matters – history will decide instead.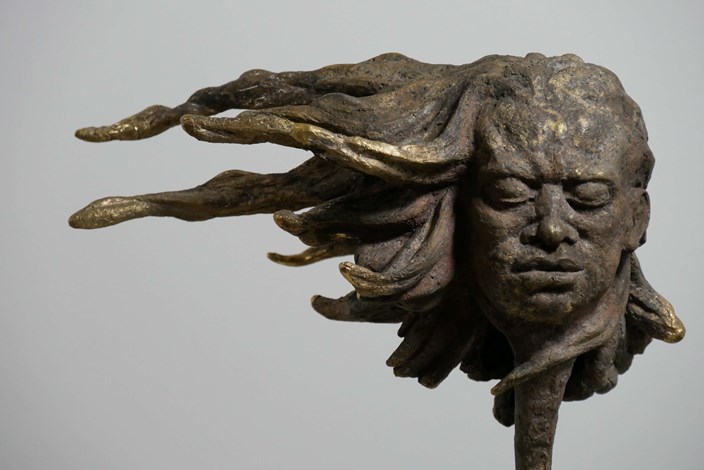 Beaufort 7 © Dr Gindi
That's a great delineation. And it is thoroughly evident in your work. Ultimately, Dr Gindi, what message do you want to convey to the world? How to grasp the destination we humans want to reach?
We often sally forth on a series of fantasies, upheavals and maneuvers that span time and space until returning to our place of longing we call home; and, sadly, we find that our sailing was in vain.  Stranded and left alone on our course's drift, we have lost the compass of where-to-go and what-to-do. With my work, I endeavor to salute the courage required to bear the entanglements of life and to find orientation in infinity. Take the protagonist in 'Beaufort 7', one of my recent sculptures. Setting sail, he entrusts his soul to the wind, his ruffled hair is exposed to the blowing gust, night and day. Sensing the mist of the sea on his face, we understand the current may bear him far. He and we can weigh anchor toward the destination we wish to reach. 
Top Image: Transfigured Immortality © Dr Gindi