Image: La gran metamorfósis 1982 / The great Metamorfosis 
Colombia's renowned modern artist Edgar Negret did not imitate reality. He fed off it and created a language that invents new ways of presenting our surroundings.
Edgar Negret (1920) lived in awe of the universe. "I lived on the verge of something - on the fringe of reality- happening," he told journalist José Hernández. "I believe in my work I have searched for God always and everywhere."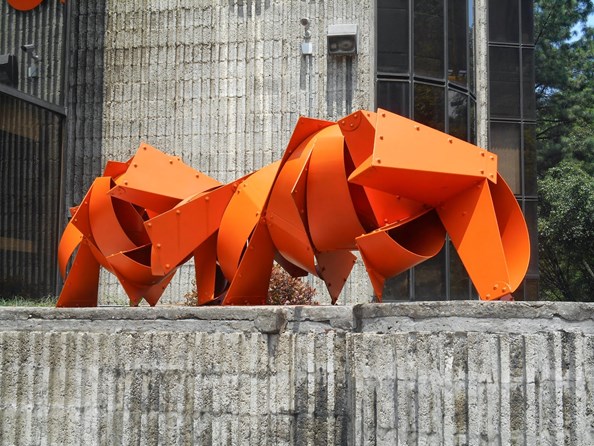 La gran metamorfósis 1982 / The great Metamorfosis 
That's probably why he was never completely abstract. He was not interested in form for form's sake. Studying, creating and investigating its relationship with space were his way of thinking and approaching the world. 
His famous series Apparatus Mágicos (Magical Artifacts) (1950's) reflects the surprise of a man from a small Colombian city - who had never seen a traffic light- as he arrives in New York and discovers a world moved by machines: trains arrive at subway stops every 5 minutes; hundreds of traffic lights control cars and pedestrians; and in offices, airports and shopping centers you easily find snack and coffee machines.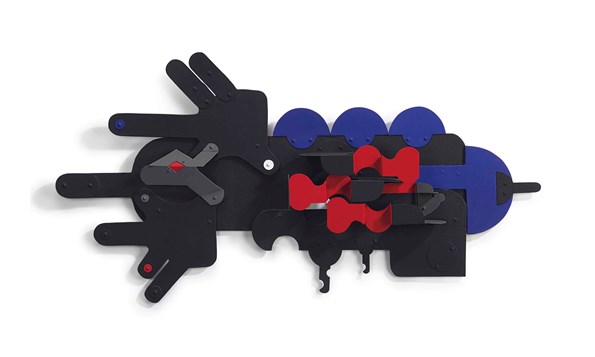 Aparato Mágico 1957 / Magical Machine
"It was pure magic. I related these machines to the gods who order men and women around. I would be fascinated since morning," he told Hernandez.   
He came back to Colombia in 1963, after living in Spain, France and the United States. The return to the tropic's natural exuberance, coupled with an interest in pre-Columbian cultures - particularly the Inca and Navajo- pushed him towards nature and indigenous art, and he began to sculpt their forms.
The works from this period no longer reflect the gaze of a man who - marveled by modernity's industrial drive- built magical machines. They are the creation of a modern man who uses modern tools and materials - screws and aluminum - to evoke the moon's cycles; an animal's metamorphosis; a snake's movement; Peru's typical textiles; and the vivacity and colorfulness of the region's festivals. 
Negret looked for inspiration in the world around him. Yet, his artistic language wasn't limited to it. Like poets who do not describe the universe but evoke it, Negret does not sculpt stairs (1980's) but the process of ascending; he uses emptiness to express Job's agony (1947); and curves lines and plays colors and shadows to make the static mobile.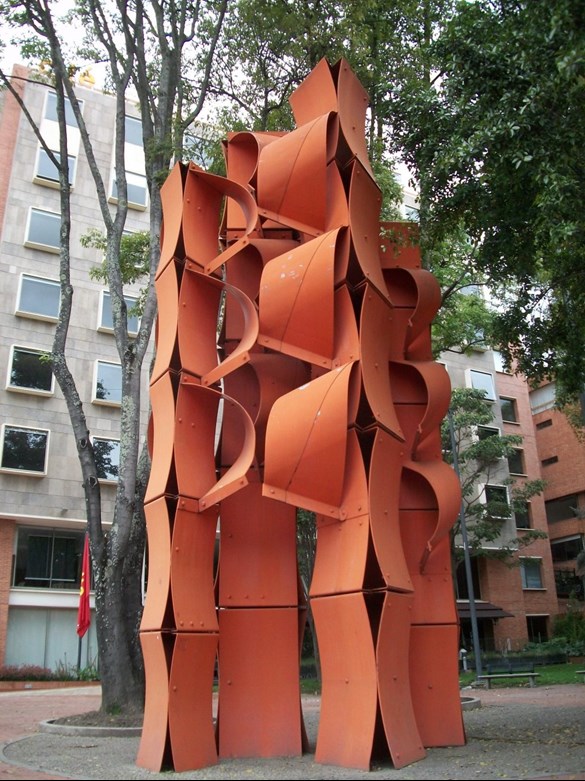 La Cascada 1988 / The Waterfall
Edgar Negret dedicated his life to doing what Socrates recommended Athenians: contemplate the world and wonder about the meaning of life. Sculpting to him meant reflecting. He created artworks that, according to him, "are nothing more than a pouring on others of the best that I have."
This is the first in a series of articles - produced with the support of Bogotá's Modern Art Museum - that will explore the work and philosophy of modern Latin American artists.