Image: Self-portrait. 1623. oil on panel. 85.7 × 62.2 cm (33.7 × 24.4 ″). Windsor/London, Royal Collection.
Flemish artist Peter Paul Rubens was one of the most important artists of the seventeenth century as well as a successful diplomat, scholar and courtier. His paintings were highly regarded by the nobility and he was an influential figure during most of his lifetime. He specialised in creating altarpieces, history paintings, portraits and landscape work. His unique style captured the Baroque aesthetic.
When commissioned, Rubens' work was most often history paintings. He captured religious and mythological scenes in his own unique style, putting emphasis on the colours and the movements of the moments captured. Rubens was raised a Catholic in the city of Antwerp. His religious upbringing permeates several of his works.
In Antwerp, Rubens received a classical education alongside a series of apprenticeships with leading artists from the city. He learned to copy the works of the great masters. In 1600, at the age of 23, he left the city and travelled to Italy where he remained for 8 years, building powerful connections in the city and creating several notable works including altarpieces and portraits of high nobility.
In 1608 Rubens mother became ill, causing him to leave Italy and return home to Antwerp. Sadly, his mother passed away before he could see her, but he quickly created important links for himself in the city. In 1609 he was appointed court painter by Albert VII, Archduke of Austria, and Infanta Isabella Clara Eugenia of Spain.
In 1610, having been given special permission to base his studio in Antwep, Rubens moved to a new home in the city. He designed the renovation of the Flemish residence himself, drawing on the influence of Italian art and architecture from his time abroad. The home and studio hosted Rubens's extensive personal art collection and became his base from which he created a large number of his works.
Self-portrait. 1623. oil on panel. 85.7 × 62.2 cm (33.7 × 24.4 ″). Windsor/London, Royal Collection.
The house has now become a museum known as Rubenshuis, or Rubens' House. It is home to several of Rubens' most celebrated works, including his applauded self-portrait. This particular painting has taken on significant iconic value in its home city of Antwerp where it hangs in the same home in which it was created. 
In 2014 the self-portrait was taken to the National Gallery in London for restoration work. During the restoration, the work was examined in great detail. It is painted on a series of wood panels, which makes it very fragile and difficult to transport. Rubens was one of the last great artists to use wooden panels as a canvas. Now back in its original home, the self-portrait attracts thousands of visitors every year.
Given his talent for portraiture, Rubens painted very few self-portraits during his lifetime and the self-portrait that hangs in the Rubenshuisis one of just four examples. It is an informal portrait, most probably painted the year Rubens wed Helena Fourment when he was 53 years old. Rubens was said to detest painting portraits, although he was also known as one of the most talented portrait painters of his time.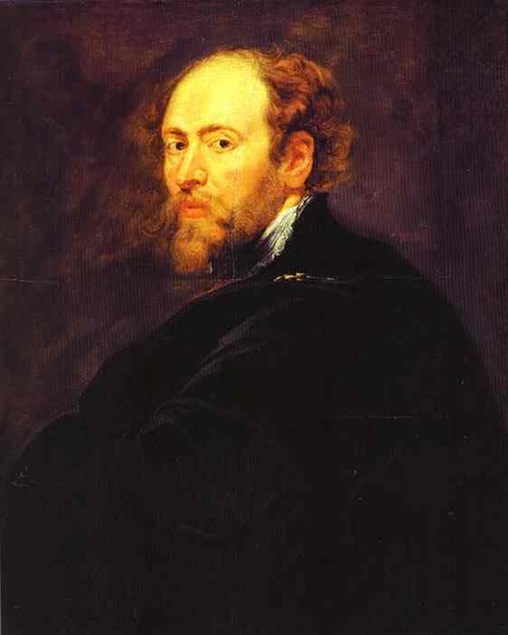 Self-portrait. circa 1615 . oil on canvas. 78 × 61 cm (30.7 × 24 ″). Florence, Uffizi Gallery.
Unlike his commissioned works, Rubens self-portrait was a personal project, bourne out of his own desire to create. He also created portraits of both of his wives (the first, Isabella, died young) as well as his children and in laws.
Unlike in Honeysuckle Bower, Rubens' self-portrait alongside his first wife, Isabelle, this later example offers very little detail or symbolic reference. The artist is shown against a plain background, wearing relaxed clothing and looking directly out from the canvas. His facial expression is vacant, almost expectant as he stares back at the viewer. It feels fitting that this image would continue to hang in the place in which it was made, the dwelling in which Rubens spent most of his life and made some of his most notorious works. His watchful eye casts a gaze over all who visit the home – tourists, stewards and art fans alike. One has to wonder what his watchful gaze will come to rest on next.