The discovery was just a "stone's throw" away from famed landmarks in the city such as Borough Market and London Bridge station, according to a press release from the Museum of London Archaeology, who led the excavation. The remains found include the walls and interior flooring of the structure. Central to the tomb is "a striking mosaic surrounded by a raised platform" where those buried would have been placed, MOLA officials said.
No coffins were discovered at the site, but more than 100 coins were excavated alongside pieces of metal, fragments of pottery and roofing tiles. The area around the mausoleum contained more than 80 Roman burials, which included personal items such as glass beads, pottery and a bone comb.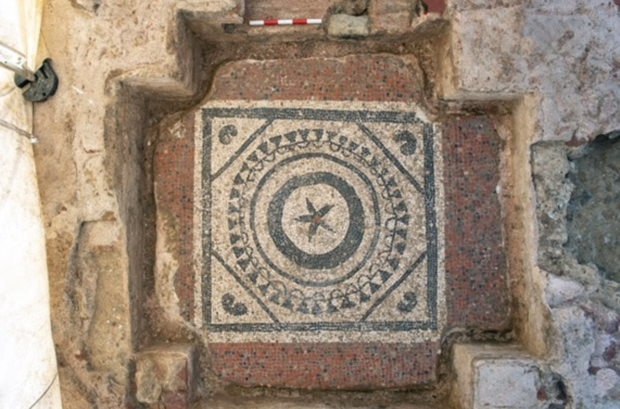 The lower mosaic of the mausoleum, revealed directly beneath its later counterpart, MOLA
Antonietta Lerz, a senior archaeologist from MOLA, called the site a "microcosm for the changing fortunes of Roman London, it provides a fascinating window into the living conditions and lifestyle in this part of the city in the Roman period".
Researchers who worked on the project believe that the tomb was likely used by affluent members of Roman society and potentially could have been a family tomb or a burial club, where members would have paid a monthly fee in exchange for being buried. The archaeology team behind the find say work will continue to try to determine exactly how old the site is.
Image on top : The upper mosaic of the mausoleum, MOLA