From 23 September 2022 - 19 March 2023, the Museo Civico Archeologico di Bologna presents The Painters of Pompeii. Following critically acclaimed presentations at Oklahoma City Museum of Art and New York University's Institute for the Study of the Ancient World, the exhibition expands with a much greater number of works as it returns to Italy and marks one of the most anticipated exhibitions of the autumn exhibition season in Europe. Presenting over 100 rare frescoes, with almost half having never left Naples since they were excavated in the 18th-century, the show is in collaboration with the National Archaeological Museum of Naples – the largest archaeological painting gallery in the world. Curated by Roman art expert Mario Grimaldi and produced by MondoMostre, it offers the opportunity to view ancient masterpieces in dialogue with the original tools used to create them and reconstructions of Pompeian rooms, featuring wall paintings and items dug by Bourbon archaeologists.   
The exhibition draws a renewed focus on the pictores: artists and craftsmen who created the wall decorations in the houses of Pompeii, Herculaneum and the Vesuvian area. Very little information is known about these makers, with their artworks widely baring no signature. Since revealed by the Bourbon excavations, the artifacts they left behind act as valuable pictorial testimonies of Vesuvian life and its organisation. The Painters of Pompeii seeks to contextualise the pictores' role and economic condition in Roman society whilst highlighting their techniques, tools, colours, and models. Through the wealth of images preserved after the eruption in 79 AD – namely vibrant, often large-scale frescoes – we see a reflection of the tastes and values of various clients while gaining a greater understanding of their production system.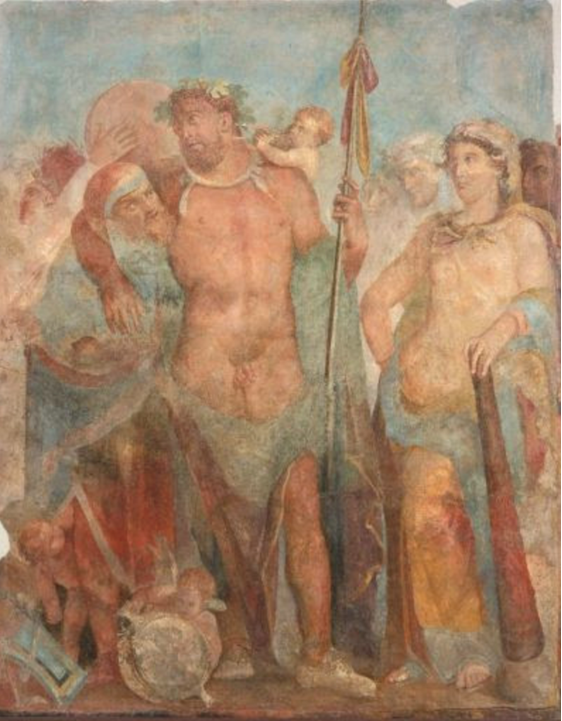 Hercules and Omphale. Pompeii, IX, 3, 5, House of Marcus Lucretius, triclinium 16, east wall, central section, painting. Fresh, 195 x 155 cm. MANN, Inv. 8992, 1st century A.D. - IV style.
Masterpieces from various domus (ancient Roman dwellings famous for the beautiful wall decorations from which they often take their name) will be exhibited in Bologna. For example, works will feature from Pompeii's The House of the Tragic Poet, and The House of Punished Love, as well as Boscoreale's The Villa of Fannio Sinistore and Herculaneum's The Villa of the Papyri. With the largest fresco never having been moved before and standing at a huge 5 by 3 meters, these works allow us to explore a scope of colours which were ubiquitous in antiquity and whose traces would have been lost to us, if not for the rediscovery of Pompeii, Herculaneum, Boscoreale or Stabiae.

Visitors will gain insight into a wide selection of the most popular compositional schemes across the different periods of Roman art, observing how some artists were able to give an original vision of decorative models, continuously varied and updated in line with local fashions and styles. Subjects span lively depictions of guests being welcomed, refined images of landscapes, gardens and architecture, as well as recreations of mythical scenes.

The exhibition will additionally showcase the original technical tools found from the Pompeian excavations which painters used for designing and executing their works, as well as items placed by the Romans inside the rooms. Technical tools include cups that are still filled with colours from two thousand years ago, squares, compasses, plumb lines and preparatory drawings. Decorative and functional objects are also depicted in the frescoes exhibited, with artistic representations of tricliniums (a Roman couch extending around three sides of a table), oil lamps, jugs and vases in conversation with the preserved ancient artefacts on display.
These elements aid in the reconstruction of Pompeian rooms, such as those of the House of Jason and the large spectacular frescoes with stucco reliefs in the House of Meleager, as the exhibition is staged through the eyes of the pictore who would be adjusting their paintings to the actual context they were working in. With many works positioned and lit to reflect their placement in their original dwellings, the setup illustrates an artwork's relation to its environment as a result of carefully considered messaging.

Exhibition curator Mario Grimaldi elaborates on the enigmatic work of the pictores:

'If classical Grecian painters were deemed ''property of the universe'' by Pliny the Elder, their Roman pictore contemporaries were skilled craftsmen. Painting was relegated to the work of freedmen, slaves, women and people incapable of political and military life, all tasked with adapting works to suit their clients' personalities, needs, homes and decoration. Informed by excavations of Vesuvian rooms preserved perfectly in situ, the exhibition uses masterworks from the Collection of Frescoes of the National Archaeological Museum of Naples to offer a re-reading of how pictores operated anonymously within these houses.'