In collaboration with artèQ, the Belvedere is launching a NFT drop of a historical masterpiece. Just in time for Valentine's Day, the most famous depiction of a pair of lovers will be offered for sale in a limited number of digital excerpts.
Gustav Klimt's The Kiss (Lovers) – one of the world's most famous works of art and the centerpiece of the Belvedere's collection – will be specially implemented as an NFT project. A high-resolution digital copy will be divided into a 100 x 100 grid, resulting in 10,000 inimitable individual pieces that will be offered as non-fungible tokens, or NFTs for short.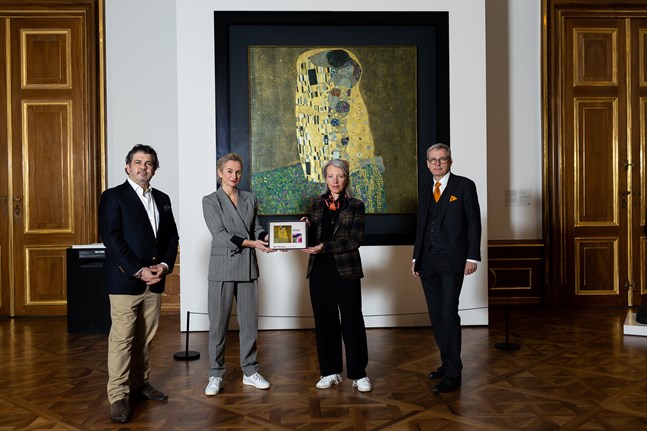 In addition to purchasing the NFT, buyers can register as owners of their piece on the platform thekiss.art, where the picture can be viewed in its entirety. This entry can also serve as a declaration of love – just in time for Valentine's Day. "What does it mean to own a work of art in the digital age? The rise of NFTs, which has preoccupied the art world since 2020, has given fresh impetus this intriguing question.
The conversion of digital reproductions into virtual originals opens up new forms of participation that, in financial terms, should be taken seriously, yet can also be viewed playfully," says Belvedere General Director Stella Rollig about the drop.
Love declarations aside, the Belvedere expects a high level of interest from NFT collectors: "The very small number of shares for the world market and the fact that each piece is unique is what makes these tokens so valuable," says Wolfgang Bergmann, Managing Director of the Belvedere.
Farbod Sadeghian, founder of artèQ, added: "We are proud that artèQ's innovative technology and concept was chosen for the implementation of this globally unique project and that we were allowed to become a partner of the project."
The 10,000 NFTs can be purchased at an estimated retail price of around 1,850 euros each. A special process was chosen for this: A "whitelisting" phase will begin on 26 January at 00.00 am (Central European Time), whereby interested parties can register to purchase on the thekiss.art platform.
On February 9, those willing to buy will receive authorization to purchase minted NFTs of a piece of the digital Kiss. Minting is an imprinting process through which digital art becomes part of the blockchain – this guarantees that each NFT is unalterable and forgery-proof. From February 9, buyers can complete the transaction. The 10,000 segments of the work will be allocated at random. The drop, or official release of the NFTs, will take place by Valentine's Day, February 14. The issued NFT certificates will then show exactly which digital part of the painting was purchased. An individual dedication of love can be added to the NFT via thekiss.art. These dedications can be seen on the platform starting February 14. The NFTs can be resold via any commercially available NFT sales platform. A team of art law experts at CMS Reich-Rohrwig Hainz, headed by partner Bernhard Hainz and attorney Saskia Leopold, and attorney Klaus Pateter, who specializes in blockchain and tokenization, are advising the Belvedere in all legal matters associated with this project. Unzer is a partner in payment processing.
Gustav Klimt, The Kiss (Lovers), 1908/09 The couple in The Kiss appear intimately entangled, oblivious to their surroundings and lost in their embrace. With this work at the height of his "Golden Period," Austrian painter Gustav Klimt created a universal allegorical statement about love as a central theme of human existence. The Austrian State bought the work when it was first presented, in 1908, for the recently founded Modern Gallery in the Lower Belvedere. Since then, the painting has remained in the museum's holdings. Today, The Kiss is considered an icon of Viennese Art Nouveau and European Modernism. It is one of the most famous works of art in the world.
Exciting News: ArtDependence now has an art store on Artsy. Click the Artsy banner to see the brilliant works on view.