The sculpture, titled Point of Infinity: Surface of Revolution with Constant Negative Curvature, was installed on top of Yerba Buena Island, San Fransisco, in May 2023. A public unveiling and ribbon cutting celebration for the new park that is currently under construction is anticipated to take place in late 2023.
This artwork is Sugimoto's first large scale public sculpture installation in the United States and the first of many public commissions that will be presented as part of the Treasure Island Arts Program.
"I envisioned a sculpture based on the mathematical formula for a surface of revolution with constant negative curvature.  A hyperbolic curve that suggests both infinity and eternity: two converging curved lines, getting closer and closer but never meeting," said Hiroshi Sugimoto. "The concept of infinity is a human invention.  It is a paradox. Nonetheless, we pursue it.  It is symbolic of humankind's pursuit of knowledge and innovation.  I know, it sounds very optimistic…"
The sculpture's shape is expressed by the following cubic function: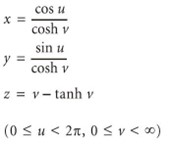 "The concept of infinity is a human invention. The point of infinity is a paradox, but should it exist in the natural world, it must be in a faraway place beyond the edge of the universe—or maybe it is no more than an illusion born inside the human brain. Nonetheless, ever since its birth, the human race has persisted in seeing this illusion. We call it art."
Starting at a width of 23 feet at the base, the sculpture rises to a height 69 feet (21 meters) and tapers to a diameter of 7/8 inch (21 millimeters). Eight glass fiber reinforced concrete panels compose the base of the sculpture to a height of 18 ½ feet, and then seamlessly transition to mirror-polished marine grade 316 stainless steel that rises another 50 ½ feet.
The sculpture acts as a monumental sundial, evoking the Tower of the Sun sculpture from the 1939 Golden Gate International Exposition on Treasure Island. A stone marker will be placed in the plaza to mark the precise location of the noon shadow on the spring and autumnal equinoxes. While referencing the grandeur and innovation of the 1939 World's Fair, Sugimoto's sculpture is an elegant and contemplative reflection on the concept of time and humanity.
Image : "Point of Infinity: Surface of Revolution with Constant Negative Curvature" by Hiroshi Sugimoto (Image: Sugimoto Studio)