Manhattan District Attorney Cy Vance, Jr. today announced the return of 33 antiquities valued at approximately $1.8 million to the people of Afghanistan during a repatriation ceremony attended by Afghan Ambassador to the United States, Roya Rahmani and U.S. Homeland Security Investigations ("HSI") Acting Assistant Special Agent-in-Charge Eric Silverman.
"Crimes of culture involving looted and stolen religious relics, such as the nearly two dozen Buddhist statues being repatriated today to the people of Afghanistan, not only tear at the societal fabric of nations but also deprive millions of believers worldwide of the earliest sacred symbols of their faith," said District Attorney Vance. "I am honored to return this trove of awe-inspiring artifacts exemplifying Afghanistan's proud cultural heritage and humanity's enduring quest for spiritual awakening. Over the past decade, my Office's Antiquities Trafficking Unit and our partners at Homeland Security Investigations have collaborated to recover more than 2,500 relics valued at $143 million from the illicit collection of Subhash Kapoor – including the remarkable items that, in recent weeks, we have repatriated to Sri Lanka, Nepal, and Afghanistan. Since last August, we've had the privilege of repatriating 338 stolen objects to seven countries, and we look forward to future ceremonies announcing the return of additional items to their rightful owners."
"Artifacts of historical or cultural significance allow the public to experience a nation's heritage and these items shouldn't be offered as souvenirs for sale to the highest bidder," said Peter C. Fitzhugh, Special Agent in Charge of HSI New York. "This repatriation demonstrates the success of cooperative efforts, and HSI is committed to working with the Manhattan DA and our global law enforcement partners to investigate those who seek to benefit financially from the pilfering of cultural property."
"The preservation of Afghanistan's heritage and history is paving the path for civilization and society to grow," said Ambassador Rahmani. "These recovered works are irreplaceable pieces of Afghanistan's diverse culture and rich history. It is my greatest honor to help facilitate their return home. Thank you to all who have been involved in the investigation and repatriation efforts, including Manhattan District Attorney Cyrus Vance, Jr., his staff, the members of the Antiquities Trafficking Unit led by Assistant District Attorney Matthew Bogdanos, and officers of the Homeland Security Investigations team."
For many years, the Manhattan D.A.'s Antiquities Trafficking Unit, along with law enforcement partners at HSI, has been investigating KAPOOR and his co-conspirators for the illegal looting, exportation, and sale of ancient art from Sri Lanka, India, Pakistan, Afghanistan, Cambodia, Thailand, Nepal, Indonesia, Myanmar, and other nations. KAPOOR and his co-defendants generally smuggled looted antiquities into Manhattan and sold the pieces through KAPOOR'S Madison Avenue-based gallery, Art of the Past. From 2011 to 2020, the D.A.'s Office and HSI recovered more than 2,500 items trafficked by KAPOOR and his network. The total value of the pieces recovered exceeds $143 million.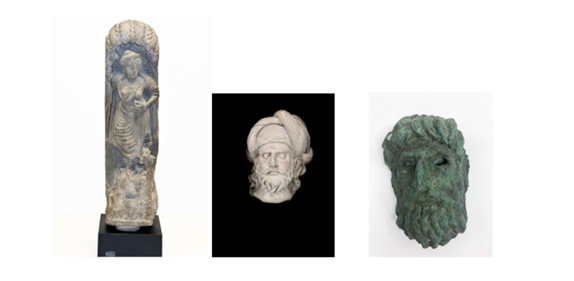 Pictured (from left to right): Schist statue depicting a Bodhisattva Meditating Under The Tree, Stucco "Head of a Bearded Man", and Bronze mask of Silenus
The D.A.'s Office first issued an arrest warrant for KAPOOR in 2012. In July 2019, a complaint and series of arrest warrants for KAPOOR and seven co-defendants were filed and an indictment was filed in October 2019. In July 2020, the DA's Office filed extradition paperwork for KAPOOR, who is currently in prison in India pending the completion of his ongoing trial in Tamil Nadu.
The repatriated items include a schist statue depicting a Bodhisattva Meditating Under The Tree, dating back to the 3rd Century C.E., a stucco "Head of a Bearded Man," circa 3rd-4th Century C.E., a bronze mask of Silenus, circa 2nd Century C.E., and a bronze standing Buddha, circa 3rd-4th Century C.E.
Prior to today's ceremony, the D.A.'s Office has returned 338 antiquities seized during multiple investigations including one to Lebanon, forty-five to Pakistan, one to Egypt, two hundred and forty-five to India and recently, three pieces to Nepal and a pair of statutes to Sri Lanka.
Manhattan D.A.'s Antiquities Trafficking Unit
To date, the D.A.'s first-of-its-kind Antiquities Trafficking Unit has recovered several thousand stolen antiquities collectively valued at more than $175 million. Many hundreds of these priceless artifacts have been returned to their rightful owners and repatriated to their countries of origin, including a total of 338 objects to seven nations since August 2020. Many hundreds more are ready to be repatriated as soon as the relevant countries are able to receive them amid the pandemic. But more than a thousand must be held awaiting criminal proceedings against the traffickers. The items already returned include a pair of statues of Buddha to Sri Lanka; an Egyptian limestone stele dating back to 664 B.C.E, 45 antiquities dating back to the 2nd Century to Pakistan; a gold coffin stolen from Egypt in the aftermath of the Egyptian Revolution in 2011; three marble Lebanese statues; a Roman mosaic excavated from the Ships of Nemi; an Etruscan relic stolen from the site of a historic necropolis known as the "City of the Dead"; a marble sarcophagus fragment; a Buddhist sculpture stolen from an archaeological dig site; a pair of 12th century Indian statues; a collection of 8th Century B.C.E. bronze statues; and a set of ancient Greek coins, among others.
Assistant D.A. Matthew Bogdanos, Senior Trial Counsel and Chief of the Antiquities Trafficking Unit, handled the recovery of the artifacts with Investigative Analysts Alyssa Thiel and Apsara Iyer and Special Agents Brenton Easter and John Paul Labbat.
District Attorney Vance thanked HSI New York and the Ambassador Rahmani for their assistance with the matter.