Yet the common thread that wove through his expansive oeuvre was his unswerving devotion to the rich tapestry of India's culture, tradition, and history. Whether it is his exploration of different religions, his fascination with music and dance, or his depiction of India's colonial past, Husain's artistic canvas was as vast as India itself. On the occasion of his birth anniversary, let us delve into some of the most iconic themes that defined the artistry of M.F. Husain.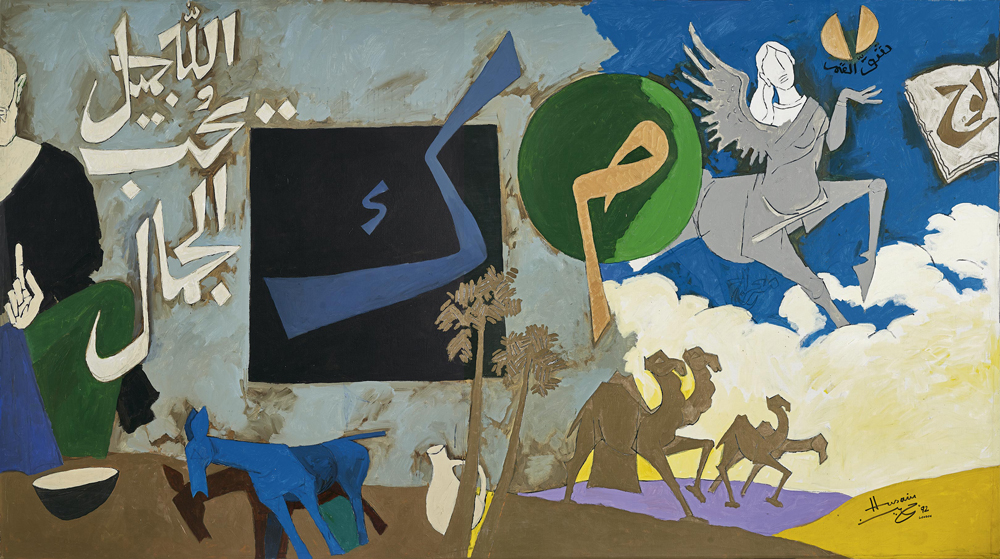 Theorama Series- Islam, Acrylic on canvas, 1992
One cannot explore Husain's art without acknowledging his deep and abiding fascination with the depiction of women. Throughout his life, women appeared on his canvases in various avatars, but one of the most recognizable and revered series was his paintings based on Mother Teresa. This series held a special place in Husain's heart as it was a personal tribute to the saint who had a profound impact on his life and work. Having lost his mother during his childhood, Husain yearned to fill the void, and his art became the vessel through which he expressed this longing. In these paintings, Husain went beyond mere portraiture. He believed that capturing Mother Teresa's countenance alone couldn't encapsulate the essence of her spiritual magnitude. Instead, he employed his deft artistic skills to create a treatment that transcended her human presence, portraying her gracious, maternal virtuosity. The extended and momentous drape with a blue border, a symbol of Mother Teresa, perfectly captured the aura of this remarkable figure. Through this series, Husain's brushstrokes painted not just an image but a profound tribute to a woman who touched his soul.
Raj, Acrylic, metallic gold & bronze paint on canvas, 1987
In a departure from his mythological inspirations, Husain ventured into political history with his British Raj Series. These multifarious canvases are a playful yet satirical visual commentary on the social, political, and economic realities of life in India during the colonial era. The series skillfully weaves
together tableaus of Indian and British subjects, highlighting the stark contrast between the dominant colonisers, indolent Maharajas, bejewelled queens, petty bureaucrats, and voiceless servants. Through caricatures and clever symbolism, Husain offered insight into the complex dynamics of a colonised nation. The British Raj paintings remain a significant part of his body of work, showcasing his versatility as an artist and his commitment to shedding light on the historical context of India's colonial past.
During the 1950s to the late 1960s, M.F. Husain embarked on one of his most energetic artistic journeys, the "Ragamala" series. This collection pays homage to Indian cultural traditions in their classical forms, with a particular focus on the concept of rasa, or aesthetic rapture. At this time, Husain drew inspiration from the interdisciplinary nature of music, sculpture, dance, painting, and film, infusing his works with a vibrant energy. The "Ragamala" series reflects Husain's masterful use of pictorial elements, showcasing his ability to capture the essence of Indian classical arts. Each painting in this series is a celebration of the interconnectedness of these art forms, resulting in a visual symphony that resonates with viewers.
Husain's art was deeply rooted in his belief in secularism and India's cultural diversity. He dedicated a significant portion of his work to themes of religion and faith, culminating in the awe-inspiring "Theorama" series. This monumental creation consists of ten panels, each representing a different global faith, including Vedic, Islamic, Christianity, Judaism, Buddhism, Jainism, Sikhism, Zoroastrianism, Taoism, and even Humanism. In these paintings, Husain meticulously etched the essence of each religion's canons with precision and immense reverence. "Theorama" stands as a testament to his visionary approach to art, where he transcended boundaries and embraced the spiritual richness of the world's major religions. This series not only underscores his artistic prowess but also serves as a powerful symbol of unity and harmony in a diverse world. The art of M.F. Husain is a testament to his unwavering commitment to preserving and celebrating India's cultural heritage. His legacy as a cultural icon and a prolific artist continues to inspire generations, reminding us of the enduring power of art to bridge cultures and connect hearts.
Authored by Sunny Chandiramani, Senior Vice President at AstaGuru Auction House
Image on top : Untitled (Mother Teresa), Acrylic on canvas board Circa 1990