The Contemporary Austin has announced artist, Lubaina Himid as the winner of the 2024 Suzanne Deal Booth / FLAG Art Foundation Prize. In addition to receiving a $200,000 cash award, Himid will present a solo exhibition premiering in Austin in spring 2024 at The Contemporary's downtown venue, the Jones Center on Congress Avenue.
Over a four decades-long career, Lubaina Himid (b. 1954, Zanzibar; lives and works in Preston, UK) has explored and expanded the possibilities of painting and storytelling to depict contemporary everyday life and uncover the silenced histories of marginalized figures. Self-described as a painter and cultural activist, Himid has been influential in making space for the expression and recognition of Black experience and women's creativity. She played a pivotal role in the British Black arts movement in the 1980s and went on to gain international recognition for her work, including winning the Turner Prize in 2017.
Initially trained in theater design, she is known for her innovative approaches to painting and to social engagement. Her artistic practice is also rooted in her personal experiences with theater and textile design from a young age, when she would join her mother, a textile designer, on trips to clothing and fabric stores. Her paintings and installations are filled with lurid and lively colors that often reference her cultural heritage. Found objects—plates, discarded furniture, jelly molds, newspapers—also form the foundation of her artworks, giving them a temporal quality that defies the confines of a gallery wall.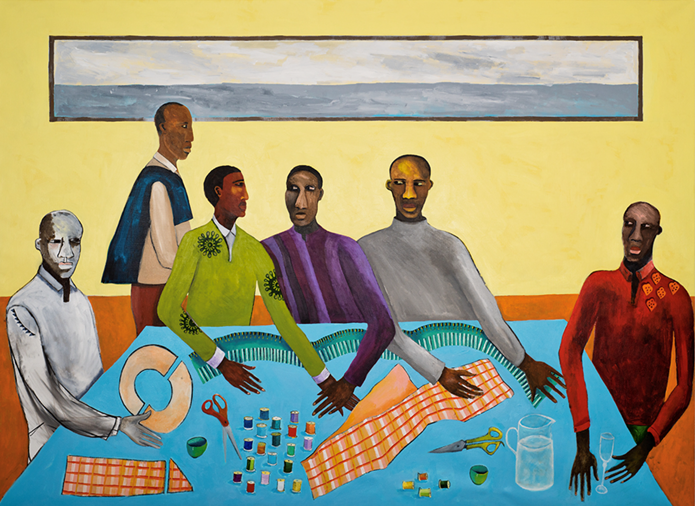 Lubaina Himid, Six Tailors, 2019. Acrylic on canvas. 77 1/2 x 106 5/8 inches. Rennie Collection, Vancouver. Artwork © Lubaina Himid. Image courtesy the artist and Hollybush Gardens, London. Photograph by Gavin Renshaw.
"Himid's work is both content rich and aesthetically beautiful, making her an excellent choice for this prestigious award," says sharon maidenberg, the Ernest and Sarah Butler Executive Director & CEO for The Contemporary Austin. "Her unique ability to simultaneously humanize and elevate the lived experience of her subjects makes her a deft visual storyteller. Her ability to work across media—including painting, textile, and sculpture–creates space for her continued exploration of timeless subjects in new and fresh ways. We couldn't be more thrilled to be celebrating her achievements and bringing her work to Texas for the first time."
"In many ways and forms, Himid's practice makes private moments public, and in doing so invites viewers to project their own experiences and histories onto the work," states Jonathan Rider, Director of The FLAG Art Foundation. "Presenting Himid across two venues, each with distinct regional contexts, allows for differing conversations, programming, and possibilities to occur. Himid has spoken about the exhibition as a site for chance encounter, and we look forward to seeing how audiences between Austin and New York inhabit, activate, and interact with the theatrical and deeply personal world she creates."
Himid has exhibited extensively in the UK and abroad. A major monographic exhibition of Himid's work opened at Tate Modern, London in 2021 and travels to Musée cantonal des Beaux-Arts de Lausanne in 2022. Significant solo exhibitions include Water Has a Perfect Memory, Hollybush Gardens, London (2022); Spotlights, Tate Britain, London (2019); The Grab Test, Frans Hals Museum, Haarlem, The Netherlands (2019); Lubaina Himid, CAPC Bordeaux, France (2019); Work From Underneath, New Museum, New York (2019); Gifts to Kings, MRAC Languedoc Roussillon Midi-Pyrénées, Sérignan (2018); Our Kisses are Petals, BALTIC Centre for Contemporary Art, Gateshead (2018); The Truth Is Never Watertight, Badischer Kunstverein, Karlsruhe (2017); Navigation Charts, Spike Island, Bristol (2017); and Invisible Strategies, Modern Art Oxford (2017).
Selected group exhibitions include Mixing It Up: Painting Today, Hayward Gallery, London; Lubaina Himid - Lost Threads, The British Textile Biennial, The Great Barn, Gawthorpe Hall, Padiham, Burnley, UK; Life Between Islands: Caribbean-British Art 50s-Now, Tate Britain, London; Relations: Diaspora and Painting, Esker Foundation, Calgary, Canada; Invisible Narratives 2, Yamamoto Keiko Rochaix, London; Unsettled Objects, Sharjah Art Foundation, Sharjah (all 2021); Frieze Sculpture, London; Risquons-Tout, WIELS, Contemporary Art Centre, Brussels; Slow Painting, Hayward Touring UK traveling exhibition (all 2020); En Plein Air, The High Line, New York (2019–2020); Sharjah Biennial 14, UAE (2019); Glasgow International (2018); Berlin Biennale (2018); The Place is Here, Nottingham Contemporary, UK (2017); Keywords, Tate Liverpool (2014); and Burning Down the House, Gwangju Biennale (2014). Her work is held in various museum and public collections, including the Tate; British Council Collection; Arts Council Collection; UK Government Art Collection; Museum Ludwig, Cologne; Victoria & Albert Museum, London; National Museums Liverpool; Whitworth Art Gallery, Manchester; Hammer Museum, Los Angeles; and Rhode Island School of Design, Providence.
Artist Portrait: Lubaina Himid, portrait. Photograph by Magda Stawarska-Beavan