As part of Wren 300, which marks the 300th anniversary of the death of Sir Christopher Wren (1632-1723), the Museum team, in association with the Square Mile Churches, has created Fire in the City: Artists in the Blitz, a series of pop-up displays featuring high-quality reproductions of paintings by firefighter artists, along with contemporary photographs from the Brigade's archive, that tell a fascinating and inspiring story of resilience and regeneration.
The exhibition will be on display across a selection of City churches from 15 September through to December 2023 and features a variety of dramatic scenes, including firefighters, many of whom were civilian volunteers, desperately trying to combat the gathering inferno. Among them, was a remarkable group of artists, including the painters Wilfred Stanley Haines (1905-1944), Reginald Mills (1896-1951) and Paul Dessau (1909-1999), who all recorded the experience of firefighters thrown into the horror of the Blitz, from dramatic paintings of incidents to more reflective scenes of colleagues at rest.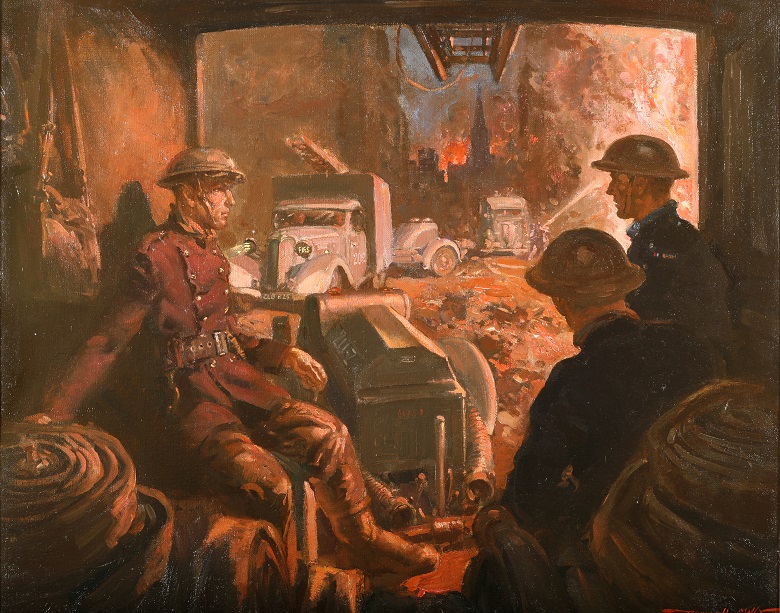 Resting at a Fire by Reginald Mills
In 1940, ten artists serving with the Auxiliary Fire Service (AFS) formed their own Firemen Artists Organising Committee and, on 10 March 1941, held the first of six exhibitions in London, featuring over 100 paintings. This initial show lasted for three weeks, attracting over 30,000 visitors. One reviewer praised the works for their combination of 'the spectacular with the heroic', while also emphasising the authenticity of the subjects. Many were not straight documentary images, but composites, drawn from memory.
Women joined the fire service for the first time as volunteers in the AFS in the Second World War. Despite being dubbed the 'Firemen Artists', a small number of AFS women were also active artists, including Julia Lowenthal (active 1915-1935) and Mary Pitcairn. Driving by Moonlight, painted by the latter in 1941, evocatively shows AFS Firewoman Gillian 'Bobbie' Tanner at the wheel of a truck. She was awarded the George Medal for bravery and the citation read: 'On the night of 20 September 1940, Auxiliary G.K.Tanner volunteered to drive a 30 cwt lorry loaded with 150 gallons of petrol. Six serious fires were in progress and for three hours Miss Tanner drove through intense bombing to the point at which the petrol was needed, showing coolness and courage throughout.'
Julia Lowenthal's drawings and paintings gave remarkable insights into life inside the fire stations during the Blitz. Unlike most of her fellow firefighter artists she worked primarily in pencil and watercolour. Lowenthal was based in Kilburn and most of her surviving work is of colleagues in the station, and often at rest. Her watercolour sketch Bells Down refers to firefighters being called to action by bells in their fire station.