Dame mit Facher (Lady with a Fan) was one of two works found in Klimt's studio at the time of his death in 1918. The portrait was last up for sale almost thirty years ago in 1994, when it was acquired by the family of the present owner.
If sold at its estimated value at Sotheby's Marquee Modern & Contemporary Evening Auction, Dame mit Facher will be the most valuable painting ever to have sold at auction in Europe and one of the most valuable portraits ever to have come to auction worldwide.
Klimt is mostly known for his ornate and symbolic portraits of fashionable Viennese matrons, such as Portrait of Fritza Riedler (1906) and Portrait of Adele Bloch-Bauer I(1907). The Kiss (1908-09) is Klimt's most recognisable work, exemplifying the aspects of his decorative style of painting, reminiscent of Byzantine art.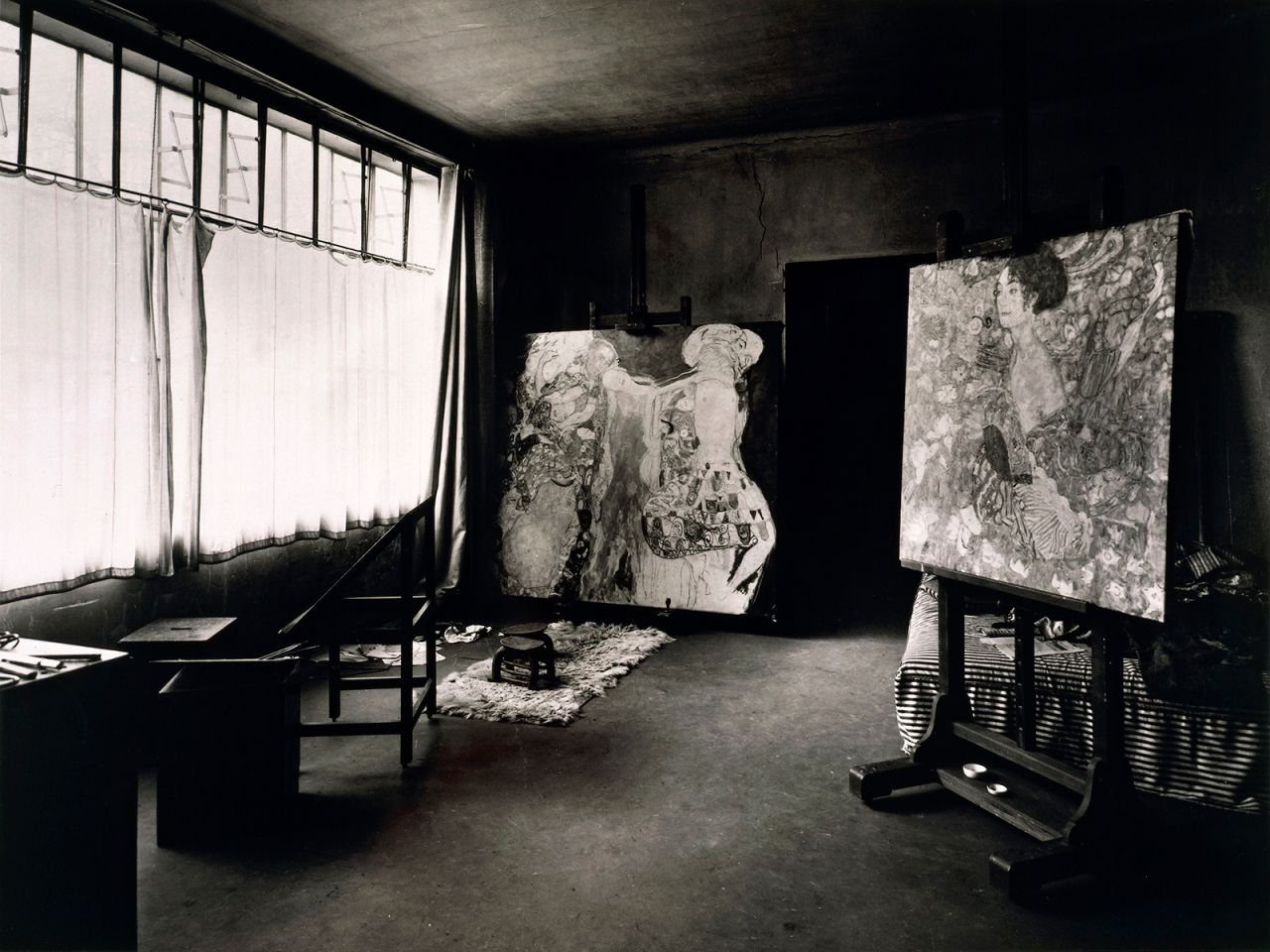 Dame Mit Fächer on an easel in Klimt's studio, 1918.
Characterised by his highly stylised linear designs, Klimt used gold paint and semi-precious gems for ornamentation. Due to this decorative linear style and his romantic compositions, Klimt's paintings have remained very much part of popular culture. Unlike many of his portraits, however, this work wasn't a commissioned piece. Dame mit Facher was painted at the prime of Klimt's practice and for his own interest and experimentation as an artist.
This is evident in the expressive brushstrokes and lines in the work, with a looser approach to the patterns in the background. It reveals Klimt's decision to move away from a more formal style that he applied in previous paintings.
The portrait's model is a fashionably dressed, unidentified woman holding a fan, revealing a bare shoulder as she looks out beyond the frame.
"The beauty and sensuality of the portrait lies in the detail: the flecks of blue and pink which enliven the sitter's skin, the feathery lines of her eyelashes and the pursed lips that give her face character," said Thomas Boyd Bowman, head of impressionist and modern art at Sotheby's London.
"Klimt here gave himself full freedom to capture on canvas a devastatingly beautiful woman. Her provocatively bared shoulder, poise and quiet self-assurance combine to stunning effect."
Klimt's influence from Chinese and Japanese art and culture is evident in the painting. The kimono the sitter wears, the fan she holds and the motifs in background, such as the flying phoenix and the lotus blossoms, reflect Klimt's interest in Chinese culture. Meanwhile, the flattened background and application of patterns reveal influence from pictorial ideas and concepts seen in Japanese woodblock prints.
The painting is square in format, which is unusual for painted portraiture. However, Klimt chose a square form over the traditional vertical for his most avant-garde or experimental paintings.
Image : Dame Mit Fächer on an easel