Image: Pierre Alechinsky, Arbritude, 1972, Cobra
Karine Huts doesn't do anything small. She –together with husband Fernand Huts- is a global leader in the harbor logistics business and manages one of the largest private art collections in Belgium. The family aims to share Flemish art with the world, and the world's art with Belgium. ArtDependence sat down with Karine Huts to talk art.   
Karine Huts still remembers the excitement she felt making her first bid for an artwork. Bernaerts Art Auctions had organized a simultaneous auction in Mechelen and Tokyo. Mrs. Huts was bidding from Antwerp on a watercolor painting by Belgian artist Leon Spilliaert. The thrill of the hammer's knock giving her the artwork started her on a lifelong journey that turned her into a Renaissance like patron of the arts.
The expansion of the harbor logistics company, Katoen Natie, allowed Mrs. Huts to collect XX century Belgian art. She purchased works by artists like Alfred Stevens –famous for his depictions of women-, and the renowned neo-impressionist Théo Van Rysselberghe.
Collecting led Mrs. Huts to take art history lessons at the Flanders Antiquity, an organization that guides art amateurs. The knowledge she acquired broadened her art hunting horizons. Her collection is eclectic; it spans throughout centuries and holds works from different parts of the world.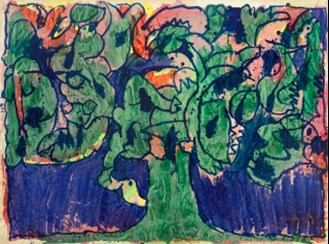 Pierre Alechinsky, Arbritude, 1972, Cobra
In the 80's Mrs. Huts started collecting COBRA art and now owns one of the the largest COBRA collections. This European art movement –with names like Karel Appel, Christian Dotremont and Asger Jorn began in 1948 and focused on experimental work. By experimenting in art its members looked to break away from society's norms and feel free.
The family is currently working on a COBRA depot in Antwerp that can be visited by appointment.
Another chapter in the family collection opened when she and her husband bought Professor Antoine De Moor's entire collection of antique textiles and Coptic art. The veterinary scientist from Ghent had amassed around 400 objects among them textiles, tunics, statues, utility items and documents that recount Egypt's history from 3,500 BC to 1,500 AD. The Huts thoroughly restored the entire collection, and have it on display at HeadquARTers, the company's museum in Antwerp. The artworks are so impressive even the Louvre can't compete with them.
The family business has taken Mrs. Huts around the world. One of the regions she's spent the most time in is South America, especially Uruguay. There she befriended local artists, art merchants, and curators. This exchange resulted in an additional chapter in her collection.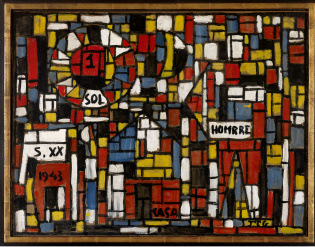 Joaquin Torres-Garcia, Constructive art, 1943, Latin American art
She owns works by Uruguayan sculptor Pablo Atchugarry; by Uruguayan constructivist artist Joaquin Torres García. "Latin American art is still relatively unknown in Europe. I find that surprising because it is great," says Mrs. Huts.
Driven by her curiosity for the new, Mrs. Huts started collecting contemporary Belgian art.
Among the artworks she owns are pieces by Belgian neo-conceptual artist Wim Delvoye.
Art tips from Karine Huts: Don't miss the Red Star Line Museum in Antwerp, The Louvre, and the Musée de la Chasse et de Nature in Paris.