EVB: Etienne Verbist
Alexander: Alexander Tuteleers
EVB: Who are you and what do you do?
Alexander: I'm Alexander Tuteleers, founder & CEO of ArtAssistant. I grew up in the world of art. My parents started in independent art promotion over 40 years ago. I studied economics in Brussels but was always passionate about the family business and participated in diverse projects from a young age. Afterwards, I gained a postgraduate qualification in "Connoisseurship" at VUB. That was where I improved my knowledge of the non-commercial side of the art world. I'm always open to innovation; I want to combine my knowledge from the art market, and my experience with art dealers, art collectors and non-profit players to see how the two can feed into ArtAssistant.
EVB: Tell us about your platform.
Alexander: The ArtAssistant idea is the result of the years of experience that my parents and I built up over the past 40 years. We uncovered growing concerns and issues related to collectors, art dealers and many other stakeholders in the world of art. Collectors want more transparency in the market; they often feel limited because they depend on the dealer's advice. People want a personal and independent experience, but when dealers or auction houses manage this, the targeted focus can make the experience unpleasant. On the other hand, art dealers are looking for new ways to reach customers and feel the need to head online. Besides that, the art market shifted and evolved in the past decades and the global online market reached a new high in 2017. According to the Art Market report (2018) of Art Basel and UBS, online sales increased 10% year-on-year to $5.4 billion and accounted for 8% of the value of global sales in 2017. It's a positive sign that the online market is growing in stature and shows that collectors are gradually feeling more positive about buying their next artwork online.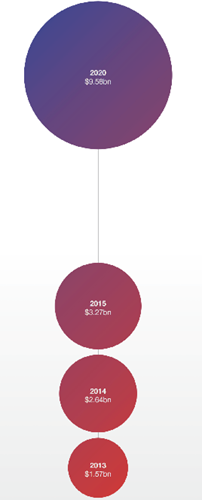 Hiscox Art Market Report
As the world at large becomes increasingly digitized, so is the art market. As such, it's an area which is currently going through a tipping point, one which provides immense opportunities. Over the past decade, some larger art museums and institutions have made a substantial effort. They have taken impressive leaps in adopting tech innovations to engage with audiences and in developing a strong digital presence. But most of the art world, particularly traditional art-market gatekeepers - like small/medium-sized museums, art foundations, galleries and auction houses - have been very slow to adopt the digital world and have failed to fully digitize their databases of information about prices, details of art work characteristics, provenance and records of previous sales. Moreover, these organizations still struggle to understand how best to use digital tools. Apart from digitizing collections, there is so much that can be done – but they lead a very offline existence.
After analysing all this, I was strongly convinced that the art market is ready for an all-in-one platform like ArtAssistant. The platform was developed specifically to meet the art market's current needs and to address its particular problems. ArtAssistant creates transparency in the market by offering price indications and published data; it helps people make an inventory of their art collection and encourages collectors and dealers to discover new works and artists. The platform not only brings together emerging artists from all over the world, it also promotes galleries, art fairs and museums by making them more visible by providing an independent and transparent platform. The visibility of art professionals and enthusiasts is enhanced, so reinforcing connections between other countries' collectors and stakeholders. ArtAssistant reaches out to new audiences and seeks to establish long-lasting relationships.
All in all, our platform offers a unique and unprecedented combination of market-preferred functionalities to support end-to-end, user-friendly and all-round art management, including collection, trade, transportation, insurance, translation and evaluation functionalities. This for a wide market audience made up of all important stakeholders.
EVB: What is your goal? What is your proposition to the art world?
Alexander: For collectors, we feel there is a definite need for a good platform where art lovers can make an inventory of their artworks and stay up to date with everything that's happening with the artists they own and the ones they love. For professionals (museums, dealers, auction houses), we want to improve their efficiency by offering a single platform for managing their business and tracking new prospects by combining multiple functions in just one global platform. We also want to make ArtAssistant the essential platform to consult when trading and make it a permanent part of the life of collectors, art dealers and museums. One of our biggest goals is to get ArtAssistant out to all art lovers and professionals around the globe, motivating them to inventory their collection and enjoy assistance in their quest for fulfilment. We don't want to be just another platform in the art world. We aim to be the absolute number 1, a platform that offers everything for managing your collection and art business. A platform where you can retrieve all information and examine a variety of different options if you want to trade. And all of this will be run from an independent perspective.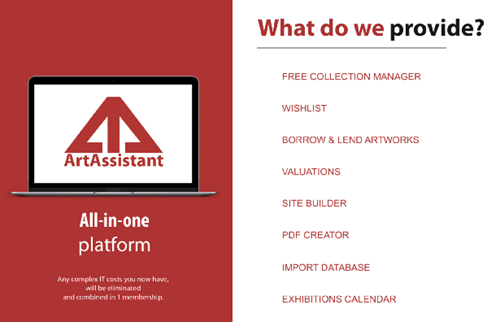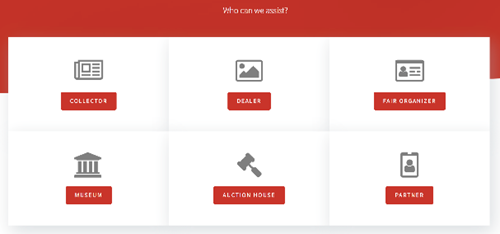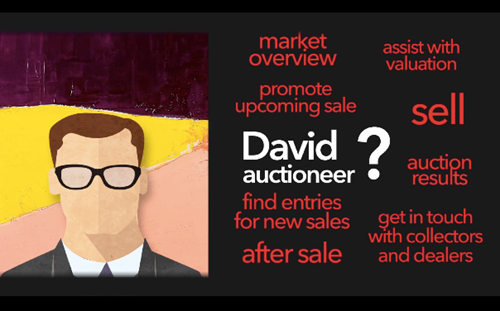 EVB: What is your competition, how do you differentiate?
Alexander: The way we work is very different, compared to many other sites. We have no dealers, auction houses or biased parties in our shareholders. We are also diverse in our functionalities (and revenues) so our way of working and pricing the features is very different compared to other platforms. There is no longer a need to use any other platform. So, I believe we have no direct competitors that offer exactly the same all-in-one platform as ArtAssistant.
Having said that, there are already a lot of online platforms that offer those services separately. One example is Artsy; we call them one of our biggest indirect competitors. They are a destination for exploring and collecting art from galleries, museums, art fairs and auction houses. More than half of their traffic comes from people in the U.S., so they're not that strong in Europe. ArtAssistant offers a lot more features and is fully independent in comparison with Artsy. Other similar organisations are Artprice and Artnet that allow the user to look for past auction results, information about upcoming auctions and art price indicators. They act as a sort of 'Google' for auction results. In contrast, we offer our users personal information based on their collection, stored in the collection manager.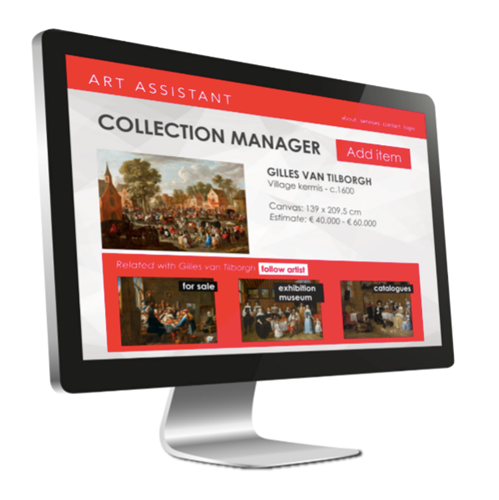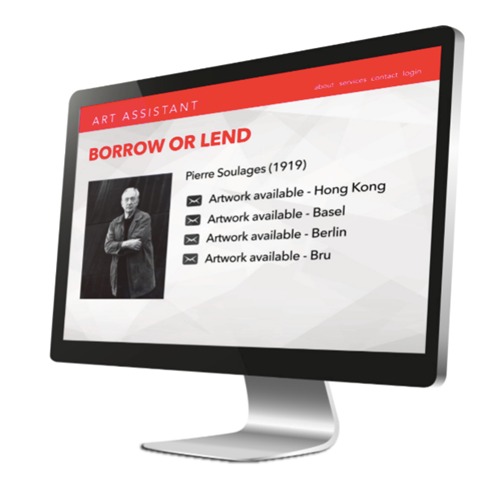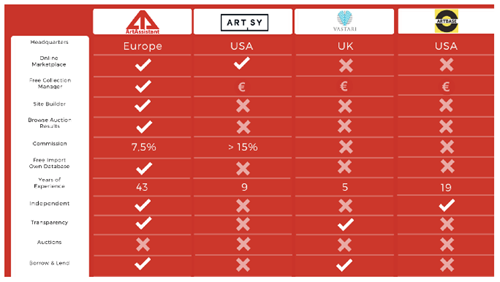 EVB: Why do you do what you do?
Alexander: We have always been among the first with new technologies in the world of art. Back in 2006, we developed ClientDock, a platform for art fair organisers. We were among the very first with fax mailings, barcodes and digital invitations. Now we are ready to bring digital disruption to the world of art. The world is changing, while galleries and museums will still play a very important role in helping artists to become famous and in selecting and discovering works of quality. The internet can make communication, research and doing international business a lot more efficient.
ArtAssistant strives to put art collectors and art lovers at the centre of its activities. We want to give collectors access to the right information about artworks they own, so they can make the right decisions when making subsequent purchases. We want to give collectors more freedom regarding the different possibilities of trading their art. When collectors sell through auction houses, they are often required to hand over a huge percentage in commission. At ArtAssistant, those percentages are a lot lower, because we want to lower the threshold of selling and buying and increase transparency for the owner in doing so.
We want to connect international stakeholders and various sectors (collectors, dealers, museums, etc.) with each other. Right now, various parties in the art world are sometimes a bit isolated; there is often a lack of connection and communication between the different parties. I also find it important that older art enthusiasts and professionals use ArtAssistant, as they aren't familiar with the internet and the digital shift in the art market. That's why each day our team of developers aims to develop things so that they are user-friendly. I want everything to be easy to use, fast, comprehensive and efficient.
EVB: What role does the artist have in society?
Alexander: When people look back at the past, art is an interesting and important medium to form an idea of what was going on. I often say to people who ask me questions on contemporary art: "Look around carefully, as in 50 years' time, 95% of it will no longer exist." The people of today select what they like; well-conserved works will be kept for future generations to form an idea of our times. I also love the way artists make people dream and wonder about life with their works.
EVB: What is your favorite art work?
Alexander: I dare to turn to Pierre Soulages, the blue works with some black. Back in 2012, I visited over 100 art fairs; I still visit a few dozen exhibitions and fairs every year. When you see so many artworks, it becomes difficult to explain why a certain work or genre attracts your attention. For me, I have one work that I always remember when I walk out of an exhibition or collection. I think that Soulages differentiates himself by painting with reflection. He doesn't paint just with color but pays attention to the structure and the style in which he paints.
Pierre Soulages
EVB: What memorable responses have you had to your idea?
Alexander: One of our first investors withdrew from another foreign online art platform; this investor made a very intense comparison between them and our platform, also considering what is under development at the moment. This confirmed our business plan; it enriches us having the right people on board. When attending the world's greatest art fairs, it surprises me each time how big the need is for a platform like ArtAssistant. We have already received a lot of positive reactions from well-known galleries - and that keeps us motivated.
EVB: What do you dislike about the art world?
Alexander: There is a certain measure of instability, which is created by some art dealers or auction houses selling overvalued works to young or inexperienced art lovers. It is also striking that well-known artists and famous galleries blind a lot of people. We come across so much talent at art fairs that we attend. I think it's a pity that artists and galleries often have to be well-known and expensive to be noticed. There's so much interesting work in the art world that doesn't get the attention it deserves. That's what we also want to do with ArtAssistant, making sure that each work and artist has the same attention. We want to connect our members with these unknown but talented masterpieces without their needing to travel all over the world to discover them.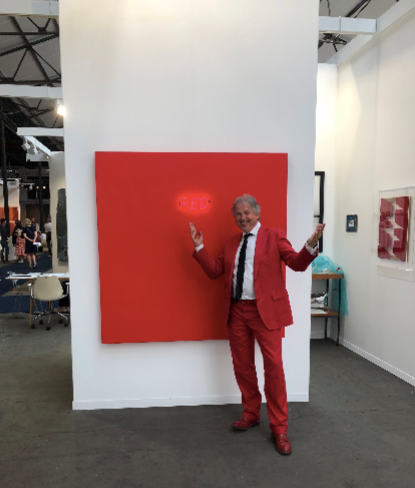 Collector in Red
EVB: What role does art funding play?
Alexander: If you mean subsidies, I am 100% against them. Who are the right people to decide what gets funding and what not? Why are some artists given money and others not? It all depends on their relative success and contacts. I believe in an open market, in liberty for artists and collectors. I believe in museums for antique and modern art. But for contemporary art, there are just too many economic factors to be taken into consideration - and there is no guarantee for visitors that what they see is really the best on offer today.
EVB: Which technology do you practice or do you combine different technologies in your work?
Alexander: We mainly focus on artificial intelligence as we are working with the tastes and interests of our users; we use it to teach the platform how to assist people in the best way possible. Augmented reality is also on our to-do list for some of our projects in the future. Blockchain is used internally to track the past sales results on the platform, however information on this is not communicated. We are also more flexible than other platforms with, for instance, pictures. ArtAssistant accepts even the biggest and rarest picture formats, because right now in the art world receiving the perfect picture in the right format is often a problem.
One of the biggest advantages of the whole platform is its user-efficiency. Where art dealers, museums and art fair organisers normally use several different types of software and CRM systems to manage their business, they can now access all these different services through the all-in-one platform. Different features are all synched with each other, so these people can save time and money by using ArtAssistant - and it's very easy to use.
Image on top: Alexander Tuteleers & Lynn Verbrugge New York