"The private art museum landscape continues to be dynamic," states Christoph Noe, director and co-founder of LARRY'S LIST. Since 2016, over 110 museums have opened worldwide. The Feuerle Collection in Berlin, Longlati Foundation in Shanghai, and Peter Marino Foundation in Southampton, USA are some great examples of this development. Particularly, Asia is a fascinating area for observing private museums, with Seoul leading the global city ranking in regard to number of private art museums. To date there are 446 privately founded contemporary art museums in the world.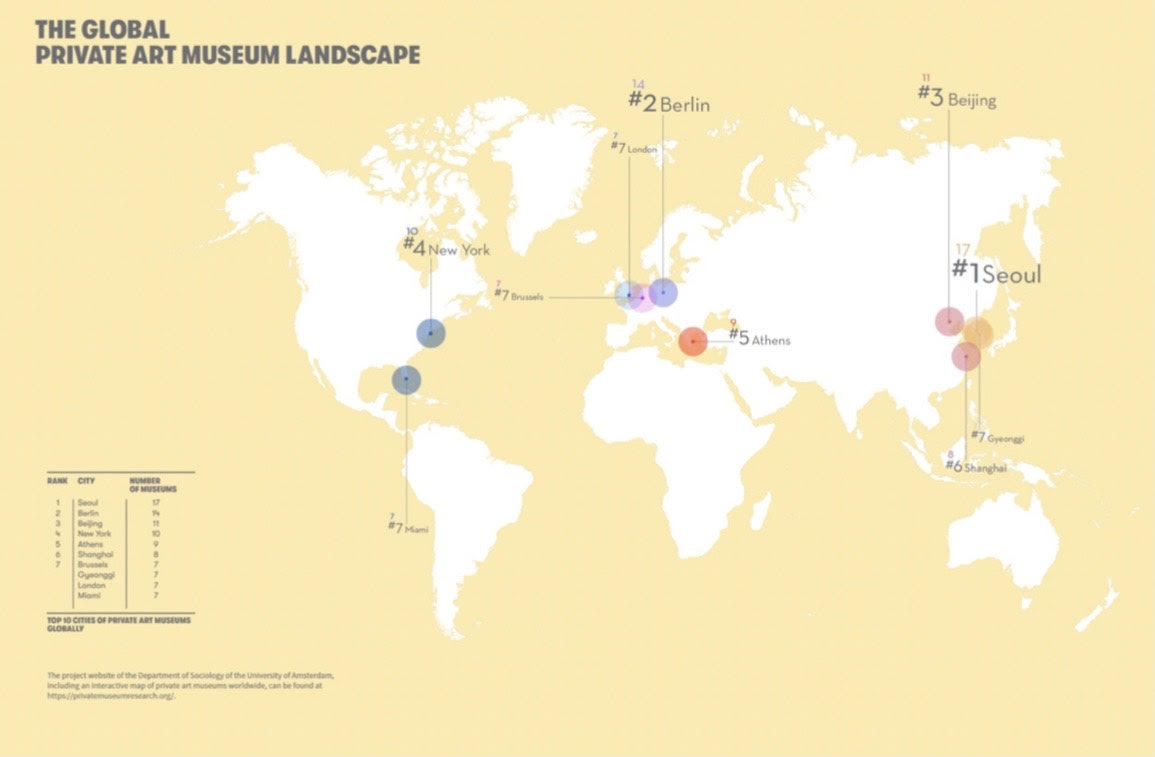 The top countries as ranked by number of private museums are Germany (60), the United States (59), and South Korea (50), followed by Greater China (30) and Italy (30). The South Korean capital, Seoul, leads the city ranking with 17 museums, closely followed by Berlin with 14, Beijing with 11, New York with 10, and Athens with nine.
82% of all existing private museums were founded since 2000, among which 152 have been established globally within the last decade. Nine out of 10 (88%) private art museums have an Instagram account.For that reason, the report contains a deep dive into the South Korean art scene including an interview with Ahn, Young Joo, director of Museum SAN, located in Oak Valley in the mountains of Wonju.
Publishing a number of reports in the past, including The Art Collector Instagram Attention Report (2022), Larry's List continues to highlight social media as a highly relevant topic I the art world, including for private art museums. Project leader for Larry's List, Jamie Bennett, explains, "Private art museums are making their marks on Instagram, reaching out
to new and established audiences, and cultivating cultural clout through the platform."
The report is based on Larry List's extensive database of contemporary art collectors and private art museums from around the world, as well as ongoing global research by a research team from the University of Amsterdam's Department of Sociology. "We are very pleased with this fruitful collaboration with Prof. Olav Velthuis and his team, allowing us to again provide a report with valuable insights into the changing private art museum scene, and to continue to highlight the founders' contributions to society," comments Christoph Noe.
The full report can be ordered via larryslist.com