Image: Freud's Sleeping by the Lion Carpet on show as part of All Too Human at Tate Britain, bbc.com
ArtDependence (AD): Can you tell me a bit about your friendship with Leigh Bowery and how he introduced you to Lucian Freud?
Susan Tilley (ST): I met Leigh in a nightclub in the early 80's. I was immediately attracted to his cheeky face and chatty manner. We soon discovered that we came from similar backgrounds; very regular religious parents who liked to take us to museums and places of interest. But we both loved drinking, going out, and being mischievous.
We soon became very good friends, trawling the clubs of London and spending hours on the phone chatting to each other.
Leigh started modelling for Lucian and decided I should too, so he put the idea into Lucian's head. Lucian arranged a lunch for a group of people at the River Café to which I was invited. I could feel his eyes on me all the time, except when he was telling a raucous joke about a masturbating whale. I must have passed the test as he then asked me to sit for him.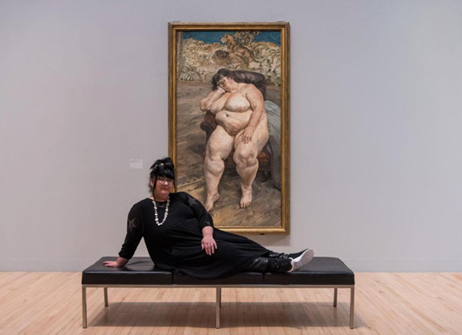 Freud's Sleeping by the Lion Carpet on show as part of All Too Human at Tate Britain
AD: How was it posing for Lucian Freud, and did you build up a personal relationship with him?
ST: To be honest it was just like going to work. Once I had gotten over the first hurdle of taking my clothes off, each day followed more or less the same pattern. I would climb up three flights of stairs to his studio, we would have a chat, he'd give me something delicious to eat and then we'd start work. The first session could last up to 90 minutes until I had a break, but after that I would get more regular breaks as the phone rang or deliverymen came to the flat. He would either cook lunch or take me to a fancy restaurant and then we'd carry on for a couple more hours.
We used to chat while we were working. Sometimes he'd make me laugh so much I almost fell off the sofa. As I spent so much time with him we obviously had some sort of relationship, but it was very much work based. I didn't ever go out with him when we weren't working and he rarely phoned me for a chat. That was to be expected as he spent most of his time working, and when I wasn't in his studio there were other models to be entertained and worked with.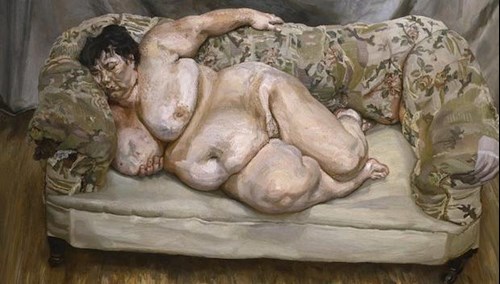 Sue Tilley: Benefits Supervisor Sleeping, 1995 by Lucian Freud. Photograph: Courtesy: Lucian Freud Archive Courtesy: Lucian Freud Archive /Public Domain
AD: He painted four portraits of you. Do you have a personal favourite?
ST: I can put them into order of preference:
Benefit Supervisor Resting
Benefit Supervisor Sleeping
Sleeping by the Lion Carpet
Evening in the Studio
AD: How does it feel being a model for one of the most important contemporary artists, and the fact that the paintings of you are internationally recognised. What does it do to a person? Can you describe it?
ST: I have lived a strange kind of life; working in the Jobcentre by day and going to amazing parties and mixing with fabulously creative people at night and on the weekends. When Benefit Supervisor Resting sold for the record-breaking sum, the press tried to make out that I was a poor simple girl from the Jobcentre plucked from obscurity, but this was far from the truth. As exciting as my life was, it's become even more so since the sale of the painting. I am often asked to contribute to magazines, give talks and even appear on television.
When I retired from the Jobcentre I decided to pursue my original passion of painting, and soon got given a big show. I'm sure that wouldn't have happened if it hadn't been for my connection to Lucian Freud. I was also asked to design some images to be used in a big Fendi menswear collection, which was a great opportunity.
I am a very down to earth kind of person, so I take it all in my stride. I recently moved away from London to the seaside and I thought all these opportunities would dry up, but in actual fact they seem to have grown. I think that people enjoy coming to St. Leonards to interview me. Even my new flat, that I took great pleasure in decorating and furnishing, was recently featured in the Observer magazine.
AD: How do you reflect on this period?
ST: The time I was sitting for Lucian was actually quite boring as I was mostly working and so couldn't go out much. When I wasn't at the jobcentre I had to go to Lucian's, and the starts were very early. I wish I had taken more notice of what I was doing and kept a diary so that I could remember it all better. A few years ago an unfinished painting of me was shown at The Royal Academy and I can't even remember him painting it.
AD: Did you pose for other artists?
ST: Sam Taylor Johnson used me in some giant photos that were part of her Turner Prize exhibition and I've done a lot of work with the French artist Jacques Bosser. I'm also sometimes asked to model for art classes along with answering questions about Lucian which I enjoy. I often found versions of Lucian's paintings on Instagram that other artists have done. I like that my image is all over the world.
AD: What was Freud like as a person?
ST: This is a very difficult question to ask as he had a many faceted personality. He could be kind, be horrible, be generous, be mean, be funny, be grumpy, be childish, be old. But mainly he just loved to work. He really was a fascinating man. He enjoyed thinking he could manipulate me, but I could see through him and just laughed at his shenanigans.