In recent years, the global art scene has witnessed a proliferation of Black representation in figurative art. With artists like the Ghanaian favorite, Amoako Boako, who gained prominence with such speed and received worldwide acceptance for his figurative works, even more diverse figurative renditions have come to be; particularly from young emerging artists.
More importantly than mere appreciation for figurative art by collectors, this proliferation has also been borne out of the need to reassert not just Black bodies but African bodies as well, in how these they are viewed not just by the West but also, fellow Blacks and Africans. Despite the long years of on-going conversations and process of healing, Blacks and Africans continue to protest against marginalization and racial discrimination.
There are layers and variation to the forms in which discrimination happens. Sometimes, it is in obvious situations as seen with the case of George Floyd who during the height of the pandemic in May 2020, died at the hands of police officers in Minneapolis and at other times, be in more subtle ways like how Africa is viewed, perceived and even presented by the rest of the world. With this reality, Africans and Blacks in various fields on the African continent and the diaspora continue to resist and reorient in whatever form they find befitting; and of course, artists are not left out in this fight. Perhaps, the need to continuously do this has brought about more contemporary African artists exploring the figurative form.
While art enthusiasts who have experienced recent exhibitions of some of these figurative art from the contemporary art scene may readily encounter the depiction of the Black body in literal black colors with many artists, several others continue to carve a distinct visual language for themselves, away from the usual, focusing in more delicate and intricate aspects of Black perception and representation. Nigeria in particular has increasingly produced emerging artists who explore and play with figurative expressions beyond the Black skin to even more contemporary identity. Some of these artists include Oluwaseun Odeyemi, Rotimi Godwin, Desmond Akindoju, Badru Temitayo and Joseph Idowu.
Oluwaseun Odeyemi (b. 1989) works with mixed media exploring materials such as oil colour, pastel, conte, charcoal, acrylic and watercolor. He is drawn to the idea of using elements of design to create strong and vivid emotional depictions of Black existence, playing around with wet and dry effect to portray the uniqueness of the Black skin. Odeyemi's work may not only be seen as an ode to African Black history, but also a documentation of human connection and experiences based on social interactions. This is why he is drawn to using the human face as a means to convey subtle experiences in emotions that could otherwise be missed. Odeyemi has participated in several exhibitions including 'So Far' group exhibition in 2019, 70th international cultural exchange of arts, Mydrim Affordable Art Fair, La Grande Bazart, Limcaf Charity Art Exhibition, and a group exhibition at ArtDependence Belgium. In 2017, he emerged winner of the Union Bank Art Challenge.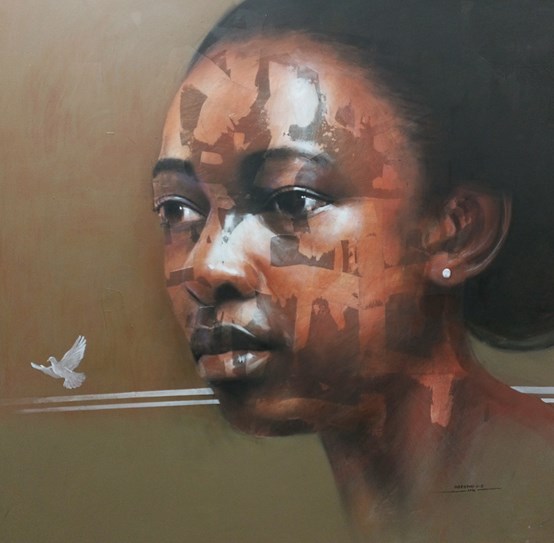 Oluwaseun Odeyemi, 'Life Goes On', 2021, Acrylic, conte and charcoal on canvas
Rotimi Godwin (b. 1995), works across oil, acrylic and mixed media. He places his subjects in intimate spaces, highlighting subtly yet in such a way it cannot be missed, how these subjects interact with the space. Although faceless most of the time, the subjects compulsively exude feelings of solitude, identity, popular culture and traditional, in ways in which it plays out in the every day. Also, the spotting pattern seen in most of his works could be assumed to be his artistic signature, which gives additional character to his works. Godwin earned his Bachelor's degree in Fine Art Education at the Obafemi Awolowo University, Ile-Ife, Nigeria. He has participated in several exhibitions across Nigeria.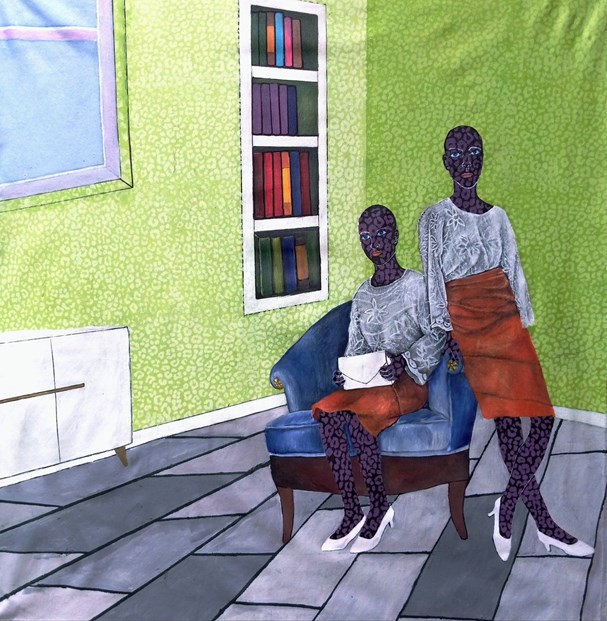 Rotimi Godwin, 'Good to Go', 2021, Acrylic on canvas
Badru Temitayo's works sits generally in the abstract-figurative. Sometimes he blurs the line in being outrightly figurative, yet still discernible. This contributes immensely to the alluring nature of his artworks. Thematically, he is focused on the exploration of and critical engagement with language, myth, folklore, proverb, spirituality and daily life in the Nigerian and importantly the Yoruba context. Influenced by his roots in Abeokuta, a city known for traditional dyeing techniques, my work, aims to amplify the etymological and semantic meaning of the traditional Adire Eleko patterns through interpreting their visual semiotics and using symbolic abstract images motivated by myths folklores, proverbs and deep observations of naturality and spirituality. He is also focused on the female form and the ways they are depicted in contemporary society which draws from a close relationship with his mother. Badru is a self-taught artist with a Bachelor of Arts and Master of Arts (both in Textile) from Obafemi Awolowo University, Ile-ife, Osun State, Nigeria.  A signature element of his works is his use of imagery and symbols from African wall murals and fabrics, most especially Adire Eleko fabrics. Badru has participated in several successful joint exhibitions, art fairs and a solo exhibition. He is a recipient of several awards and was part of "LIMCAF 2017 top 4 artists" sponsored to 13th Dark'art Biennial in Senegal by renowned artist, Professor El Anatsui. 
Badru Temitayo, 'Ipele IV (Shoulder Gear Series)', 2022,  Acrylic, graphite and collage on paper
Desmond Akindoju sees art as a capable way of addressing problems affecting humanity. Hence viewers are bound to encounter themes on beauty, love, peace and emotions which he expresses with his figurative expression. Akindoju's subjects are alluring – sometimes vibrant, sometimes melancholic. More significantly, he endeavors to convey them in their African reality which subliminally addresses stereotypic African perception on how they should live, dress or behave. There is also a characteristic leafy background on which he places his subjects and even dominates their skin. His reason for this is to portray how much he is inspired by nature and his environment. This is also seen with other symbolisms such as the birds, butterfly, snails etc lurking in one work or the other. Interestingly, they come together in a way that is that is not intrusive to how the works are experienced.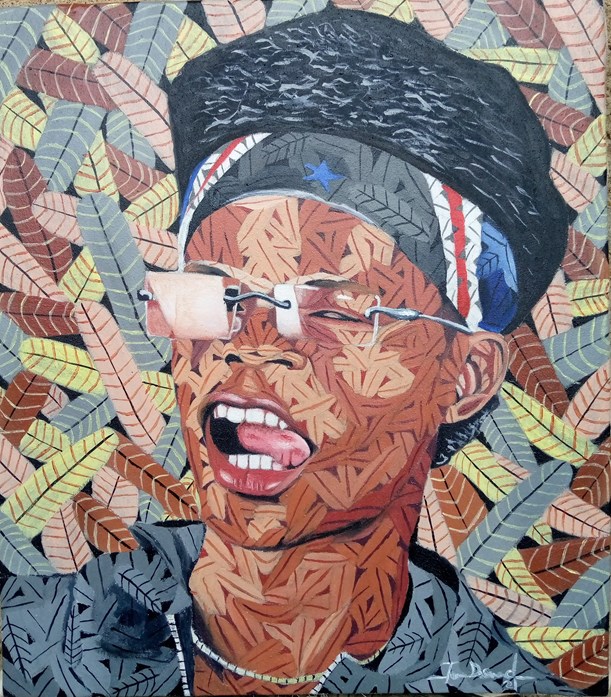 Desmond Akindoju, 'At my Youth', 2021, Acrylic on canvas
Joseph Idowu (b. 1993) uniquely creates his figurative works using fire – a technique known as Pyro-painting. He uses colours as the focal point and then creates a human silhouette (which are sometimes of children) with pyro-painting. For Idowu, these works serve as an invitation into the body of the subjects to imagine their experiences in peculiar situations, which perhaps is why his subjects are also mostly faceless. Idowu's works are mostly pensive but yet, commands hope to a degree using symbolisms in the form of colours, lego blocks, bubbles and other elements of play.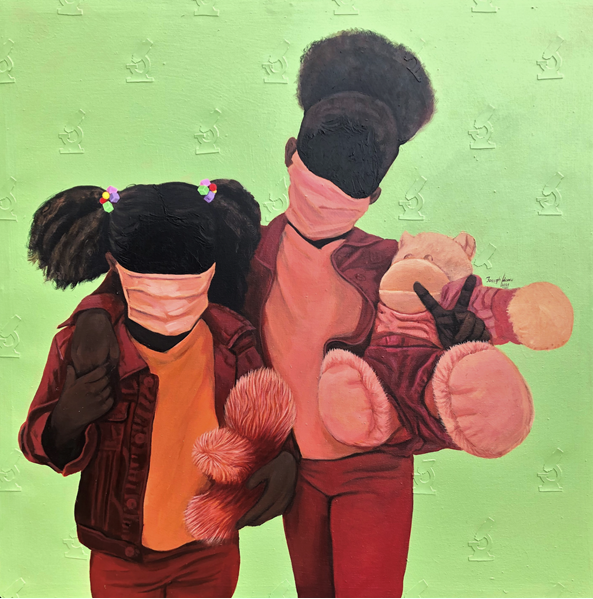 Joseph Idowu, 'Journey With Me, Another Step' 2021, Acrylic and paper cuts on canvas
Idowu studied Painting at Obafemi Awolowo University, Ile-Ife, with the honours as Best Graduating Student in Fine and Applied Art. He has been a resident artist at The Akpojotor Studios Lagos, and recently was selected to participate in the Rele Young Contemporaries program. He has participated in several group exhibitions including the first ART MEETS TECH FAIR, Africa, and Impart Fair, Eko Atlantic City, Lagos.
To explore more figurative works from the continent, visit the ArtDependence art store by clicking the Artsy banner.