Image: Fat House, Iron, polystyrene, aluminium, electric installation, 2003, Installation view, Wear me out, Middleheimmuseum, Antwerp, Belgium, 2011
I pass by Erwin Wurm's piece Misconceivable, which he developed in 2010 at least 2 times a day.  It is a bent-out-of-shape boat that seems to melt in an arch, pouring out into the canal from the road above. A strange form that has become part of the day-to-day scenery in Antwerp and viewed by the thousands of passersby.  Erwin Wurm's sculptures are intriguing and immediately put in question the viewers' perspectives. From his one-minute sculptures series, an ephemeral performative sculptural concept he has developed, to obscure boats and out of proportion cars.  The piece Narrow House, a reimagining of his childhood home in the post-war Austrian period, speaks to his style of "blown up" sculptures. Wurm shares that living in a narrow house he had felt claustrophobic, an experience one clearly sees demonstrated when encountering this work. He explains that creating a sculpture is about gaining and losing weight, this context for his process evident in his outputs.   
ArtDependence had the privilege to interview Erwin Wurm.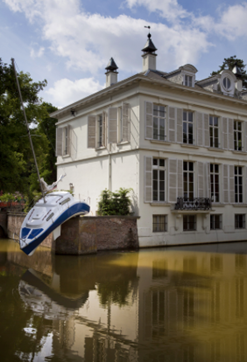 Misconceivable, Mixed media,  2007, Installation view Wear me out, Middleheimmuseum, Antwerp, Belgium, 2011
ArtDependence (AD): Your career path until now has been impressive, what exhibitions would you say were most influential in your journey?
Erwin Wurm (EW): Just as an anecdote, in the beginning of my career I had an exhibition in a gallery in Antwerp, Sledt.  I drove from Austria to Antwerp in a car filled to the brim with works of art. It must truly have been an interesting sight for drivers I passed on the way.  Again, simply an anecdote to share. One exhibition I took part in that was significant in my career was Do It curated by Hans-Ulrich Obrist.  Obrist was experimenting with how exhibitions could be more flexible in their design and presentation. He decided to use instructions from various artists as starting points for how to create the exhibitions. As part of that Do It I showed some of my one-minute sculptures.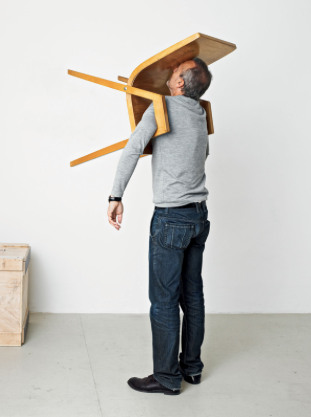 The idiot II, Mixed media, 2003, Performed  by the artist
AD: Your one minute sculptures refer to a one minute pose by the sitter, but I can imagine the preparation is more involved that simply creating a physical form…
EW: My one-minute sculptures are presented in a maximum time frame of one minute, sometimes even only 15 seconds. As you can imagine the preparation takes much longer.  Firstly, I create sketches allowing ideas for the postures to arise and form.  Later, I revisit the images and if they continue to spark some interest I begin to consider the idea further.  I then start to imagine how to realise the sculpture in its 3D physical representation.  For me the drawing process is crucial, I create drawings and sketches for every project I make.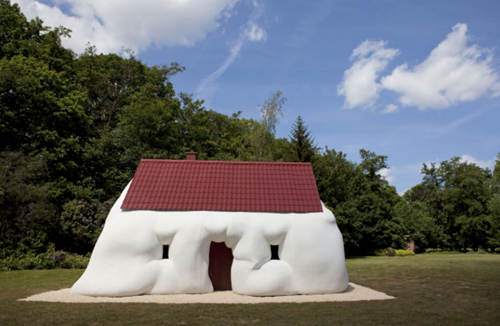 Fat House, Iron, polystyrene, aluminium, electric installation, 2003, Installation view, Wear me out, Middleheimmuseum, Antwerp, Belgium, 2011
AD: Bacon, Kippenberger, Munch, De Kooning, Pollock, are all artists you have named a cabinet after.  Why these specific artists?
EW: First of all, the cabinets are participatory art installations. The visitors are invited to touch them, experience them, open the cabinets and even pour themselves a drink.  The cabinets are all 2nd hand pieces, originally from low income houses, houses like the one I grew up in.  My father was a policeman, and we lived in a small modest Austrian house.  My sculpture Narrow House, is inspired by that.  Living there as a child was fine with me.  It is not that I had a bad childhood, simply that living in such a particularly shaped, post-war house gave a sense of tight and confined living. Only in retrospect, when I got to know the world, did I realize the constraining society in Austria. Back to your question, the artists I named the cabinets after were all excellent artists and heavy drinkers, in a way they drunk themselves to the grave.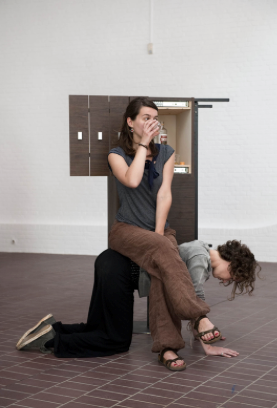 Pollock Cabinet, Wood, metal, tumber, bottle, 2011, Exhibition view Wear me out, Middleheimmuseum, Antwerp, Belgium, 2011
AD: When reading articles about your work, the word "humour" is often used. Do you find your work humorous, or is that perhaps a superficial interpretation?
EW: I am glad you ask me this, my work is not about humour. The more one sees and experiences, the more one approaches the absurd and paradoxical perspective. Referring to my previous answer, I lived in a narrow house.  For me sculpture is all about gaining and losing weight.  Through my art I have the possibility to alter form. I see the world from a sculptural point of view.
At the end of our conversation Wurm asked me to mention that he does not live in the USA, he is often asked this question and still resides in Austria.