David Katshiunga's paintings have the quality of someone who measures their words. Someone who doesn't say much, because they are waiting for the moment to say something specific, and important. The piece, L'homme Present (2016), illustrates this point beautifully. A simple white silhouette on a black background. The silhouette of a black man, painted in white, on a background that appears empty (but is anything but). The figure doesn't have facial features, yet, as viewers, we feel the strength of his gaze. 
Born in Kinshasa in 1987, David now calls the historic city of Mechelen his home, having migrated with his family to Belgium when he was just a child. The puzzle pieces of his past come together in paintings that speak of difference and unity, belonging and identity, pain and freedom. 
His most recent exhibitions have cemented his work firmly in the intersection of art and politics, with Authenticité showing within the Federal Parliament. We spoke with David to learn more about his approach, and his trajectory... 
If you had to pick just one painting to represent you as an artist – your style, and the meaning behind your work – which painting would you choose? 
This is a tricky question! Each work has a sort of fingerprint, belonging to a particular period of time in my life. Each work also has a specific story or feeling behind it, which I communicate by my choice of colours within each piece. 
If I really had to choose just one work to represent me as an artist, it would be "Lupita". Tomorrow my answer may change! But today, I choose this painting. I think "Lupita" touches on most of the elements that I work with: my sense of feeling, the way I want to bring that feeling to life, and the basic inspiration of a strong story. 
Please tell us more about "Lupita". 
The inspiration came from the movie "12 years a slave". Watching that film for the first time, my mind traveled back to my own roots, to Africa, and the dark period of history that displaced so many, and brought so much suffering which is still experienced today.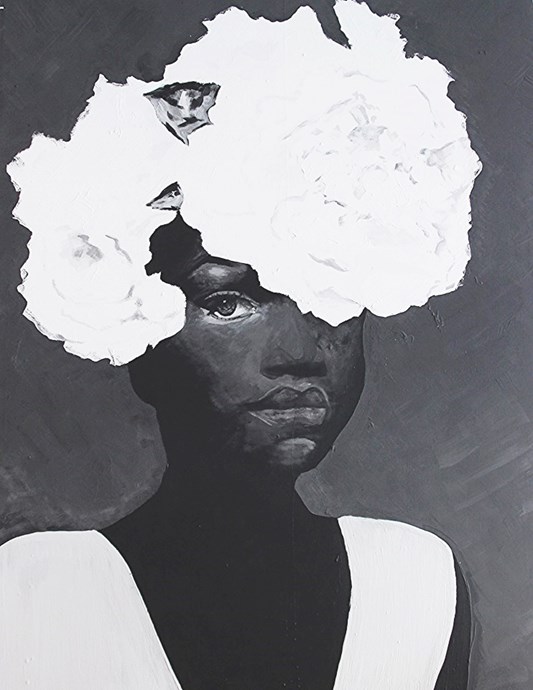 "Lupita" represents the innocent girls forced into slavery, robbed of their childhoods, their freedom, and their sense of home. Through this painting, I want to guide the viewer through different emotional stages, in order to bring more awareness into the pain that these girls endured. 
From the white flower on Lupita's head, representing a powerful Africa, to the freedom in her eyes, filled with an inheritance of self-assurance. I wanted to highlight Lupita's body as the carrier of many questions, on identity and belonging, and as a representative of her own experience and the collective experience of an entire continent. 
Can you share with us the experience of your first art sale? What stage of your life this was, and how it felt to get to that point, as an artist. 
That was a very special moment for me. I started drawing around the age of 10, which is when my father died. It was a way for me to disappear into my thoughts for a while. Before then, I didn't attach much importance to drawing or art. I would mostly spend my days playing football with my friends. But I started drawing. I would only do it during moments of calm, like on the train. I would choose my seat based on who I wanted to sketch on the train, looking for faces that felt like they carried a lot of history, or an interesting story. 
I would usually find a discreet spot, not wanting to be too obvious that I was sketching someone. Around the age of 15, I was on my way to school, and the person I had been sketching came up to me just before getting off the train, and said "I know you've been drawing me, and I'd like to see it". I showed him the drawing and he stared at the work for a few seconds, without blinking. He looked at me and asked my age, and said "I'll give you 5 euros if you sign it and tear the page off from your sketchbook." I tore the page out of my book, signed it, and handed it over. The man quickly got off the train, but I thought about that moment for weeks…That was really the start of everything. 
Can you speak about your choice of materials?
When I decided to start on bigger pieces, I was thinking of ways to make my pieces feel alive. My first paintings were on canvas, and I always felt like there was something missing when working with a canvas. 
In the studio where I worked at the time, there was a surplus of wood panels from some old furniture that had broken off. I took the wood, intending to make a small sketch for my final work on canvas, but when I saw the result on the piece of wood I immediately knew that this was the right fit, as a vessel, for my next work. 
The fact that wood narrows or thickens according to climate conditions reminds me of a beating heart.
From an exhibition by the artist David Katshiunga dedicated to the colonial past, in the peristyle of the federal parliament, in Brussels, on Thursday 30 June 2022. BELGA PHOTO NICOLAS MAETERLINCK
History and identity are important themes in your work. How has your definition of history and identity changed over the years? 
It's a difficult question and I'll be thinking about it, but for now, what I can tell you, is that historical identity allows the individual ('I') to see him/her/self as a historical being and thus position him/her/self beyond the simple boundaries of birth and death. In addition, historical identity offers the possibility to individuals to register their identity and their sense of belonging to groups whose journey extends over time. 
What do you think is the biggest challenge that artists face today? 
For me, the greatest challenge is to be able to express meaning in a way that words cannot. 
To see more works by the artist as well as an ongoing exhibition, visit here