Later in 1973 they undertook a journey from Yokohama, Japan, back to England, traveling through the Soviet Union with the Trans-Siberian Express. MacCormack's photos show Bowie unguarded, documenting their close friendship and shared sense of adventure. While on the train, they participated in drinking sessions with sailors and soldiers, meeting fans and tourists, and providing impromptu performances.
The exhibition, guest curated by Olya Sova, also includes David Bowie's film The Long Way Home, which documents various stages of their trip on the train, including their time in Moscow during the May Day Parade.
1973 was an important year in Rock history, just as every year was around that time. The musical landscape was ever evolving at such pace that, except for a few exceptions, to include something from 1972 would have been outdated and anything past 1973 would have represented a new reality; and with the advent of punk music, music from a year later would have been unimaginable at the time. The answer was in exploring the music of that year that was in Bowie's orbit.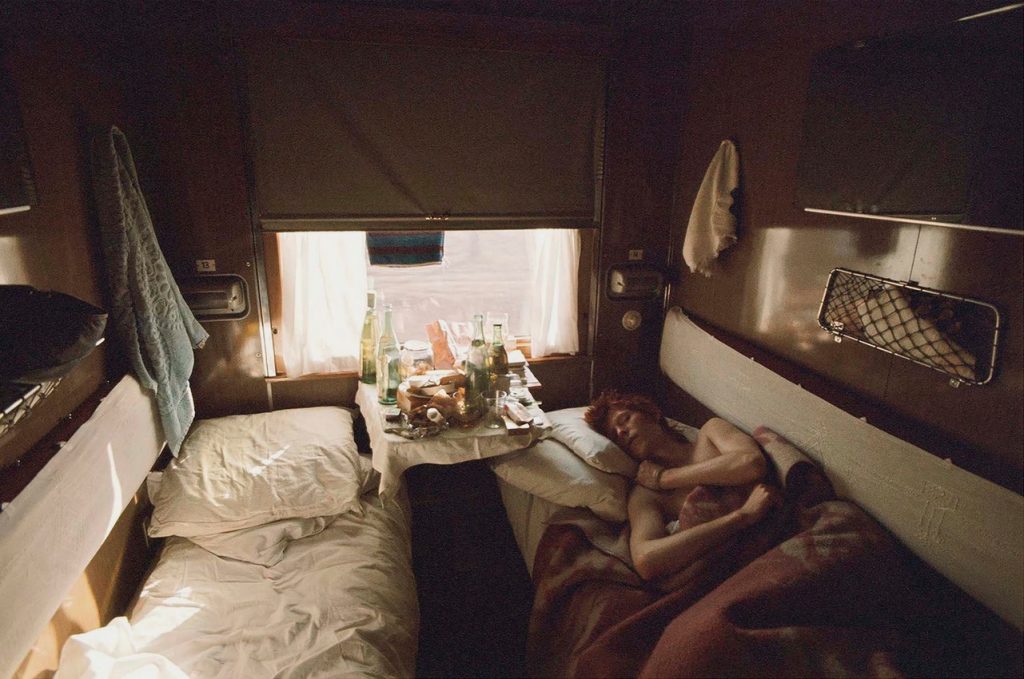 Geoff MacCormack, David Bowie After Long Drinking Sessions on the Train(1973). Courtesy of the artist and Wende Museum
Starting with selections from the album he released in 1973 (Aladdin Sane), including productions and collaborations with artists such as Mott the Hoople and Lou Reed, and artists that would later become David Bowie's future collaborators (Brian Eno, Queen), the musical universe Bowie was part of at the time was rich, adventurous, and moving at a speed comparable to the train ride he took to Russia.
Bowie was a complex artist, someone that absorbed everything around him and wasn't afraid to explore the outer edges of musical trends of the time. This mix offers a glimpse into what he most likely was being influenced by at that moment, and later went on to define work such as Low and Station to Station. With a heavy dose of Krautrock, a foot in experimental music, and a solid presence in the so called 'glam-rock' scene of that era, this mix intends to imagine David Bowie's mindset at a moment in his career when he was most likely a step ahead of the times, with lots of time to reflect and listen to new sounds while riding the Trans-Siberian Express." —Alejandro Cohen, Executive Director of dublab.
David Bowie in the Soviet Union till Oct 22 at the Wende Museum
Image on top : Geoff MacCormack, David Bowie in the Trans-Siberia Express, 1973. Courtesy the artist and Wende Museum