An extremely prominent figure in the Indian art scene, Tyeb Mehta is celebrated for his exceptional contributions to modern art. Born in Kapadvanj, Gujarat, in 1925, Mehta's artistic journey began at the Sir J.J. School of Art in Mumbai. There, he was exposed to diverse influences that would shape his artistic vision and lead to the creation of some iconic series of works that continue to captivate art enthusiasts worldwide.
Tyeb Mehta, like numerous artists from his generation, was deeply affected by the hardships endured during India's partition, a tumultuous period in the nation's history. One particular incident had a profound impact on him: witnessing the brutal slaughter of a man, an experience that left an indelible scar on his psyche. This tragic event can be seen as the genesis of the recurring motif of falling figures in his artistic expression, becoming an integral part of his visual vocabulary.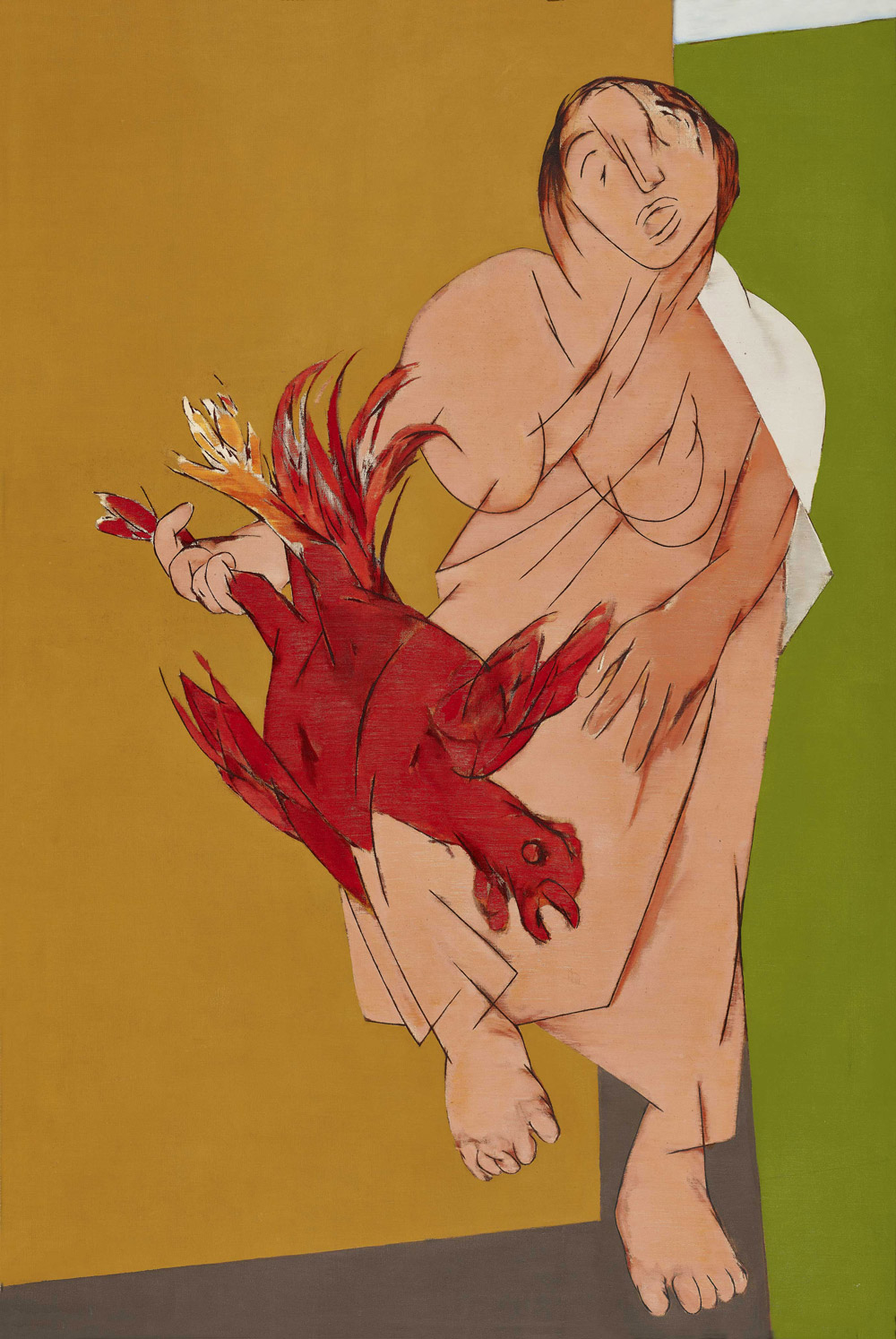 Figure With Bird, 1987, oil on canvas
In his early years, Tyeb Mehta drew inspiration from the rich cultural heritage of India, incorporating elements of Indian mythology, folk art, and classical traditions into his paintings. His fascination with mythology can be observed in his famous series "Mahisasur."  The powerful imagery of the demon king Mahisasur and the goddess Durga engaged in a fierce battle became a recurring theme in his works. Through bold strokes and dynamic composition, Mehta expressed the eternal struggle between good and evil.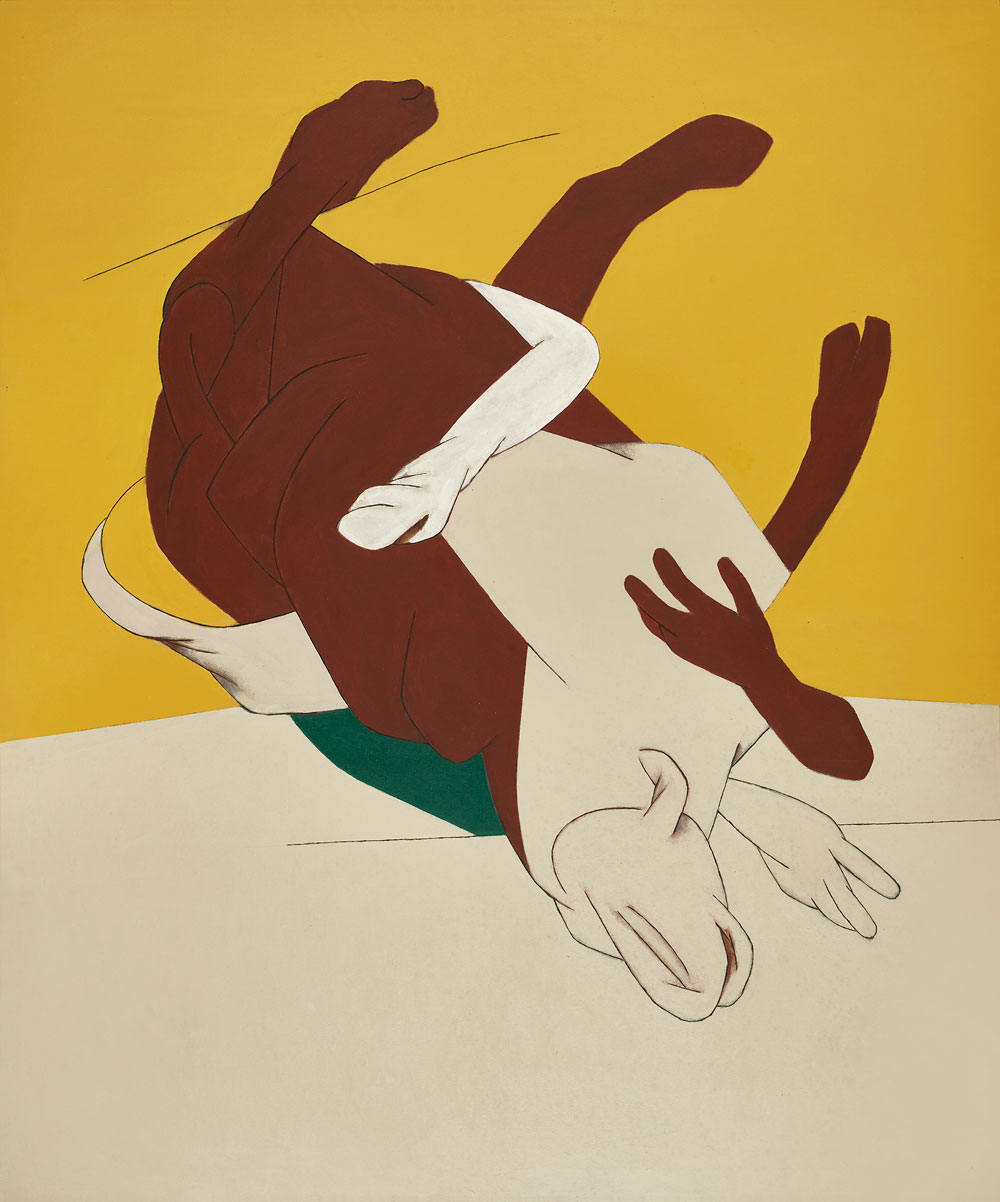 Bull, 2000, oil on canvas
Mehta's exploration of the human condition led him to create the haunting series titled "The Falling Figure." These paintings depict a solitary figure in free fall, evoking a sense of existential angst and vulnerability.
Another significant series by Tyeb Mehta is "The Diagonal," which marked a complete shift in Tyeb Mehta's style and creative approach. It enabled him to accentuate the technical possibilities in terms of colour, form and space. The discovery of the diagonal, and its implementation liberated his expressionist work style. He abandoned the impasto technique and began painting with a flat dimensional approach, which included geometric perspectives, basis on this technical trait he continued to create with for the rest of his illustrious practice.
In 1983, Mehta received a prestigious invitation to become the artist-in-residence at Visva Bharati University, Santiniketan, where he would spend the following two years. This invitation was fortuitous, as it coincided with a period of recovery from a severe illness for Mehta. The artistic environment and rich culture surrounding Santiniketan served as a great source of inspiration during his stay. It was during this fruitful residency that Mehta created his notable work, "Figure on Rickshaw." Interestingly, Mehta's artistic interpretation of the rickshaw diverged from the conventional notion of travel or liberation. Instead, he chose to portray the rickshaw as a symbol of struggle and oppression for the puller who was essentially held captive by his occupation. It was also during this time that the conjoined imagery of falling figures with birds started to appear in the artist's work has since come to be considered one of the most significant bodies of work by the artist.
The imagery of 'Trussed Bull,' was another motif that the artist constantly revisited through the course of his career. These paintings portray the image of a bull tightly bound, reflecting a sense of entrapment and struggle. The bull, an ancient symbol of power and strength, is reimagined by Mehta as a metaphor for the human condition, revealing the paradoxical nature of power and vulnerability.
Throughout his career, Tyeb Mehta remained a versatile artist, experimenting with different techniques and styles. His ability to combine figurative and abstract elements, along with his exploration of various themes, set him apart as a visionary artist.
Tyeb Mehta's contributions to the art world have earned him numerous accolades and international recognition. His works continue to be displayed in major art galleries and fetch record-breaking prices at auctions. Beyond his artistic brilliance, Mehta's journey is a testament to the power of passion, perseverance, and the unwavering pursuit of artistic excellence. Today, his legacy lives on, inspiring generations of artists and art enthusiasts to embrace the boundless possibilities of creativity.
This article is authored by Sunny Chandiramani, Senior Vice President, AstaGuru Auction House
Image on top : Figure, 1962, oil on board