Image:  Walter Vanhaerents, photo: Karel Duerinckx + Vanhaerents Art Collection, Brussels
Art Dependence Magazine (AD): Who are you and why do you do what you do?
Joost Vanhaerents (JV): Industrial engineer in construction engineering, master's in construction management and a passionate photographer. As an entrepreneur, I am mainly active in real estate development.
Passion is my driving force in all of my work just as an art collector. My ambition is be among the top in every segment in which I am active.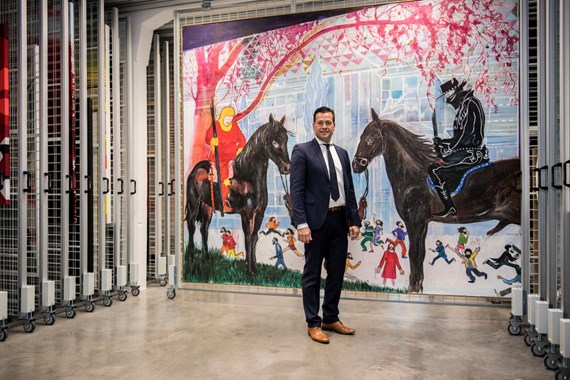 Joost Vanhaerents, Image courtesy to VAC
AD: What's your goal as a collector?
JV: I want to surround myself with artworks that touch me and inspire me. The format of the work is subordinate to the quality of the work. The message that the artist links to it is important to me.
AD: What do you pay attention to when collecting, what is especially important to you?
JV: I like artists who, depending on the work they want to create, always succeed in choosing the right medium (this can be painting, video, sculpture, performance, or neon). Versatility in combination with a constant craving for top quality and perfection. 
AD: How do you discover new artists?
JV: By sacrificing all free time, visiting fairs, galleries and museums, following up Instagram posts and mailings from galleries, curators and artists.
AD: Do you collect art from artist activist - climate related?
JV: Yes, but this is not an end in itself. For example, I follow and collect Tomas Saraceno from the very beginning of his career.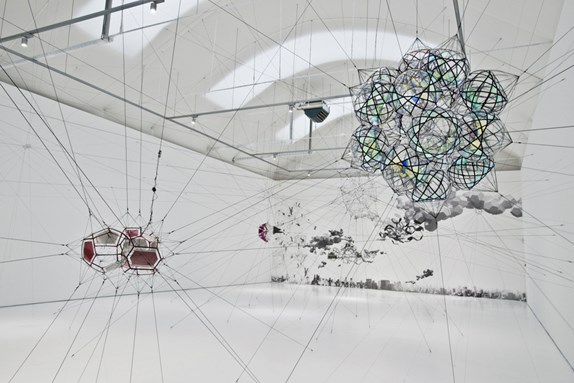 Tomás Saraceno / Many Suns and Worlds, solo exhibition at the Collection's project space, April 21, 2016 – October 28, 2017.
The quality and versatility of his work is very important to me. The same applies to Olafur Eliasson.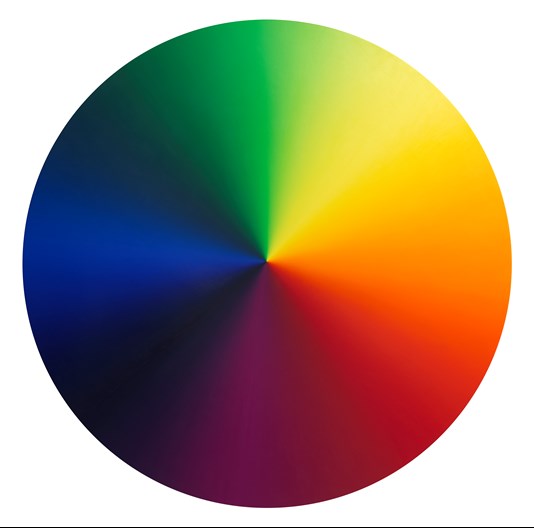 Olafur Elliason, Colour Experiment N°50, 2012, oil on canvas, ø 220 cm
AD: Your collection is also an Open Depot=Viewing Depot what do you mean with this idea?
JV: The presentation form of the viewing depot is mainly inspired by the resolute choice of my family for comfort.
 After 12 years and 3 collection presentations via classical exhibitions, we chose for the -schaulager principle-whereby the perfect balance is sought between "schauen" (exhibiting) and "lageren" (storage/stacking). We show the private art collection in all its aspects. Not only the exhibition function is discussed, but also the management, storage, conservation and restoration of the collection.  The visitor gets a glimpse behind the scenes and understands after his visit that the management of a contemporary art collection goes much further than just showing the work. By centralizing all works in Brussels, this model offers us a lot of flexibility and ease of use. Finally, the centralization of all visits in 12 weeks a year led us to really focus on managing and further expanding the collection.
AD: Which museums are taking part in that model and how does it work?
JV: We are early adaptors applying this presentation method. The Middelheim from Antwerp  and in Rotterdam, the Boijmans van Beuningen museum opted already for a similar approach.
AD: How is the procedure with the museums?
JV: As we have important works in the collection, we are regularly asked for loans. We try to meet this to the maximum extent provided that the good condition of the works is guaranteed, and the costs associated with the loan are correctly reimbursed.
AD: What will be the impact of what you do?
JV: As a West Flemish family, we are more in the habit of setting ourselves up modestly. I hope that our passion and drive and our sense of quality also brings other people into contact with the medium of art. Its impact on others or the outside world is of secondary importance to me. I mainly buy art that touches me. It is nice to be listed as "the top 200 collectors", but this is not an end in itself.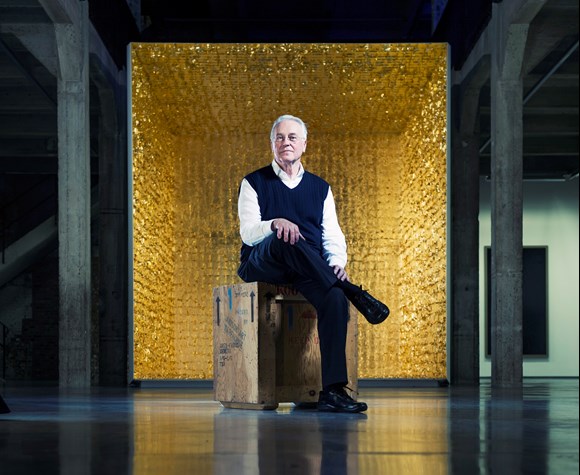 Photo: Karel Duerinckx + Vanhaerents Art Collection, Brussels
AD: What about your participation at the Biennale in Venice?
JV: Your participations in 2015 and 2019 are entirely attributable to and on behalf of my father Walter Vanhaerents, founder and driving force behind the VanhaerentsArtCollection. All honour in this regard belongs to my father. He saw it primarily as a crowning glory of his continued commitment and career as an art collector. In any case, the two-fold participation in the biennial provided a huge boost with regard to name recognition and the international image and recognition of the collection. I hope that we will participate in Venice again in 2021.The fact that we were included in the program of the biennial as a "collateral event" with "The Death of James Lee Byars and Zad Moultaka in dialogue" was an extra stroke of good luck.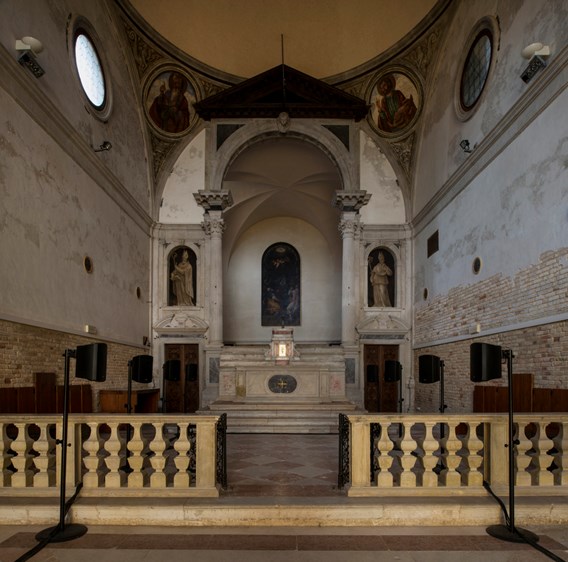 Image by Formentini Zanatta for Vanhaerents Art Collection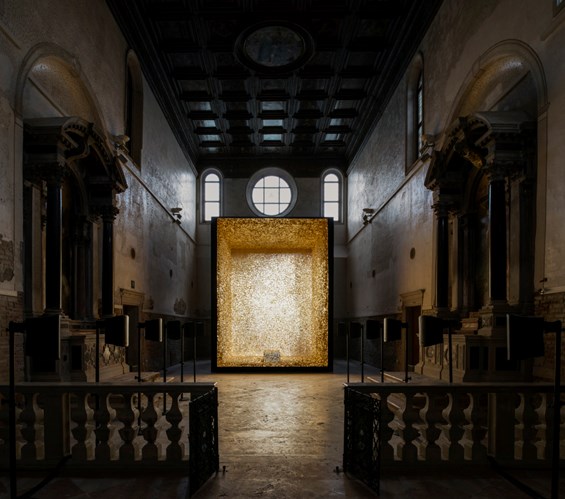 Image by Formentini Zanatta for Vanhaerents Art Collection
With more than 130,000 visitors, we were "by far" the most visited collateral event. The setting of the work in the "Chiesa di Santa Maria della Visitazione" was perfect. The golden room of James Lee Byars symbolizes the immortality of the soul. And where can it stand better than in this beautiful church? This led to a real Instagram record.
AD: What is the future of art?
JV: Alice Morse Earle said: "Yesterday is history, tomorrow is a Mystery. And today? Today is a gift, that's why we call it the present. "  I live in the present and try to absorb everything that happens in me and to make the right choices for me. I do not have a glass sphere and unfortunately cannot predict the future. I buy art with my heart and still follow my intuition with my knowledge and experience of 38 years of looking at art. Art will always be a mirror of society. The way in which that mirror is shaped is artist dependent. As a collector, we have no grasp on that. The "like to see" and "permanent like to see" of a work is essential here. Even if its financial value might decrease in the future.
AD: Tell us about the art market.
JV: The art world has become a difficult complex market. The demand is large, the supply is small.  The prices are rising.  Only a limited number of large galleries determine the market. It used to be different in the past. Then fewer people entered the art world. Nevertheless, it is up to the awake collector to choose "his" trees in the large forest. Realizing an important added value of whether artists do well in the market or at trade fairs is of course included but is not the deciding factor at the origin.
AD: What is your dream project?
JV: I would love to organize an exhibition in -the Vanhaerents collection -with the artists who fuelled my interest in the international art scene in the 1980s. And with expansion with artists who are inspired by these monuments. I am thinking of Joseph Beuys, Bruce Nauman, Gerhard Richter, Andy Warhol…. but also, Jeff Koons, Damien Hirst, Matthew Barney. 
In addition, I would like to find a kind of permanent "home" for some monumental large works in the form of a long-term loan to a quality museum. I am thinking here of the monumental video presentation of "The Feast of Trimalchio" by the Russian collective AES + F or set of works of art "Many suns and worlds" by Tomas Saraceno. Two works that we showed in the past in the VanhaerentsArtCollection, to which many visitors regularly inform.
AES+F. / The Feast of Trimalchio, solo exhibition at the Project Space, April 20, 2012 – November 30, 2013.
AD: What role does the artist have in society?
JV: For this I would like to refer to a work by my "all-time favourite artist" Bruce Nauman: "The true artist helps the world by revealing mystic thruths" Every artist has his own story. Some stories appeal to you, others not or less. The relevance of their story and the extent to which it makes you feel attracted to it is very personal or subjective.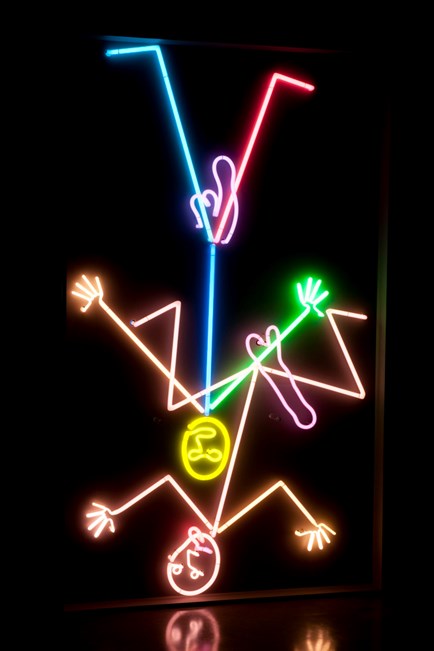 Bruce Nauman, Diver, 1988, neon, 228 X 138 X 36 cm
AD: What memorable responses have you had to your projects?
JV: I become emotional when people, visiting the collection, testify about their emotions, and especially when it comes from works that have the same effect on me.
AD: What do you dislike about the art world?
JV: Nothing bothers me about the art world.
What is the point of denouncing something if you have no impact on it?
In this way you only get frustrated and bitter. The art world and the entire environment is something we engage in every day. How and how we deal with this is entirely our responsibility.
AD: What role does art funding have?
JV: Funds managed by former gallery owners, curators and bankers promising certain returns to their investors are diametrically related to the way we deal with art.  Art as an investment and funds are the result of the poor financial markets in which investors seek refuge. The trade in artworks is very similar to that in the stock market. Only a minority of the shares in the portfolio are responsible for the profit. In my opinion, speculatively dealing with art is not the correct approach.
AD: What research do you do?
JV: Art is not an exact science that needs to be researched and studied.
I try to see as much as possible (preferably in person, often via the internet and social media). I enjoy hearing artists personally explain their work on channels such as You Tube. And sometimes (and that rarely happens) you pick up a thread that you find interesting.