It is with great sadness that 303 Gallery, Hauser & Wirth, Lisson Gallery, Galerie Rüdiger Schöttle and Esther Schipper announce the passing of Rodney Graham, aged 73. He passed away Saturday October 22, surrounded by family after struggling with cancer for the past year. He is survived by his mother Janet Graham; sister Lindsay Graham; brother Alan Graham; partner Jill Orsten; Shannon Oksanen, Scott Livingstone and their children Ray and Coco Livingstone.
Born in and based in Vancouver, Graham was a true polymath, steeped in art, music, film, literature, psychoanalysis and popular culture. Alongside Jeff Wall and Stan Douglas, Graham emerged from the University of British Columbia, Burnaby, Canada in the 1970s as a radical pioneer of lens-based media, albeit with the added ability to skewer and further the conceptual and minimal art practices prevalent in New York at the time. His works vary in materials, subjects and intention, but can always be said to be performative, whether that is in the noisy 35mm projector beaming moving images of a chandelier spinning out of control ('Torqued Chandelier Release', 2005, then realised as a physical work in Vancouver, 2019) or the artist recreating Albert Hoffman's bicycle ride around Berlin's Tiergarten after ingesting the first hit of LSD ('Phonokinetoscope', 2001).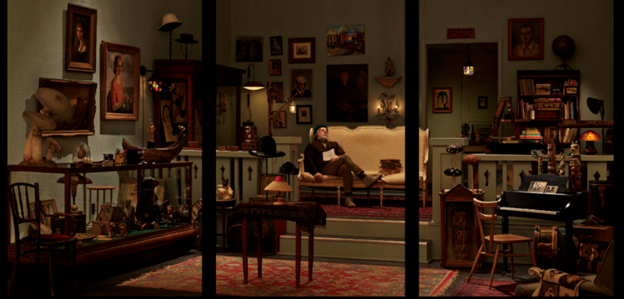 Graham is perhaps best known for his acting, through large-format, back-lit cibachromes depicting himself variously as a photo-booth owner in the 1930s, a gallery owner in the '40s, an abstract painter in the '50s, an ageing rocker in the '70s, a disgruntled sous-chef, a lighthouse keeper and a leaping hermit, among many other guises. Despite titling his last major touring show 'That's Not Me,' there was always an element of playful self-portraiture in these lightboxes. Indeed, describing his interpretation of a scene from Hitchcock's 'To Catch a Thief' in which Cary Grant's cat burglar is accused of robberies that are not his but bear his signature, Graham remarked: 'This role spoke uncannily to me of my own life.' The artist is, of course, hiding in plain sight throughout – camouflaged beneath a cavalcade of historical, comical or fictional characters and details, which amount to a collective portrayal of the existential everyman. In truth, each reference and setting were meticulously researched and choreographed, often with a Hollywood-style set built at his studio for each cinematic scene.
As a musician, Graham voraciously performed and wrote his own songs and albums, often with his band UJ3RK5 with fellow artists Ian Wallace and Jeff Wall, or accompanied by his own sculpture, but his musical interests and knowledge also transcended his rock'n'roll roots.
In later years, Graham became an accomplished painter, despite protestations that he was again just playing a role: 'It may be a burden to reinvent oneself again and again, but it makes things more interesting.' Beginning with a few key fragmentary references from the modernist era, Graham would create paintings by dissecting other paintings, part of his career-long staging of a never-ending panoply of imagistic and collagistic possibilities.
In 1997, Graham represented Canada at the 47th Venice Biennale with his film work 'Vexation Island' (1997), which bought him to international recognition. He was subsequently awarded the Kurt Schwitters Prize in 2003, the Gershon Iskowitz Prize in 2004 and the DAAD Scholarship in 2001. In 2011, Graham was given the The Audain Prize for Lifetime Achievement in the Visual Arts, British Columbia, Canada. He was appointed as an Officer of the Order of Canada in 2016 for his contributions to Canadian contemporary art.
Graham's work has been the subject of numerous major solo exhibitions internationally, among them a 2004 retrospective that toured the US and Canada, including, among other venues, MoCA Los Angeles, ICA Philadelphia, PA and Vancouver Art Gallery, Canada. Other institutional exhibitions include Serlachius Museum Gösta, Mänttä, Finland (2020); Museum Frieder Burda, Baden-Baden, Germany (2017); Museum Voorlinden, Wassenaar, Netherlands (2017); BALTIC Centre for Contemporary Art, Gateshead, UK (2017); Le Consortium, Dijon, France (2016); Sammlung Goetz, Munich, Germany (2015); Charles H. Scott Gallery, Emily Carr University of Art and Design, Vancouver, Canada (2014); Vancouver Art Gallery, Canada (2012); Museum der Moderne, Salzburg, Austria (2011); Museu D'Art Contemporani de Barcelona, Spain (2010); Jeu de Paume, Paris, France (2009); Whitechapel Art Gallery, London, UK (2002); Hamburger Bahnhof, Berlin, Germany (2001); and Kunsthalle Wien, Vienna, Austria (1999).  
His work is included in collections worldwide, such as Musée national d'art moderne – Centre Pompidou, Paris, France; Tate, London, UK; The Museum of Modern Art, New York, NY; Vancouver Art Gallery, Vancouver, Canada; National Gallery of Canada, Ottawa; MACBA, Barcelona, Spain; Nationalgalerie – Staatliche Museen zu Berlin, Germany.