Yayoi Kusama is recognized worldwide. Her work is characterized by a creative and captivating imagination, with a diversity of mediums and languages, especially in immersive installations that invite the spectator to enter her universe, sharpening their perception. Happenings, performances, paintings, sculptures, installations, literary works and film are part of the artist's creative world. The collective participation in her immersive installations gives meaning to her pieces, realizing an experience without limits, without boundaries, with colors, contrasts, lights and shadows.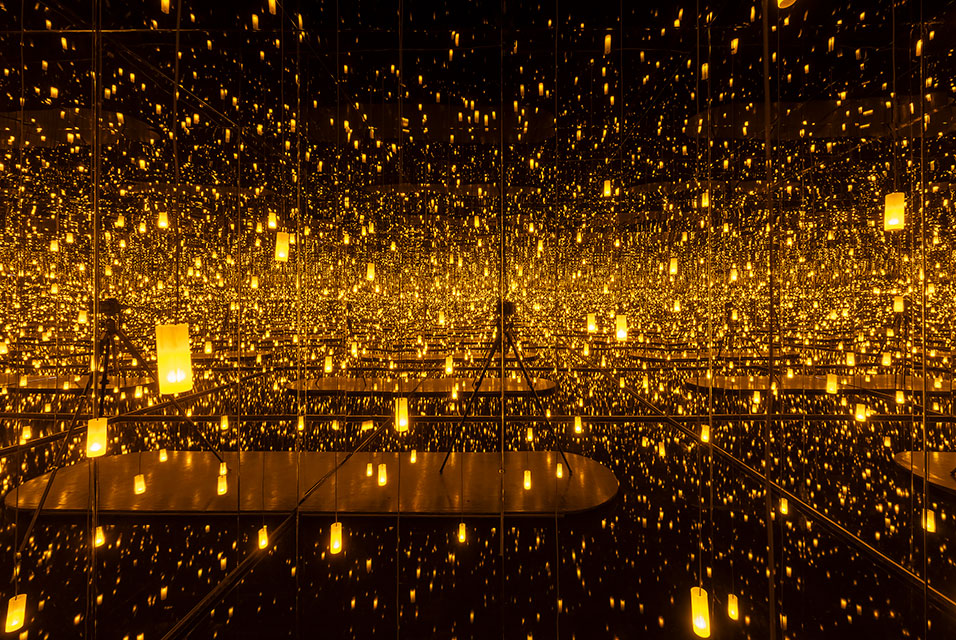 Aftermath of Obliteration of Eternity (2009). Photo credit: Daniel Mansur.
The architectural project of Galeria Yayoi Kusama was developed by architects Fernando Maculan (MACh) and Maria Paz (Rizoma). It encompasses an area of 1,436.97 m2 located on the Orange Path, near Galeria Cosmococa and the Trails Garden. The gallery's architectural proposal takes into consideration the protected space to house the installations and also the public, playing with the idea of waiting and lingering in a convivial space. "Given the importance of Yayoi Kusama's work and its well known appeal to large audiences, the gallery's project calls for a spacious waiting and preparation space," explain the architects.
The landscaping of Galeria Yayoi Kusama features a winding path made of stones that unveils the gallery to the public, the curves of the path preceding it, arousing the curiosity of those who arrive. The landscaping project was carried out by Juliano Borin, Inhotim's Botanical Curator, Geraldo Farias, from Inhotim's Botanical Garden team, with contributions by Bernardo Paz. A multicolored tropical garden, with a touch of psychedelia, serves as inspiration for the planned garden where more than 4,000 bromeliads have been planted.