Image: Memory station, 2015,39 X 25 mixed techniques on old paper
Bilal Bahir grew up in Iraq and studied sculpture at the Institute of Fine Arts in Baghdad. He graduated in 2008 and has since moved to Belgium where he now lives and works.
Bahir creates dream like sketches that are drawn directly onto the pages of ancient books. He draws upon a wide range of cultural references to question some of the great issues of our time.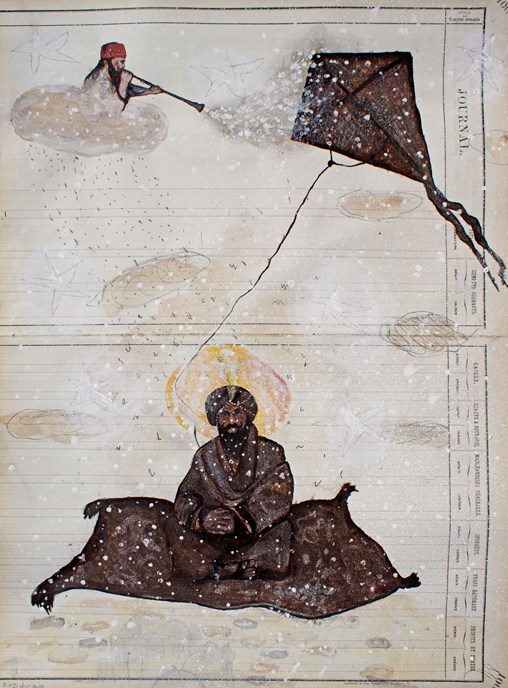 Aladdin, 2018, 64x46cm mixed techniques on old paper.
Here, ArtDependence asks Bahir more about his work and his influences.
ArtDependence (AD): How did you end up in Belgium?
Balil Bahir (BB): The situation in Baghdad was too complicated for my art practice so I decided to take my flying carpet and landed in Belgium.
AD: Can you tell us a little about your life and your arts practice in Baghdad?
BB: I studied in the middle of the hell (war) at the Institute of Fine Arts and the University of Baghdad. Art brought me to my heaven. At school we studied medieval and modern European art. This art, the exact opposite of my daily experiences, made me dream and helped me to escape from the war. As a young sculptor I had success within the art scene in my city. I was also working in the cultural sector, and I worked closely with art galleries.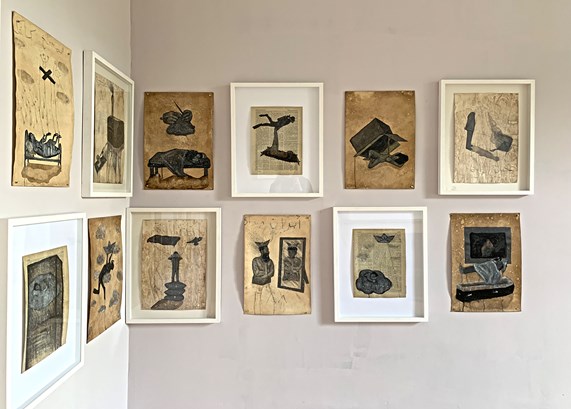 Reconstruct the soul 2019 , installation of drawings, size 46 x 32,7 cm mixed techniques on paper
AD: You work on pages of ancient books, how does it strengthen your work?
BB: I discover the poetic relation between old pages who have own their history and my imagery. Often, the story's I draw are related to the text on the page. I like to interlace two tales related to the past together. The past is my source of inspiration, like the ancient drawings of the Abssy time in the 13th century, old fairy tales from east and west, and old mythologies.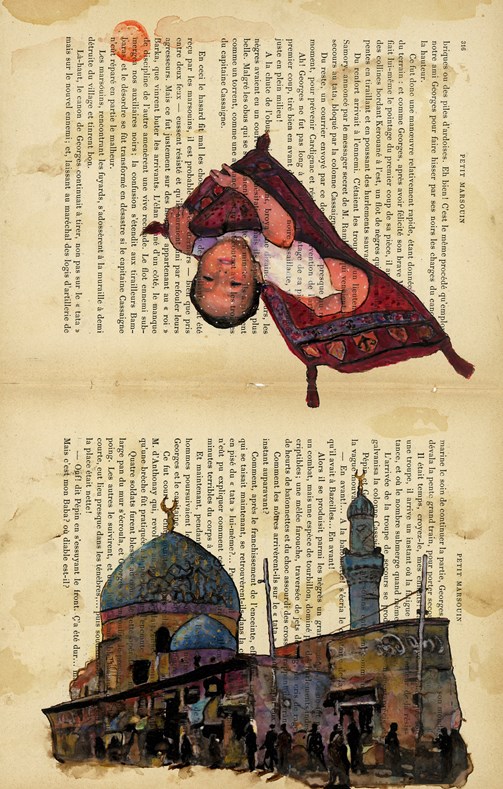 Memory station, 2015,39 X 25 mixed techniques on old paper
AD: Does your work reflect life in Iraq?
BB: The life experiences of every artist are reflected in visible and invisible ways. My roots are important and are balanced between three dimensions: the heritage of Mesopotamia, my childhood, and war. This imagery finds its place through all my drawings.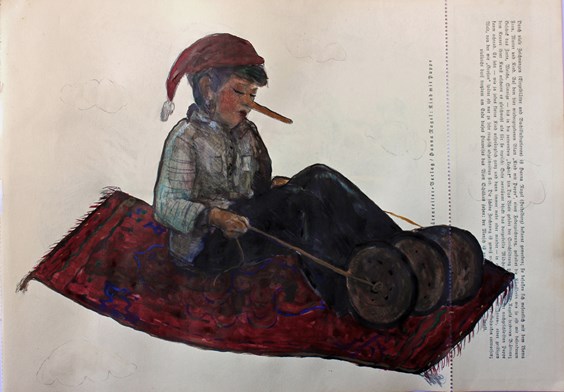 Fly me to the strawberry island 2020, 26x18cm, mixed techniques on old paper
AD: Are your artworks dreams or reality?
BB: They are truth based on dreams. The child inside me is the giant genie who drives me to find Utopia. On the other hand, there is reality that forms part of my work. I undertake specific research for certain projects, like " Database", from 2017. The drawings represent sculptures who were stolen from the National Museum of Baghdad which was destroyed in the war in 2003. Some of these artefacts are still missing. As an artist I find I have the responsibility to show these missing sculptures and to try to help to them be found.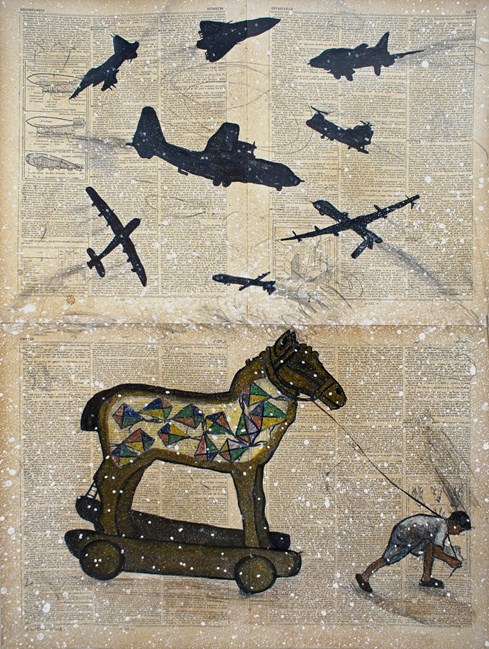 'Poetic Operation' 2018, 64x48cm, mixed techniques on old paper
AD: What future projects are you working on?
BB: For the exhibition in Linkebeek in October, at Hors Tempsia Art Space, I am preparing a new series of drawings about memories, the starting point for this series is the book "La Poétique de l' Espace" de Gaston Bachelard. I link the childhood, the heritage and the war with three chapters of this book: the nest, the chest and the shell. The result will be the alchemy of these chapters into surrealist drawings. I have a second exhibition starting in October at the Black Swann Galerie in Bruges with a group show around the Artists Self Portrait.