Image: Elly Strik, Reina, The Great Invitation, 2002 - 2013, Graphite, oil, color pencil on paper, 300 x 205 cm
Every aspect of life seems to have been impacted by the coronavirus. Everywhere we look, the future is unknown, the present is changed and the past seems somehow naïve and distant.
But there are some constants amidst all of the tumult. Although the wider art world is facing financial instability, closures, cancellations and large-scale uncertainty, the fundamental element of art has not, and will not change – the ability and the will to create.
ArtDependence reached out to the artists themselves to find out how they are being impacted in the days of corona.
"It's been a very strange week. I've been mainly just buying food and being a mother," says artist Nathalie Vanheule."At times it has felt like my art is not important next to this big problem of health and needing to source food, but in fact, I know it is. In a way, this event will open and change us. Yesterday I made a trip to my studio and I saw someone on a bike on the way there. It felt strange to see another human."
"I don't think the art world has a role to play at this pivotal moment in history," says artist Leo Copers, "but ART will. The money that speculates in the art world will be lost, but this loss could in fact be a good gain."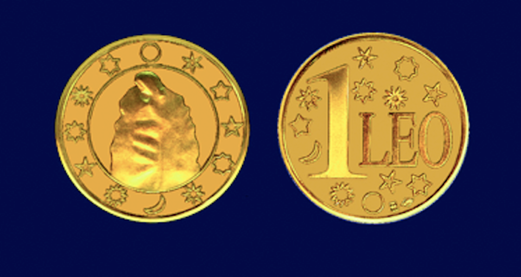 Leo Copers 2004, "Golden Leo", 18 ct gold, casing d 3cm & 1,5 x 6,8 x 6,5 cm edition of 100, photo: mARTin, courtesy L. Copers & Keteleer Gallery Antwerp
Kurt Ryslavy agrees. He says that the value of overpriced art will now be reduced and celebrates the return to the focus on the artist. "I'm more productive now because nothing interrupts my daily creative work. For me, this is like a holiday. There is nowhere that I need to go."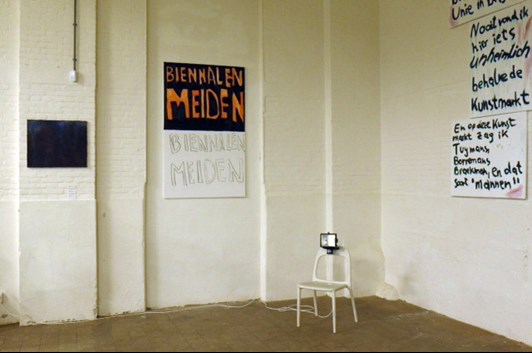 Installation "Nicht heimlich" "Weltsicherheit" & "Freud am Marketing", all three © by Kurt Ryslavy, Willem II. Fabriek 's Hertogenbosch 2016,
 Image courtesy to Kurt Ryslavy
"The economics of art will change," says artist Elly Strik. "It is no longer about the move outwards. Also, there are no places to see art in public. This brings everybody back to themselves. For me, being an artist today is even more interesting and valuable. I think this shift we are in will bring art back to its source, to the beginning where it started from."
Elly Strik, Reina, The Great Invitation, 2002 - 2013, Graphite, oil, color pencil on paper, 300 x 205 cm
We asked Leo Copers and Elly Strik what they are working on at the moment. "I am 73 so I will be in my studio for the time being," says Copers. "I am working on N'importe quoi's = Anythings. I am using traditional tools, and super digital tools."
"I am and working on a new world," says Strik. "Trying to reach from inside vibration."

"Art can still play a very important role in the process we are in, as it is able to resonate with those who care," says Strik. "It is a silent process, but you notice when it takes place."