When artworks feature in works of fiction – be it novels, films, theatre pieces, poems, … – they can serve multiple purposes: they can be mere decoration, they can function as a conversation piece, or they can play an important metaphorical role in the video clip for the song 70 Million by the band Hold Your Horses! many artworks are referenced.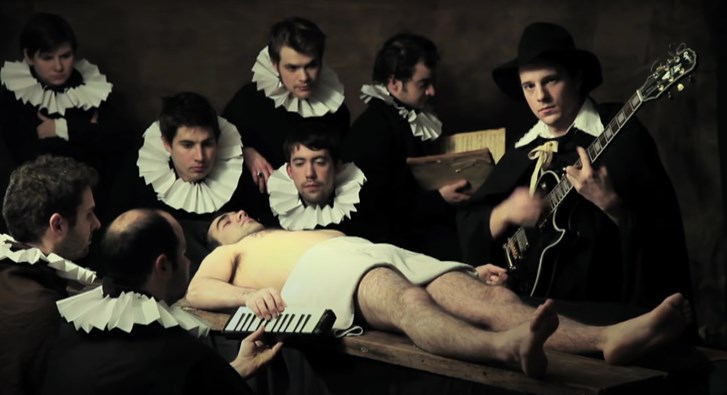 Let's consider this a special edition as, strictly speaking, there are no actual artworks featured in the videoclip for the song 70 Million. There are, however, parodies, re-enactments, tributes. Long before covid-related quarantine made it popular and even fashionable to re-enact famous works of art in one's living room, the French-American band Hold Your Horses! (based in Paris) found pleasure in 'dressing up' as artworks. For quarantine fun, see the Instagram account @tussenkunstenquarantaine but also that of the Getty Museum, which organized to #GettyMuseumChallenge in 2020's lockdowns and even published a book with the results.
The video clip, created in 2010, consists of an impressive chain of parodies, in which the band members re-enact important and famous paintings from several art historical periods and styles, all the while playing their instruments. The clip opens with a very recognisable setting, that of Leonardo Da Vinci's L'Ultima Cena (or The Last Supper). As the roof suddenly takes off, the musicians start strumming their instruments one by one, and the song takes a gentle start. From there, a new historical painting is represented every few seconds, with some of them returning throughout the song (such as Edvard Munch's The Scream or Picasso's Portrait of Dora Maar). A full list of the artworks can be found in this video, playing them according to the same rhythm as the original.
Humour and Art 
With the video clip having such a strong connection to art (history), my first thought was that the song would revolve around the price paid for a specific work of art, or something similar. However, the lyrics to the song are rather cryptic and don't seem to be explained anywhere publicly. The references to two characters (a 'you' and a 'me') seem to imply a love story, however, in the chorus the number 70 million is repeated in several suggesting a number of people: 'And 70 million should be in the know / And 70 million don't go out at all / And 70 million wouldn't walk this street / And 70 million would run to a hole / And 70 million would be wrong wrong wrong / And 70 million never see it at all / And 70 million haven't tasted snow'. Is it perhaps a fictitious estimation of all the people not finding a love story, as seemingly developing in the verses?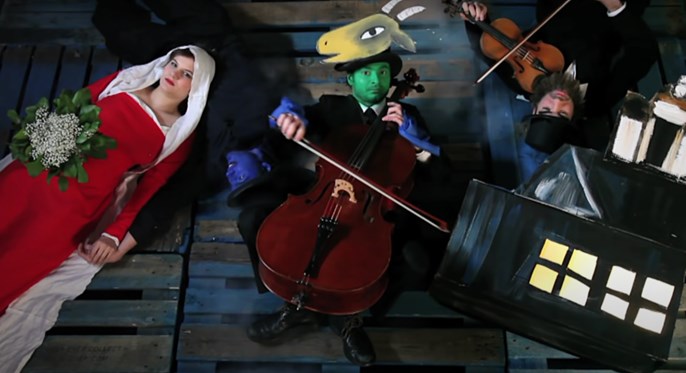 On a more art-philosophical level, one might wonder: does the video do justice to the paintings shown? We could probably agree that all the works featured, from Da Vinci to Frida Kahlo, from Caravaggio to Van Gogh, and from Michelangelo to Mondriaan, are important parts of our collective (western) history. Should we treat them with more respect, and not 'ridicule' them by making parodies? The video might not have as a goal to realistically represent the pieces, but rather to create a cheeky, recognizable, funny and playful homage to art in general. 'It is humorous, but not in a malicious way. Seeing old and familiar artworks portrayed in a new way that is not mocking of them, but took creativity to plan and execute, is pleasant and inspiring. It is a light-hearted take on paintings that might otherwise be regarded as serious or boring by most people, and an expression of the band and director's own creativity,' as read in a digital article about the video. 
'Bemusement is not a bad thing but a necessary component in the juncture between experiencing our reality and experiencing the reality of the artist through his or her works. Bemusement is a pleasant confusion that becomes integral to the experiencing of humour.' (Sheri Klein)
It might seem trivial, but, in my eyes, humour is immensely important in art and the perception of it. In education, through fun and the re-enacting of an artwork, a child might learn a lot more about it than by being forced to listen to a 'boring' lecture or lesson about it. The group spirit and shared fun visible in this creation of the band, counting seven members, is inspiring. In the last shot of the video, they are seen dressed up as Van Gogh's Sunflowers, with clearly handmade cardboard flower petals surrounding their painted faces. The video ends with two people falling over, causing everyone to fall out of their role and start laughing. It is hard not to laugh or at least smile while watching this. It's not so much a home-video or hidden-camera effect; rather, it gives a tender insight in the dynamics of the group and the creative process behind what is a professional tool (the video clip) – all the while making the statement that this can also be 'fun'. This kind of social pleasure and fun is almost something to envy – it is most definitely something to strive for. After all, the possibility of having hilarious moments is a significant trait of any kind of loving relationship. And could this be something the band wishes to convey with their video? That perhaps this is what art, and any creative process really, can do: bring people together in joyful, loving and occasionally hilarious, interactions?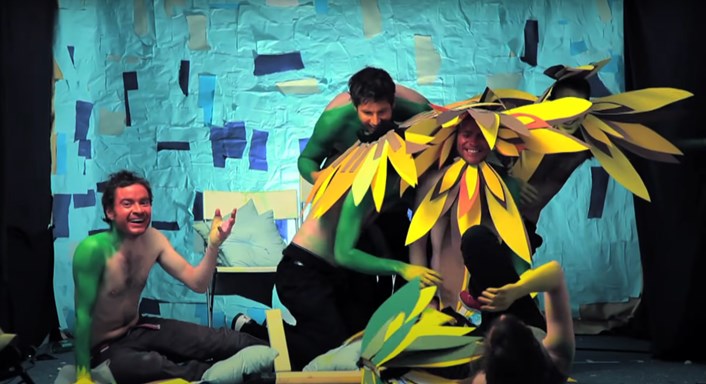 Sources
Klein, Sheri. Art & Laughter. London: Bloomsbury Publishing, 2006.
L'Ogre, '70 Million by Hold Your Horses ! (OFFICIAL MUSIC VIDEO)', last access December 13th, 2021. https://www.youtube.com/watch?v=erbd9cZpxps&ab_channel=L%27Ogre
Selander, Will, '70 Million - Hold Your Horses (The Paintings)', last access December 13th, 2021.
https://www.youtube.com/watch?v=wMUyR6KSRbQ&ab_channel=WillSelander
Whart's Up?, '70 million', published 2011, last access December 13th, 2021. https://whart.wordpress.com/2011/04/26/70-million/