Image: Photo from Carmen Herrera: Lines of Sight exhibition installation view at Werner Center. Photo by Katie Spengler 
Carmen Herrera dedicated her life to perfecting the art of limiting herself to the essentials. To her the famous saying "less is more" is an absolute truth.
Carmen Herrera (1915) is fascinated by the clarity and complexity of the simple. Achieving it is a difficult task, for it requires getting rid of everything that is not essential to the work, without losing an inch of what one wishes to communicate.  
For the Cuban artist, to limit herself to the simple is to choose those two colors that contrast best, and to enlarge and revitalize the canvas by painting the right combination of geometric forms. 
Blanco y Verde (White and Green) (1966) is nothing more than two green triangles on a white canvas. However, the way Herrera paints them makes the viewer think of the Sistine Chapel's main scene: the moment God extends his hand and gives Adam life.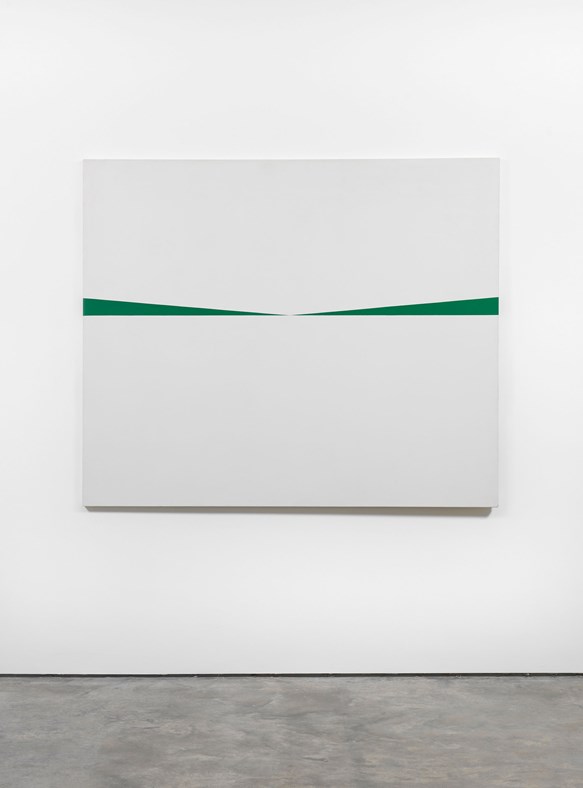 Blanco y verde (1966), Lisson Gallery 
The magic of her artworks comes from a powerful combination of shapes and colors in which each element is at its best as it highlights the others. Thus, everything else is extra.
Contemplating the clear and complex simplicity of Herrera's paintings and sculptures, it's easy to understand why she told Dana Miller -curator of Carmen Herrera: Lines of Sightat the Whitney Museum-, she didn't have the heart to paint but the mind to do so. Each of her pieces is a beautiful idea.
For decades these ideas went unnoticed. Herrera sold her first painting at age 89; five years later IKON gallery in Birmingham, England, opened the first retrospective of her work; and finally in 2017 the Whitney paid her the homage she deserved. Carmen Herrera: Lines of Sightwas inaugurated on the artist's centenary. Today, at 104, she's selling paintings for millions of dollars.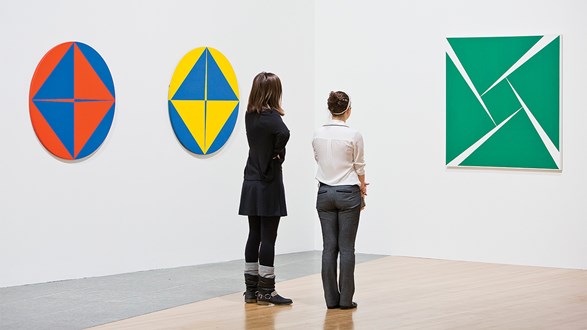 Photo from Carmen Herrera: Lines of Sight exhibition installation view at Werner Center. Photo by Katie Spengler 
Herrera - as she likes to recall - waited almost a hundred years for her moment to arrive. The artworld's prolonged silence, though hard, didn't make her compromise her vision. Instead she took advantage of it and experimented freely, allowing herself to be guided by the beauty of a straight line until she found her voice; and stuck to it.
"Who's your favorite artist?" asked a journalist from The Guardiannewspaper in 2016. "Carmen Herrera," she replied. "Yes, Carmen Herrera is my favorite artist."
This is the fourth in a series of articles -produced with the support of Bogotá's Modern Art Museum - that will explore the work and philosophy of modern Latin American artists.