Foam presents the brilliant but forgotten work of Shigeru Onishi (1928-1994). Onishi graduated in topology at the University of Hokkaido in 1953, after which he began applying his mathematical theories to photography. Although he abandoned photography after 1957, he did produce a short-lived but extraordinarily body of work with which he distanced himself from other movements and ideas in the Japanese photography of his time.
In his photographs, Shigeru Onishi attempts to transcend time and space: his photographs present multiple moments brought together in a single image. He disregarded all the rules of the darkroom. For instance, he 'painted' the photographic emulsion onto the photo paper with a brush, deliberately creating irregularities in the development of the image. He used acids to cause deliberate discolouration, and hot chemical baths of up to 80 degrees Celcius to manipulate the development process of his prints. The result is a collection of dreamy - and sometimes sinister - photo montages, in which nudes, cityscapes, trees, portraits and interiors seem to merge. The art critic Shuzo Takiguchi described Onishi's work as "strange obscured coalescences of space and time" ("Through the Mechanism of Photography", Nabis Gallery, 1955).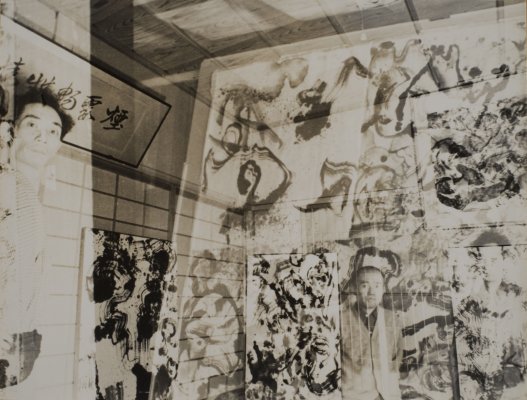 The performative power of Onishi's work, which lies in the use of photography as an 'act' and as an expression of feeling rather than a document, seems to be an early precursor to the raw, poetic images of Takuma Nakahira, Daido Moriyama and the other photographers of the short-lived but influential artist collective, Provoke (1968-70). Although Onishi found brief recognition for his photography between 1955 and 1957, his mathematical theories led him to pursue very different motifs than other photographers, and after only two or three years he turned to abstract ink paintings. Foam is exhibiting a broad selection of vintage prints in combination with some of these ink paintings, which indicate the continuation of his artistry.
After his death in 1994, Onishi's work came to rest in museum depots where it fell into oblivion. It was eventually acquired by Katsuya Ishida, owner of MEM gallery in Tokyo. His photographic oeuvre came to international attention after MEM brought a selection of 19 photographs by Onishi to Paris Photo in 2017. In collaboration with MEM (JP) and Bombas Gens Centre d'Art (SP), Foam is now the first museum in Europe to organise a solo exhibition of his photographic oeuvre, thereby giving Shigeru Onishi's work its deserved place in photographic history.
Shigeru Onishi's ' The Possibility of Existence' can be viewed from September 12, 2021 –  January 9, 2022 at Foam, Amsterdam.