The story of Catawiki started in 2008 as a community for collectors. Catawiki was founded by René Schoenmakers, a Dutch comic collector, and Marco Jansen, a Dutch developer. They started off in the attic of Rene's house in Assen. René is an avid collector of European comic books and wanted to build a great tool to manage his own collection. This gave them the opportunity to build a community by developing a free tool for people with the same needs. To be able to do this in an easy way, they created a catalogue with detailed descriptions of all existing comic books where collectors could add missing items, like Wikipedia. This is where the name Catawiki comes from, by cataloguing in a wiki way.
They wanted to create the most extensive online catalogue of collectables in the world. In doing so, they attempted to play into an increasing online demand as most catalogues had been on paper until then. Their goal was to engage with and encourage collectors to manage their own collections using the online catalogue, which proved to be a big success. Within two years, the website had thousands of registered users. Catawiki started hosting weekly online auctions in 2011 to help members find special objects that were missing from their collections. The auction model soon gained momentum, the company grew internationally and it quickly expanded from collectables into luxury goods and one-off, special objects. Catawiki now has weekly auctions in over 80 different categories, including art, jewelry, classic cars and books.
Not an ordinary auction house
Since 2011, Catawiki has been growing faster and faster for several reasons. First of all, for the fact that it is a combination of a classic auction house and an online marketplace. It brings together the best of both worlds. On most online auction websites, you do not have the advantage of the screening from an expert. Every auction on Catawiki is supervised and managed by a dedicated expert. At classic auction houses, you often see that there are only local or even regional objects. On Catawiki, people from all over the world offer up their objects. That is why you can find the most surprising items on the platform. 
We see that the art world is changing. More and more people want to own unique artworks and are willing to invest in them. But people don't want to put a lot of time into going to small galleries with only a limited number of works on offer. They want to choose. However, they are also afraid to buy things online, as they do not know if something is special or not. 
So that is why Catawiki is the answer. Catawiki has an enormous amount of objects on offer and people know that if they buy something on Catawiki, it is not an artwork that you can buy in just your normal store. And the best thing is that there is something for everyone in the auctions. You can find artworks from young upcoming artists for €100, alongside paintings from well-known artists for above €15,000.   
EVB: Who are you and why do you do what you do?
Daniel Heikens: My name is Daniel Heikens and I got into the field when I started trading and collecting my own collection of photography. When I discovered Catawiki, I started selling on the website. Soon after that, a vacancy opened to be one of their in-house experts. I applied and here I am 3 years later. Since then the company has grown tremendously. I see a lot of different artworks coming through on Catawiki. In 2017 alone, I curated around 15,000 art pieces. That is of course enormous but also very educational and interesting. It also gives me the possibility to build up a large-scale network. 
EVB: What will be the impact of Catawiki on the art market?
DH: Catawiki has a huge range. We already see the impact that we have on smaller auction houses. We are in direct competition with those who do not have the reach we have. When we sold our first €30k+ painting, I knew this was the start of something big. We have no limitations, sellers from all over the world can sell and buyers from all over the world can buy. We have the framework set up to connect the art trade all over the world with our online platform.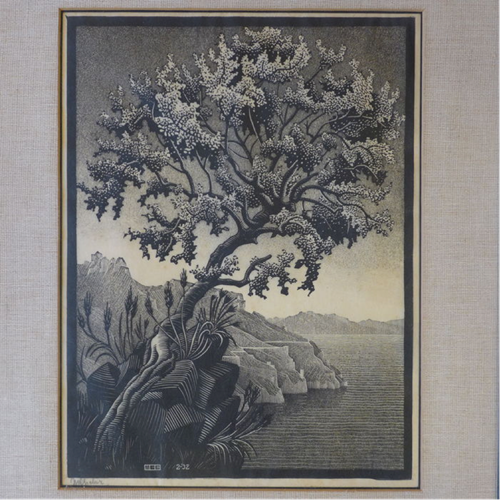 M.C. Escher (1898-1972) - Carubba Tree in Ravello woodcut, signed. Sold for €36,000
Selling that €30k+ painting has set a new bar for us. The higher we can get, the more we will compete with the established auction houses worldwide. We see platforms are copying us, but we are quite a few years ahead. We have created a very solid base and have one of the best functioning technical sites for online auctions.
We currently have 207 in-house experts that supervise every auction over our 80 categories.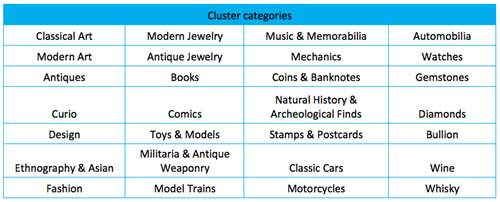 They assess every lot that is submitted to provide our users with auctions of the highest possible quality. If a description for a lot is not complete, the expert will not accept it for auction. Sellers are also asked to upload good photos and a clear description. This makes the auctions qualitatively better than most marketplaces. Next to that, we have dedicated Account Managers across more than 7 European countries who support the sellers to sell successfully on Catawiki. Our Customer Support team is available six days a week by phone and email. The Marketing department is working on the visibility of our special objects and the brand awareness of Catawiki. Finally, our Development team is continuously testing and improving our platform.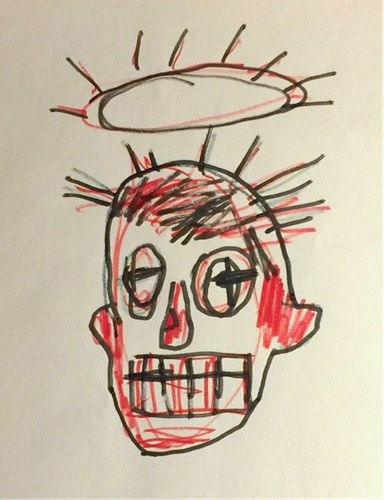 Jean Michel Basquiat - Untitled. Markers on cardboard - unique piece - signed - expertise is included - 1981. Sold for € 16,314
https://auction.catawiki.com/kavels/11503959   
I think Catawiki is ready for the next step. The platform is growing really fast, so it would be interesting if Catawiki would take over things, like curated sales, from the existing big auction houses, to make art in the higher segments of the art market more accessible. That is why we introduced a new auction type called 'Curated by'. These auctions are linked to one or two curators who don't work for Catawiki, to ensure that a part of the works is brought in through them. By introducing these auctions, it's possible to work with big artists from the art scene. For now, we focus on photography, classic and modern art.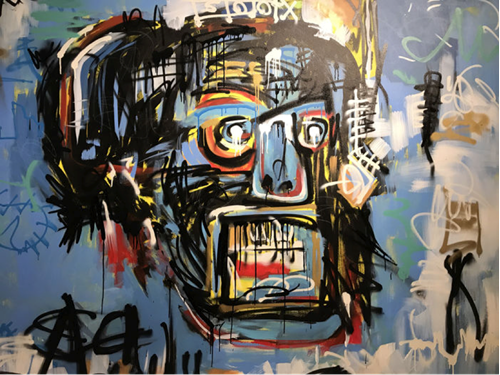 Dillon Boy - Dillon Boy vs. Basquiat - Graffiti Pop Art - 2017. Spray Paint, Acrylic on Canvas, signed. Sold for €5,501
EVB: How does Catawiki see the future of the art market?
DH: The art market is always dependent on the health of an economy. So, this is quite a general question. Through the internet, sources are increasing and everything is more easily accessible to the public. The art market is getting more and more transparent, which in my eyes is very good and healthy.
Catawiki gives high priority to trust. We even have a special team that is exclusively assigned to deal with this. Trust is at the heart of everything we do. For example, a good website experience, a transparent bidding process, buyers who pay the sellers on time, lots of high quality that meet the description, a good and fast shipment of the object, quick payout of the seller and a reliable customer service to support our customers.
We are continuously working on improving the customer experience and regularly ask feedback from customers. To increase trust, it is important to get to know new customers, to monitor the customer behavior so we can quickly identify if things are not going well and provide our customers with a good, proactive service. An important point of attention for us is to give buyers and sellers more information about the rules of Catawiki. So, everyone knows what to expect from our platform. Furthermore, our sellers and buyers also have influence on the Trust experience since they are a key player in a sales transaction. Catawiki builds on a good customer experience, together with our buyers and sellers.
EVB: What memorable reactions have you had to Catawiki?
DH: Galleries can reach a very broad and international audience from all over the world through Catawiki. You may be familiar with the somewhat intimidating environment of certain galleries. At Catawiki, everyone can enter and that makes it a lot easier to sell artworks. Besides that, Catawiki does not take the high gallery commissions.
The American-born artist James Dillon Wright, also known as Dillon Boy, used Catawiki as a springboard to professional success by regularly putting his paintings up for auction. He gained international recognition through his daring, colorful paintings featuring famous icons and pop-culture references. The internet and technology have opened doors for a lot of artists. For Dillon Boy, Catawiki has definitely helped to gain momentum in the art world.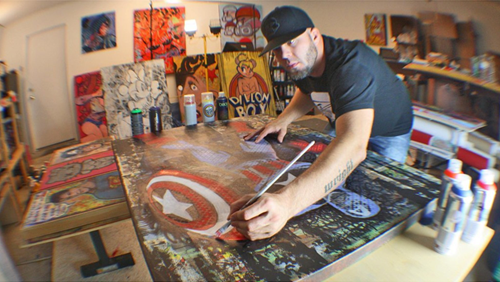 Picture American Street Artist Dillon Boy
Last December, we had another success story. The Flemish Department of Mobility and Public Works organized the project 'Kunst van de baan'. They invited 32 artists such as Anne-Mie Van Kerckhoven, Jan De Vliegher, Jonas Geirnaert, Koen Fillet and Jeroom to transform a discarded traffic sign into a unique work of art. They organized an exhibition and a charity auction that we hosted. The auction was a big success and raised a total revenue of more than €20,000. It was a really nice collaboration and we received great media exposure.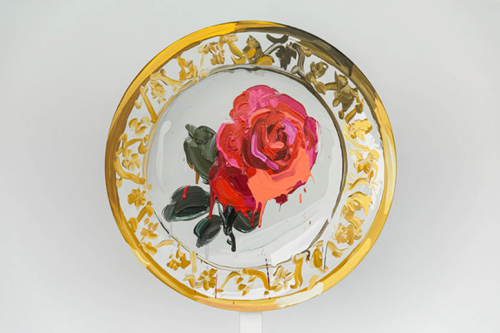 ROOS by Jan De Vliegher for the charity auction Kunst van de baan
EVB: What do you dislike about the art world?
DH: What I do not like about the art world is that where a lot of money can be made, you meet people with the wrong intentions to make this kind of money. The art world is full of forgeries and people trying to get away with a scam. You constantly have to be on guard.
At Catawiki, we protect the sellers and buyers with our curated auctions. That is where we differentiate from websites like eBay. Our auctions are curated by trusted local experts within their specialist fields. These professionals vet everything that is put up for sale and advise the sellers on how to price the items correctly. Similar to offline auction houses, the auctions are moderated by live experts. Besides that, we have a very secure method of payment. If you win a lot on Catawiki, the buyer first submits their payment. Once the payment confirmed, the seller can then ship the lot. The seller will receive their payment after the trade is successfully completed. This provides the buyers and the sellers with the necessary quality assurance and creates a more trusted platform.
What role does art funding have?
At Catawiki, we support funding projects in the form of charity auctions through our Catawiki Charity Programme. We have an international audience with over 15 million monthly users and can help to increase the awareness of the charity and offer an easy and innovative way to raise needed funds. We cover all non-profit organizations and have also organized auction for museums, most notably the auction for the Vincent van Gogh House. They had financial problems and needed extra money to survive. The museum from Zundert launched various initiatives to recruit the funds, one of them was a benefit auction. Director Ron Dirven contacted several artists and they delivered 86 artworks. The artists who participated were not strangers to the Vincent van Gogh House. Most of them have already exhibited or worked and lived in the studio as an 'artist-in-residence'. Almost all the works in the auction were inspired by Vincent van Gogh's work. The auction made a total of almost €30,000.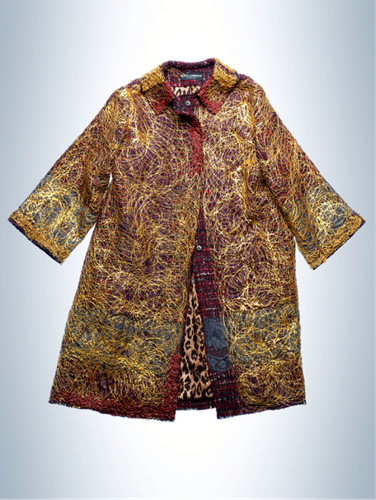 Her Highness Jawaher Bint Mohammed Al Qasimi's - Jeans for Refugees. Coat owned and donated by Her Highness Jawaher Bint Mohammed Al Qasimi for the 'Jeans for Refugees' collection - unique hand-painted artwork by Johny Dar. Sold for €119,624. 
EVB: What is the role of the people, the crowd in your project?
DH: We are a people project. We connect those who have something special to sell to those who are looking for something special to buy through the form of an auction. The role of Catawiki is to make sure that users from both sides have the best online experience, the best expert advice, the security of the transaction handling and the best customer support along the way.
EVB: How can they participate on Catawiki?
DH: Everyone is welcome to join the world of exceptional items. If you want to participate in the auction as a seller or a buyer, you need to create a free account on www.catawiki.com. After verification, the user is good to go with bidding on their favorite objects or selling them with the help of one of our experts.
EVB: How are you connected with the crowd?
DH: As an e-commerce platform, our goal is to be available for anyone at any time. We have an up and running website that already has a lot of features helping both buyers and sellers to achieve their goal without necessarily being in touch with a physical person. However, we strive to be available for those who are in need of contact or who are in search of advice. We are available via social media and we have a dedicated Customer Service team, speaking over 7 languages, that can be reached via phone and email. Our sellers and buyers also have the opportunity to communicate with our experts via our internal chat system when questions arise over a specific lot.
Our Partnerships department makes sure that we are partnering up with relevant projects, whether that is a blogger, a charity organization, a marketplace or a collector's site - so everyone can become familiar with Catawiki's unique value proposition.
Besides that, we also highly value all opportunities to meet our customers offline, so we are present at themed fairs and trade shows. We give talks at conferences and professional meetups and we visit our sellers and partners in person. We communicate by email and by using our internal messaging service to provide our sellers with advice on specific items they offer up. We also visit our customers in their galleries or at their homes to look at their collections and to see what we can sell for them.
EVB: The crowd economy creates meaningful experiences and shared values, but how do you see this with reference to Catawiki?
DH: In the auction world, this is very direct. The market determines the value. Of course, we can look at certain artists and determine their trends. But in the end, it is the crowd who sets the actual value. They decide if it is worth it or not!
EVB: Co-creation and participation are emphasized in the crowd economy and communities take an active stake in crafting positive futures. How does Catawiki use the crowd?
DH: We can surely say that our website is shaped by the crowd. As an e-commerce platform in the first place, our customers, both buyers and sellers, are the focus of our attention. Thus, the way the website is built in functionality offers a direct response to our customer needs and preferences. We organize usability studies to uncover qualitative issues or see what is working well with our product. We also try to improve the customer journey by doing A/B testing on a regular basis.
EVB: How do you handle feedback?
DH: Feedback is an incremental part of our day to day job. We receive feedback about the website, about the design, about the functionality… we receive real-time feedback thanks to external and built-in tools so we see everything back in data.
Once the customer wins the auction and receives the lot, we invite them to write a review about the quality of their purchase. This is to see if it matches the expectations and the description, thus it gives us a lot of insight into our sellers and offers an additional layer of quality check, improving overall trust on the platform between our buyers and our sellers.
EVB: How do you create interaction?
DH: We use different channels - online and offline - to reach our audience. Through content marketing, we create and distribute relevant and valuable content that helps to engage and connect people with Catawiki. Alongside this, we have a blog where we tell and create stories about the fascinating objects we have on our platform. We are also active on 4 social media networks and reach over 13 million people every month. By reaching all these people, we generate interactivity and engagement. Every Friday we send out a global newsletter to all our users. In this newsletter, we communicate about our most special objects of the week. Another way to interact is through PR. Some objects have the most amazing stories which are very interesting for the media. Hereby we can generate more brand awareness and attract bidders and sellers to our auctions. 
EVB: What are the results?
DH: We regularly update our results on the website. Catawiki is growing rapidly across markets and across various categories, attracting more lovers of special objects and more sellers across the borders. With over 50,000 lots every week in more than 300 auctions and 14 million international visitors every month, Catawiki is growing fast. Next to this, the website is available in 17 languages.
Though growth is important, for us the quality, the authenticity, the trust and satisfaction of our buyers and sellers are the main focus areas and we develop our platform on those 4 pillars.
EVB: How do you measure results?
DH: There are standard metrics used in the e-commerce world to measure the results on different levels, depending from which aspect you would like to observe the performance. The bottom line is always the health of your business model. We would like to grow and invest in quality, thus it requires additional investment, so we are looking at overall conversions on the website but also, we look at some key performance indicators that could help us to predict the future such as customer lifetime value and the willingness of our customers to tell their friends about the platform.
EVB: How do you measure the effect?
DH: At Catawiki, we focus on honing the auction process at the core of its business model. By adopting the mindset of A/B testing and data-driven experimentation, we are able to improve our platform, deliver better user experience and drive growth to optimize the return on investment. With data analysis at the core of its product and marketing, we create a centralized warehouse to aggregate all the data and built our own A/B testing tool to enable customized analysis and machine learning.
For example, all of our auctions start on Friday afternoon to take advantage of the fact that many people throttle back at work and are more likely to participate. Also, all auctions start with €1 because this pricing pulls more people into the auction and pushes the winning bid higher. We also try to eliminate the effect of bots on the auction outcome, by extending every final bid with one extra minute.
Image on top: Founders René Schoenmakers and Marco Jansen