The world of photography has changed immensely since Magnum was founded, now 75 years ago. From the first 35mm images to be printed in the global press, to the rise of the moving image, to our virtual relationships in the digital age, Magnum photographers have lived through over seven decades of change, adapting to and embracing modern mediums to enhance their work. These past few years have been no exception, with constant shifts in how we consume photography, art and news, and from the ever-expanding grasps of technology, a new medium has now emerged—NFTs.
As part of its 75th-anniversary celebrations this year, and in keeping with its tradition of embracing the future of photography, Magnum is launching its first collection of NFTs this June, with three selections of 75 images from the agency's historic and growing archive due to drop throughout the year. Each selection is curated in dialogue with leading figures in photography from across the globe.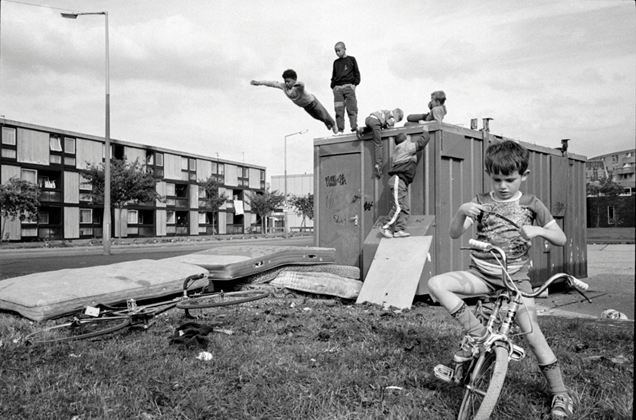 Moss Side Estate, Manchester © Stuart Franklin/Magnum Photos.
Whether you're already familiar with the world of NFTs, or are still unsure about what a 'Non-Fungible Token' actually means, the one thing to keep in mind is that for artists and photographers alike, they present a valuable way of encrypting work online. Turning photographs into NFTs generates authenticity and value on the internet, allowing photographers to produce and sell their work online as they would in the real world. For buyers, NFTs present a unique opportunity to actually own an original piece of art or photograph on the internet, as opposed to buying or downloading a copy. Just as they would offline, these pieces of art grow (or decline) in value over time, and present the opportunity to build collections, all online.
For the very first time, collectors, the Web3 community, and the general public will now be able to own photographs from the Magnum archive and several of the most acclaimed photographers of the 20th and 21st centuries, with photographs minted as 1/1 Editions.
The first selection has been curated by Alejandro Cartagena, photographer and co-founder of Obscura.io, a community of artists, collectors, curators, and builders with a mission to empower photographers in the Web3 ecosystem. The Magnum 75 curation follows on from an existing partnership between Obscura and Magnum, in which eight photographers were commissioned to produce exclusive NFT photographs.
The first selection will be revealed in full on June 28 via the NFT marketplace Foundation. It features both classic and contemporary images from across the 75-year archive, with the likes of Patrick Zachmann, Stuart Franklin, Olivia Arthur, and Alec Soth.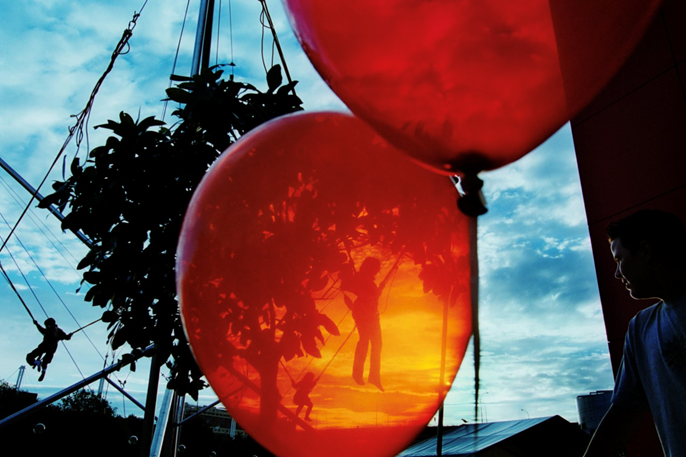 Balloons frame children springing through the sky on an elastic fun ride in Darling harbour. Darling harbour is a popular tourist area of Sydney, 2000 © Trent Parke/Magnum Photos.
Cartagena says: "To look into Magnum's vast archive is to look into the evolving history of photography as a language. For this selection, which marks the first steps of the agency into yet another horizon for photography with the emergence of blockchain technology, I decided to focus on the ingredients that make certain images stand out from the rest – the elements that all photographers should be aiming for. These 75 images celebrate not only the endurance of Magnum Photos but the quality that has made this longevity possible."
Olivia Arthur, photographer and President of Magnum, adds: "The world of NFTs is new, exciting and in some ways daunting for an organization that has been going for 75 years. As with every development in the photographic landscape, we are keen to learn, experiment and understand what the prospects are for blockchain technology and how it can be integrated into the way that we share work. I believe that these tools will become extremely important to the photographic industry more broadly and I am very excited to be part of this first official step into the world of NFTs by Magnum."
Feature image: Ranjana after the sleep, Barwani, 2013 © Sohrab Hura/Magnum Photos