Leopold Museum director Hans-Peter Wipplinger announces NFT drops of Schiele works and sensational discovery. The first NFT Collection comprises 24 exclusive works by Egon Schiele as well as the spectacular discovery of a painting from his early oeuvre.
Thanks to an innovative cooperation between the Leopold Museum with the NFT platform LaCollection and the Austrian Post, it will soon be possible to acquire works from the Leopold Collection as NFTs (Non-Fungible Tokens). The sale starts on 16th May and ends on 26th May.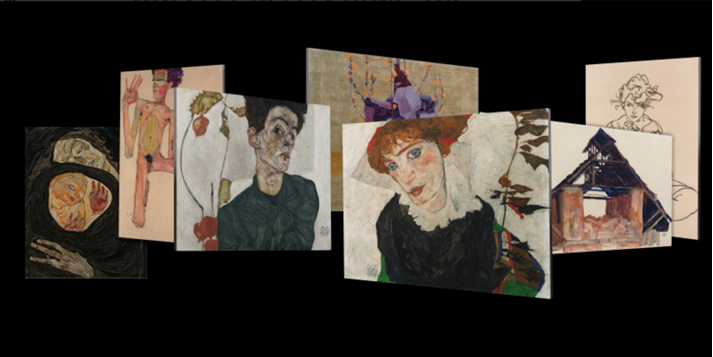 NFT Header Leopold Museum © LaCollection, Leopold Museum, 2022
24 WORKS BY EGON SCHIELE AVAILABLE AS NFTS
The Leopold Museum's Director Hans-Peter Wipplinger has selected 24 works by the eminent Austrian Expressionist Egon Schiele (1890-1918) for the NFT Collection launch, explaining: "The pandemic has led to a rapid acceleration of digitalization processes in the art world and has made NFTs a fixture of many traditional and established art collections. This trend makes art collecting accessible to a broader and highly receptive public who recognize the enormous potential of NFT art. NFTs of Schiele's works allow us not only to preserve the museum's treasures in the digital world but also to enter into contact with people who we have as yet not been able to reach with our museum in Vienna."
LIMITED DIGITAL ARTWORKS DIVIDED INTO THREE CATEGORIES AND SENSATIONAL REDISCOVERY
The Leopold Museum's NFT Collection allows customers to purchase unique, limited digital twins of select artworks. The NFTs have been divided into three categories according to the number of available copies: "Ultra Rare", "Super Rare" and "Rare". Works from the "Rare" category are available to buy for a limited time in an open edition of up to 100 copies per work for 499 euros*, while works from the "Super Rare" (edition of 10 copies) and "Ultra Rare" categories (edition of 2 copies) will be auctioned off with a starting price of 15,000 euros and 100,000 euros respectively. One NFT of each artwork will be kept by the Leopold Museum.
Works comprised in the NFT Collection are Schiele's famous paintings Self-Portrait with Chinese Lantern Plant (1912) and Portrait of Wally Neuzil (1912). The selection represents a cross-section of Schiele's work, featuring paintings from different periods of his oeuvre chosen with thematic emphases in mind. A special highlight among the NFTs is the early work Leopold Czihaczek at the Piano (1907) which has been rediscovered after 100 years and will be available as an NFT before the original goes on display at the museum.
The Leopold Museum's Director Hans-Peter Wipplinger has set a clear goal for how the proceeds from this first NFT sale are to be used: "We will reinvest the entire proceeds from the NFT sales into the restoration, preservation and acquisition of artworks – including the restoration of the sensational rediscovered Schiele painting. The work will subsequently be on display at the Leopold Museum as a permanent loan. As it is our aim to make the painting accessible to the public long-term, we intend to ultimately acquire the work which would fit in perfectly with our Schiele Collection."
THE LEOPOLD MUSEUM'S PARTNERS
LaCollection – Bridge builder between NFT collectors and the museum
The Leopold Museum has decided to cooperate with the international NFT platform LaCollection which specializes in NFT art from established museums and by contemporary artists. "LaCollection offers collectors new possibilities of discovering, experiencing and owning art from leading museums and by digital artists. Anyone can become an NFT collector without any prior knowledge. All you need is a credit card to purchase NFT masterpieces by Egon Schiele in your own currency from our platform", explains Jean-Sébastien Beaucamps, CEO and co-founder of LaCollection
Austrian Post: Reliable partner in the crypto sector
Another important technology partner for our NFT project is the Austrian Post. The company not only offered advice during the planning stages but will also assume an active role in the project's implementation.
"In all our areas of operation, we aim to identify new trends and innovations, to test them and, if feasible, to apply them. Our use of blockchain and crypto technology from 2019 onwards has made us trailblazers in Austria and has allowed us to build expertise in this sector which we are now able to share with our partners. The joint realization of the NFT project with the Leopold Museum marks an important milestone, which will soon be followed by others. These developments are an excellent example of the Austrian Post's innovative potential", according to Georg Pölzl, CEO of the Austrian Post.
EMPHASIS ON CLIMATE PROTECTION
For both the Leopold Museum and LaCollection, sustainability is an essential aspect of the project. To this end, trees will be planted with each sale of an NFT thanks to our cooperation with the green tech company EcoTree in order to offset the CO2 emissions caused by the generation of NFTs. EcoTree further works with vegetable carbon which allows for CO2 to be bound long-term in agricultural soils, making a direct positive impact on our climate.
THE LEOPOLD MUSEUM: THE MOST COMPREHENSIVE SCHIELE COLLECTION IN THE WORLD
The Leopold Museum is home to the collection, compiled by Rudolf Leopold, of Austrian art from the second half of the 19th century and of Modernism, which today comprises more than 6,000 works. No other museum affords such a direct and comprehensive experience of the concept of art and the intellectual world of Vienna around 1900, and allows visitors to retrace the art-historical developments from Atmospheric Impressionism via Jugendstil to Expressionism. The highlight is the Vienna 1900 exhibition which showcases the world's largest collection of works by the Austrian Expressionist Egon Schiele, masterpieces by Gustav Klimt, the internationally most extensive permanent presentation on Oskar Kokoschka, further works of Viennese Modernism as well as artisan craftwork from the Wiener Werkstätte.
OVERVIEW OF THE WORKS FROM THE INDIVIDUAL CATEGORIES:
Ultra Rare: Dead Mother I, 1910 – Self-Portrait with Chinese Lantern Plant, 1912 – Portrait of Wally Neuzil, 1912
Super Rare: Stylized Flowers in Front of Decorative Background, 1908 – Self-Portrait as Kneeling Nude, 1910 – Newborn with Bent Knees, 1910 – Seated Man with Raised Arms (Arthur Roessler), 1912 – Old Gable, 1913 – Embracing Couple, 1914 – Girl with Spread Legs, 1918 – Nude Self-Portrait, Squatting, 1918 – Head of the Dead Gustav Klimt, 1918
Rare: Portrait of a Girl, 1906 – Leopold Czihaczek at the Piano, 1907* – Bare Trees, Houses and Wayside Shrine (Klosterneuburg), 1907 – Houses in Front of Mountain Slope, 1907 – Girl with Folded Hands (Gerti Schiele), 1910 – Female Nude with Raised Forearms, 1910 – Squatting Nude Self-Portrait, 1912 – Female Nude with Crossed Arms, 1914 – Poldi, 1914 – Crescent of Houses in Krumau, 1914 – Reclining Girl with Bow in Her Hair, 1918
*The rediscovered painting Leopold Czihaczek at the Piano, 1907, will be available in a "Special Rare" edition for 999 euros.